Official Launch of CGIAR's "Crops to End Hunger" Initiative at Borlaug Dialogue
From
Published on

17.10.19

Impact Area
Funders

Australia, Australian Centre for International Agricultural Research, Bill and Melinda Gates Foundation, Germany, UK, United Kingdom, United States Department of Agriculture, United States of America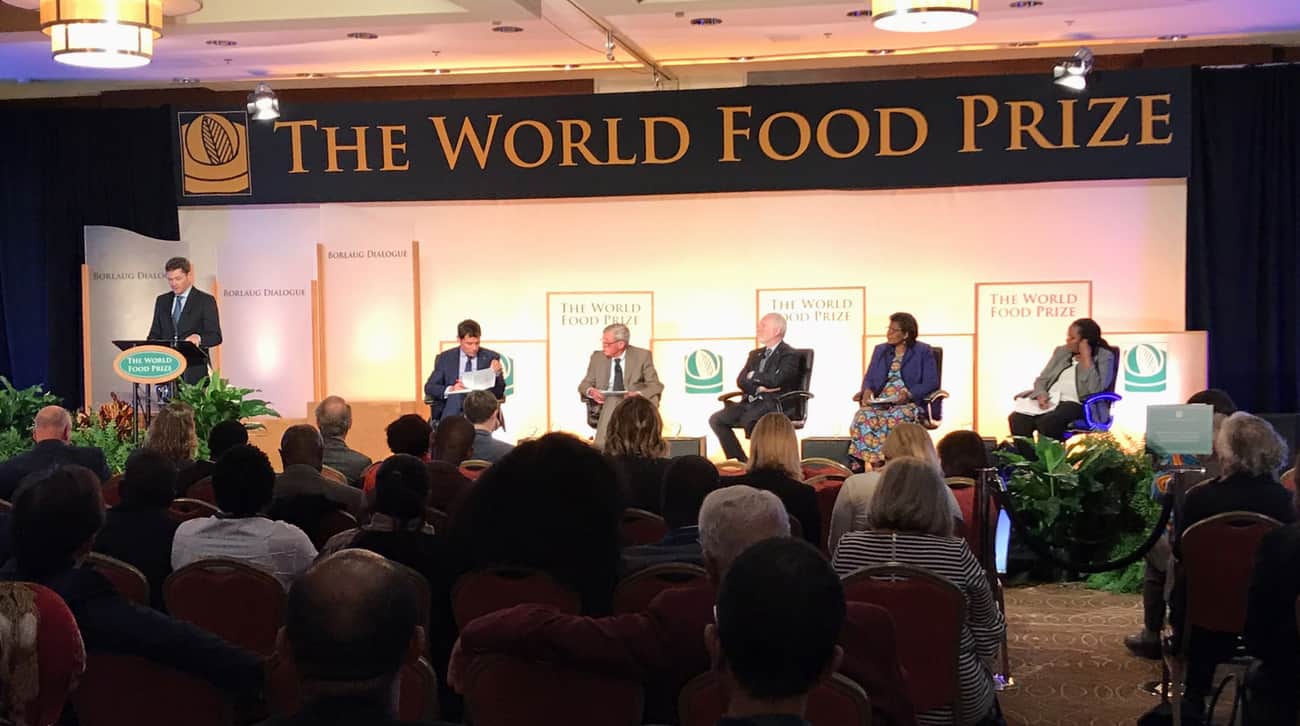 CGIAR announced its new global initiative, Crops to End Hunger, this week at the World Food Prize's Borlaug Dialogue in Des Moines, Iowa.
Featured as one of the event's main plenary sessions, the initiative is designed to accelerate and modernize how CGIAR and its partners develop, deliver and scale up the use of new crop varieties.
Opening the panel discussion, Rodger Voorhies, President, Global Growth and Opportunity, at the Bill & Melinda Gates Foundation, spoke about the need for more diverse and resilient crops and to increase funding for agricultural R&D – especially through the CGIAR. He reiterated the Foundation's $310 million funding commitment over the next three years to help drive the innovation needed.
The initiative aims to be "demand-driven", meaning it will prioritize crops already grown and eaten widely across the developing world. In other words, what do people already want to eat and grow? And how can enough of these crops be grown in the face of climate change? Where can CGIAR research achieve the highest rates of return on public investments into this work?
Hon. Gerardine Mukeshimana, Rwanda's Minister of Agriculture and Animal Resources, said, "Farmers needs should be central in the breeding process. If we are talking about drought, they are the ones to face it. If we are talking about pests or disease, they are the ones to face it. Getting everything to the farmer, that is, to me, the most important thing."
The plant breeding initiative will focus on 20 staple crops, including cereals, legumes and root crops. Working with this basket of crops helps ensure it meets the food, nutrition and income needs of the most vulnerable groups and environmental sustainability in the context of climate change. 
"Ending hunger in our lifetimes is possible, even in the face of the climate emergency," said Elwyn Grainger-Jones, CGIAR's Executive Director. "However, to do this, we need an urgent transformation of our food system, driven by more innovation and partnerships."
The 2019 World Food Prize laureate, Simon Groot of East-West Seed, reminded the audience that seed research is vital but must also be accompanied with good distribution, pricing and training as well.
Crops to End Hunger will deliver the new varieties developed by CGIAR to national partners overseeing the seed system in-country. It will be then be up to these national regulatory agencies to take responsibility for the release of the improved seeds, while public agencies, community organizations and private seed companies can undertake seed multiplication and distribution, as well as promoting them so that farmers actually plant them in their fields.
Felister Wambugha Makini, Deputy Director General Crops at the Kenya Agricultural & Livestock Research Organization (KALRO) supported this collaborative approach, and highlighted that farmers are more accessible than ever before. "In Kenya, almost 80 percent of the population has a mobile phone. We are in a place where every family has someone who has some knowledge."
Neal Gutteron, Chief Technology Officer at Corteva Agriscience, showed his support for CGIAR to more closely align its work globally to ensure this pipeline of improved seeds reaches the most farmers.
The initiative has the potential to make major contributions to the 21st century challenges that the agri-food system faces. Its ambition is to shape today's agricultural research agenda as profoundly as CGIAR's "Green Revolution" research did since the 1960s.
Crops to End Hunger is generously supported by the United States Agency for International Development (USAID), the Bill & Melinda Gates Foundation (BMGF), the UK Department for International Development (DFID), the German Federal Ministry for Economic Cooperation and Development (BMZ) and the Australian Centre for International Agricultural Research (ACIAR).