New alliance for better dairy animal nutrition in Kenya will work to advance 'human nutrition, success and progress'
From
Published on

08.09.20

Impact Area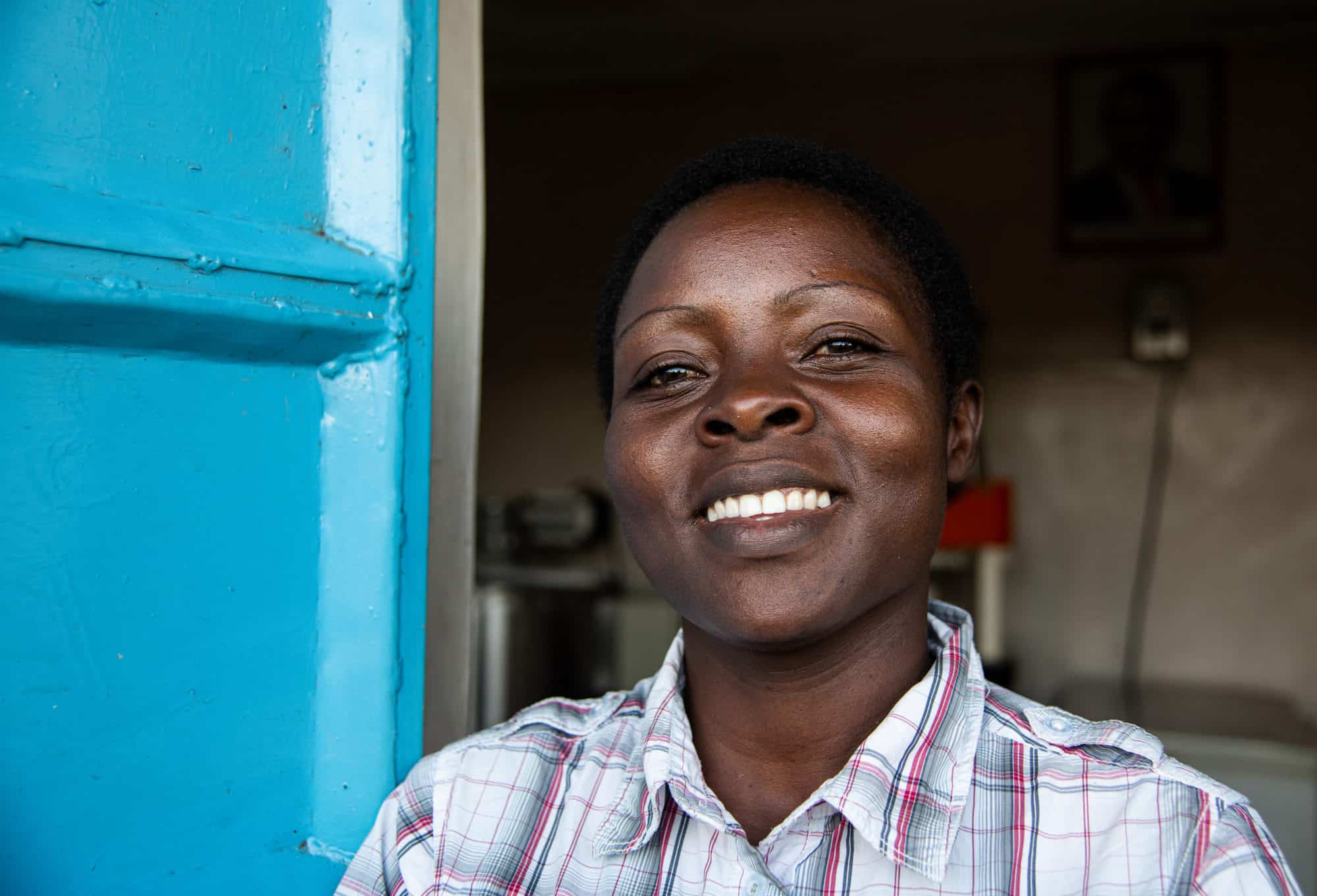 Lilian Satia, a young dairy entrepreneur in Nakuru, Kenya (photo credit: ILRI/Georgina Smith).
Yesterday (7 Sep 2020) the International Livestock Research Institute (ILRI) and four partners—Bidco Land O'Lakes, Corteva Agriscience, Forage Genetics International (FGI) and Land O'Lakes Venture37—announced their new alliance in a project to strengthen dairy production in central Kenya. The project aims to help 5,000 smallholder dairy women to advance their sustainable farming practices and to ease the shortage of dairy products in the country, which the Kenya Dairy Board estimates at 2.2 billion litres annually.
This group of private-sector, non-profit and research organizations will engage in a two-year program designed to increase the supply of nutritional dairy products available to local communities and guide women smallholder farmers in methods that should bolster their production of nutrient-rich forages (corn silage and hay) for their dairy cattle, which should in turn raise their milk yields while reducing their production costs.
'Kenya has the highest per capita consumption of milk in Africa, at 120 litres per year, compared with the African average of 50 litres a year', said Joseph Anampiu, Commercial Unit Leader for East Africa at Corteva Agriscience.
Kenya milk consumption is projected to nearly double to 220 litres a year by 2030, backed by an annual growth rate in milk demand of 7%.
'As a leader in agricultural innovation and a collaborator with farmers, we are committed to provide tools and training to help increase yield stability, optimize inputs and improve climate resilience.'
This new alliance combines Corteva Agriscience's leadership in agricultural inputs and support of smallholder farmers with FGI's private-sector leadership in the forage industry. ILRI brings locally based, world-renowned forage R&D capabilities and livestock management practices to the program. Land O'Lakes Venture37 will contribute its extensive experience adapting advanced technologies and techniques to the smallholder farmer level and facilitating last-mile delivery of key inputs. Bidco Land O'Lakes, a Kenya-based feed manufacturer, will work closely with these collaborators to offer compound feed that complements effective forages.
'This alliance, through its advancement of animal nutrition in Kenya's dairy sector, is simultaneously advancing human nutrition and human success—a shining example of Land O'Lakes' guiding purpose: feeding human progress', said John Ellenberger, executive director of Land O'Lakes Venture37.
Through its combination of private-sector investment, local expertise, applied data and technologies and last mile delivery, this alliance is helping to make markets work more effectively for lower-resource populations.
'Strategic alliances like these are a foundational element of our current work and future ambitions.'
Tiffany Atwell, global government and industry affairs leader at Corteva Agriscience, highlighted the alliance during a panel presentation at the African Green Revolution Forum Virtual Summit that highlighted the critical role women play in agriculture as well as how government policies can build more inclusive agriculture and food systems.
About Corteva Agriscience
Corteva Agriscience is a publicly traded, global pure-play agriculture company that provides farmers around the world with the most complete portfolio in the industry—including a balanced and diverse mix of seed, crop protection and digital solutions focused on maximizing productivity to enhance yield and profitability. The company is committed to working with stakeholders throughout the food system as it fulfills its promise to enrich the lives of those who produce and those who consume, ensuring progress for generations to come. Corteva Agriscience became an independent public company on June 1, 2019 and was previously the Agriculture Division of DowDuPont. www.corteva.com
About Land O'Lakes Venture37
Venture37 is a nonprofit helping communities around the world build economies by strengthening local agriculture, helping agribusinesses create jobs and linking farmers to markets. Since 1981, it has implemented over 315 integrated dairy, livestock and crop development programs in nearly 80 countries. Land O'Lakes Venture37's long-standing affiliation with Land O'Lakes, Inc.—one of America's largest farmer-owned cooperatives, with nearly 100 years of expertise in dairy, animal nutrition, crop inputs and agricultural insights and technologies—sets it apart. Land O'Lakes, Inc. supports Venture37 projects as part of its enterprise purpose of 'feeding human progress' at home and around the world. www.landolakesventure37.org
About Bidco Land O'Lakes
Bidco Land O'Lakes is an animal feed processing plant based in Nakuru, Kenya. Land O'Lakes, Inc., one of America's largest farmer-owned cooperatives and a leader in global animal nutrition, and Bidco Africa, one of East Africa's leading consumer product companies, have invested an estimated USD12 million into the plant. The animal feed business aims to produce over 28 metric tons per hour of animal nutrition products. The fully automated plant helps to ensure quality and accuracy in production and reduce the chance of human error. www.landolakesinc.com
About Forage Genetics International
For more than 25 years, Forage Genetics International has led the forage industry with innovative genetic discoveries, variety developments and cutting-edge product introductions. As the industry's leading provider of forage solutions, we breed, develop and produce premier alfalfa seed. Our highly staff delivers packaging, distribution and training services to complement our product offerings—all customized to meet the varied needs of our customers. www.foragegenetics.com
About International Livestock Research Institute (ILRI)
The International Livestock Research Institute (ILRI) is a non-profit institution helping people in low- and middle-income countries to improve their lives, livelihoods and lands through the animals that remain the backbone of small-scale agriculture and enterprise across the developing world. Specifically, ILRI works with partners to improve food and nutritional security and to reduce poverty and environmental degradation in developing countries through research for efficient, safe and sustainable use of livestock. Employing more than 600 people, including scientists from more than 40 countries, ILRI is a CGIAR research centre co-hosted by Kenya and Ethiopia and with 14 other offices across Africa and Asia. https://www.ilri.org/
Read this press release on the website of Corteva Agriscience.