NAQS honors IITA with "Service Support Award" for phytosanitary capacity development
From
Published on

27.04.21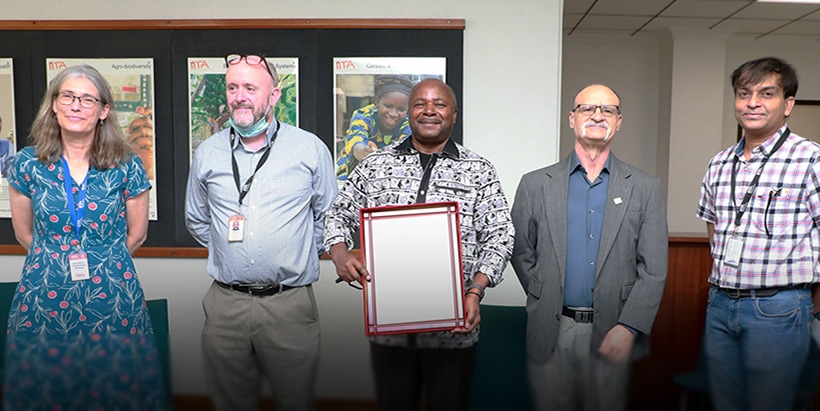 A long-time collaborator and partner, the Nigerian Agricultural Quarantine Services (NAQS), honored IITA with the "Service Support Award" for excellent support and collaboration towards the achievements of its mandate. The plaque was given during the passing out ceremony of new NAQS staff on 16 April 2021, at the Regional Post Entry and Diagnostics Centre, Moor Plantation, Ibadan. Dr Vincent Isegbe, NAQS Director General, gave the award in the presence of the Head of Post-entry Plant Quarantine Station, Mr Akindele Ogunfunmilayo, and the NAQS management team.
This recognition is catalyzed by the work of the Germplasm Health and Virology Units of IITA, headed by Lava Kumar, which has made IITA proud through the "outstanding services and contributions to phytosanitary capacity development and biosecurity procedures that ensure safe transfers of plant germplasm between Nigeria and other countries around the world."
NAQS is a regulatory agency under Nigeria's Federal Ministry of Agriculture and Rural Development (FMARD), responsible for implementing phytosanitary (plant health) measures to control the introduction and spread of foreign pests and pathogens, which can pose a severe risk to the agricultural economy, food safety, and the environment. NAQS and IITA's Germplasm Health Unit (GHU) have been collaborating on preventing and combating emerging plant pests and pathogens, such as banana bunchy top, through the development of surveillance and diagnostic capacity.