Mechanical legume planter reduces drudgery for female farmers in Mozambique
From
Published on

06.08.21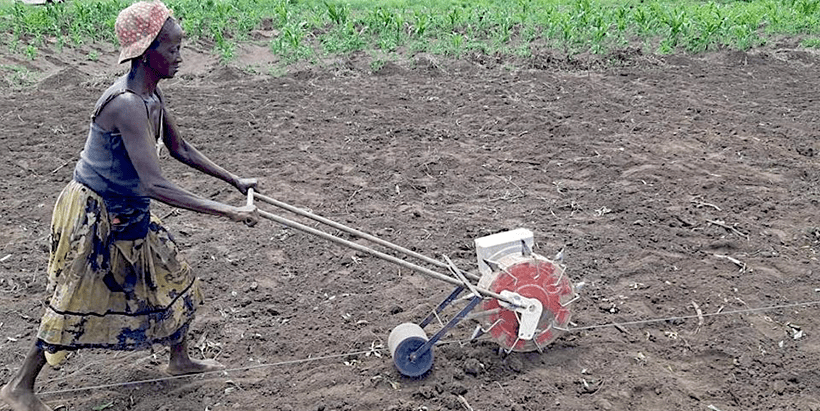 Mechanization has been recognized as an essential factor in agriculture development efforts to save on labor and time in many farming operations for smallholder farmers. In Mozambique, IITA conducted a study on a hand push manual seeder (HPMS), also known as the Legume Hand Push Manual Planter (LHPMP), to be used by farmers, particularly female farmers, in the establishment of common legume crops, including common beans, cowpea, groundnut, and soybean fields.
The introduction of the HPMS was a response to the competing demands of female farmers' time during the planting season as they juggle fieldwork and caring for the family. As a result, women do not establish enough acreage of legumes and other crops. The lack of time also leads farmers to practice traditional farming of randomly planting seeds, leading to low or high unit spacing and dumping many seeds in a hole. Also, random planting causes difficulties in weeding, spraying, and harvesting, leading to poor yield.
The study noted that both male and female farmers were willing to use HPLS due to ease of use, simplicity, and versatility in planting a wide range of legumes and cereals. Other benefits of the equipment are that it can operate in various soil textures and weathers, is light, and consumes no fuel.