Leadership Appointments at WorldFish, CIP, AfricaRice Boost CGIAR's Mission to Transform Food, Land, and Water Systems
From
Published on

07.03.23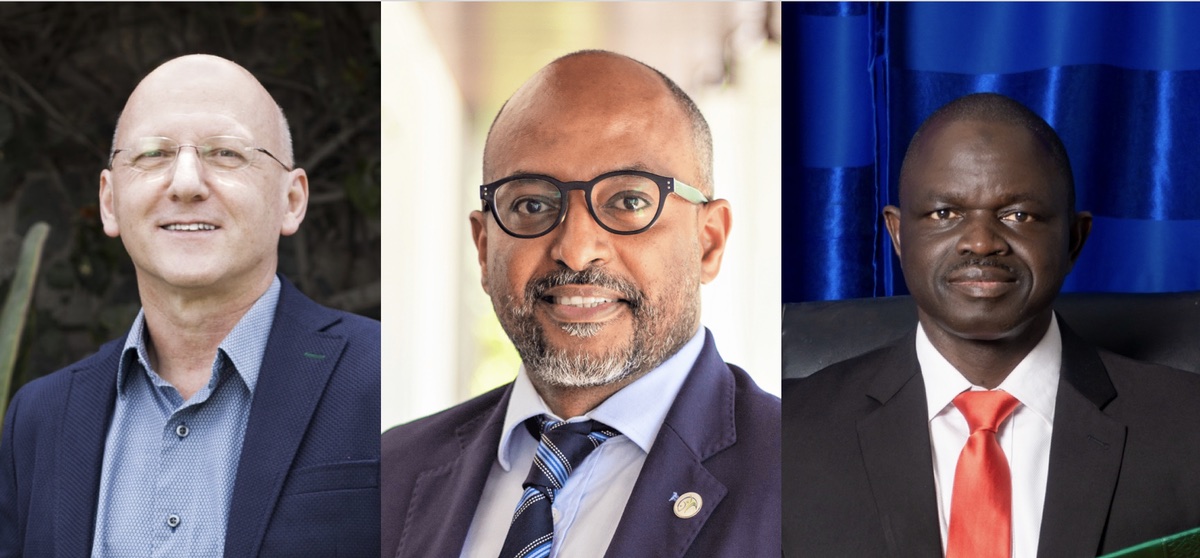 Appointments across three continents bring research and policy expertise and track records of delivering impact
Dr. Baboucarr Manneh, Director General, Africa Rice Center (AfricaRice), and CGIAR Regional Director, West and Central Africa;

 

Dr. Simon Heck, Director General, International Potato Center (CIP), and CGIAR Senior Director; 

 

Dr. Essam Yassin Mohammed, Director General, WorldFish, and CGIAR Senior Director of Aquatic Foods Systems.

 
CGIAR Research Centers in Africa, Asia, and Latin America have appointed new leaders to drive a forward-looking agenda in their respective domains of rice-food systems, potatoes, roots and tubers, and fisheries and aquaculture.  
Dr. Claudia Sadoff, Executive Managing Director, CGIAR, said, "These three leaders, as well as being highly respected in their fields, have exceptional track records of delivering impact and building partnerships, both of which are central to delivering on CGIAR's strategy. They will bring valuable experience and fresh perspectives as we tackle the urgent and related challenges of growing global hunger and under-nutrition, poverty, and climate change."
The Council of Ministers of AfricaRice has appointed Dr. Baboucarr Manneh as Director General of AfricaRice. In parallel, Dr. Manneh will also take on the role of CGIAR Regional Director, West and Central Africa. Dr. Manneh brings to this role nearly three decades of experience in agricultural research and development, including program management and leadership. He is currently leading the AfricaRice Genetic Diversity and Improvement Program and is the AfricaRice Regional Representative for the Sahel, with administrative oversight over seven West African countries. Dr. Manneh replaces AfricaRice Director General, Dr. Harold Roy-Macauley, who continues in his role as CGIAR Managing Director for Regions and Partnership while the search for a long-term replacement for that role is conducted. Read the announcement here.
The International Potato Center (CIP) Board of Trustees have appointed Dr. Simon Heck as new Director General of CIP and CGIAR Senior Director. Dr. Heck joined CIP in 2012 as Deputy Manager for Sweetpotato in Africa Program, where he led the UK-funded Scaling-Up Sweetpotato through Agriculture and Nutrition (SUSTAIN) project, which helped more than two million people in six African countries improve their food production and diet diversity. He previously worked with WorldFish, the International Union for Conservation of Nature, and the UK's Department for International Development. He will take over from Dr. Oscar Ortiz, CIP's current Director General ad interim. Dr. Ortiz continues in his other current role as CGIAR Senior Director, Crop-based Systems. Read the announcement here. 
The WorldFish Board of Trustees and CGIAR have appointed Dr. Essam Yassin Mohammed as Director General of WorldFish and CGIAR Senior Director of Aquatic Foods. Dr. Mohammed will assume the post immediately having taken on the interim role in January 2022. He is a leading interdisciplinary systems thinker, researcher and policy adviser with a strong background in the economics of the ocean and fisheries. Before joining WorldFish, he was the Head of Blue Economy at the International Institute for Environment and Development (IIED). Read the announcement here. 
The appointees will be members of CGIAR's Senior Leadership Team, with each Center playing a critical role in contributing to the transformation of food, land, and water systems at the heart of the CGIAR mission.
Header photos by AfricaRice, CIP and WorldFish.