John Schiller, former IRRI agronomist in Laos, passes away
From
Published on

19.12.17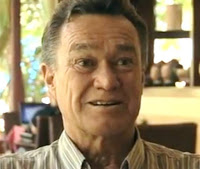 By Gene Hettel
Dr. John M. Schiller, 72, passed away in Brisbane, Australia, on Monday (18 December) of suspected heart failure. For the International Rice Research Institute (IRRI), he was the team leader and research programmer of the Lao-IRRI Project for 11 years (1990-2001). He had spent 30 years of his life working in Southeast Asia, primarily in Thailand, Cambodia, and Laos.
In an interview, Dr. Schiller said that, "Ultimately, the basis for successful international development programs is not external funding or expertise, but the political will of the countries to make the programs work." He went on to say that "The Lao-IRRI Project, supported by the Swiss Agency for Development and Cooperation (SDC), was an excellent example of institutional development and cooperation. The successful building of a strong research and extension system gave Laos a vital tool for feeding its people."


Dr. Schiller was passionately committed to working with the people of Laos. As the leader of the Lao-IRRI Project, he was assisted by other IRRI scientists in the fields of agronomy, entomology, nutrient management, and genetic resources, but he also worked to develop the capabilities of Lao scientists and technicians for conducting research. He faced a prodigious task to build a national rice research capability in a country where nearly all of the research institutions had disbanded as a result of political changes in the region. In the photo at right, Dr. Schiller confers with Urs Herren, who was an SDC representative for the Lao-IRRI Project.
By 1997-98, much in Laos had changed; the Lao national rice research program was employing 130 people and had been extended to include all 16 provinces of the country and a network of seven research stations. During the decade of the Lao-IRRI Project, Laos dramatically changed the way in which its farmers grew rice. An expansion in the country's irrigated area allowed it to become self-sufficient in rice production by 2000.


Also during his time in Laos, Dr. Schiller assisted with an SDC-funded biodiversity project. "Germplasm collection activities in the country were absolutely phenomenal," he said. "From 1995 to 2000, IRRI germplasm collectors and Lao colleagues gathered nearly 14,000 samples of cultivated indigenous rice varieties throughout the country. Unlike many rice germplasm collections, the results of these efforts were immediately used in the country's rice improvement program."
To wrap up his time in Laos, Dr. Schiller was the lead editor of a 2006 IRRI-ACIAR book, Rice in Laos, which documents the long association of Laos and its people with rice in historical, cultural, and agricultural contexts. Rice: the fabric of life in Laos is a 2002 IRRI-SDC publication that documents the achievements of the Lao-IRRI partnership during Dr. Schiller's tenure.
After departing IRRI in 2001, Dr. Schiller returned to Australia to assist the Australian Center for International Agricultural Research (ACIAR) with its program of research grants, which were made available to persons in research institutions, universities, and NGOs to train agricultural scientists in the developing world. He was also involved in six Crawford Fund training programs in Laos and Cambodia.
His lifelong commitment to building research capacity in Cambodia and Laos led him to conceptualizing and driving programs of research capacity building through the Cambodian Agricultural Research Fund (CARF) and the Lao Agricultural Research Fund (LARF), which together have provided research funding and training opportunities for hundreds of young researchers over the past decade. He also worked with ACIAR to drive the publication of a Lao Agricultural Dictionary, a vital resource for new researchers. He was working on a similar dictionary for Cambodia at the time of his death.
In 2012, the Crawford Fund recognized Dr. Schiller's tremendous contribution to agricultural R&D by awarding him with the Crawford Fund Medal. Later, The Crawford Fund released a brief interview with him, in which he discussed his work and passion for Asia.

Dr. Schiller earned a B.S. in rural science (1967) and a Ph D in agronomy (1972) from Australia's University of New England. Early in his career (1975-79), he was team leader and agronomist for the Thai-Australia/World Bank Land Development Project in northern Thailand.
It was during this time that the then young agronomist was photographed with the King of Thailand, H.E. King Bhumibol Adulyadej, when the King was visiting Nan province near the Thai-Chinese border on one of his agricultural development projects. Recently, Sueb Siribanasitt, an artist and long-time friend of Dr. Schiller, immortalized the photo as a painting (see above left).
Most recently, Dr. Schiller was as an honorary senior fellow in the Faculty of Science, School of Agriculture and Food Sciences at the University of Queensland, St. Lucia, Australia.
Dr. Schiller will be greatly missed by many people around the world. Colleagues and friends may send their messages of condolence to: j.schiller@uq.edu.au
Learn more about IRRI (www.irri.org) or follow us on social media and networks (all links down the right column).