Integrating Biofortification Indicators into CAADP Biennial Reviews
From

CGIAR Initiative on National Policies and Strategies

Published on

18.09.23

Impact Area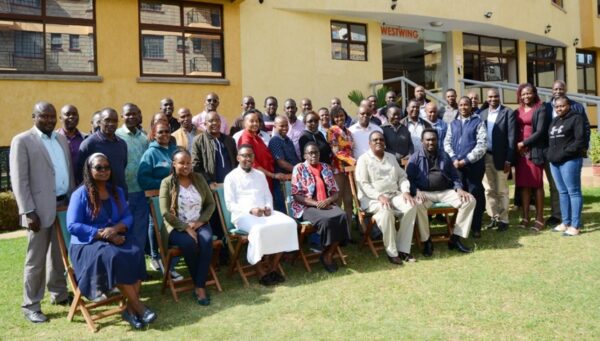 By  Joyce Maru (CIP), Norman Kwikiriza (CIP), and Sheewa Saika (CIP)
Throughout the past three Biennial review (BR) cycles (2017, 2019, 2021) Kenya's active engagement as the Comprehensive Africa Agriculture Development Program (CAADP) and commitments to the CAADP Malabo framework has been evident. However, the integration of biofortification indicators has not been an integral part of the BR cycles. Since March 2023, The International Potato Center( CIP ) has closely collaborated with the government of Kenya through the Ministry of Agriculture and Livestock in conducting a series of capacity-sharing workshops and knowledge-sharing to ensure that biofortification is well integrated into the BR review.
The culmination of efforts at the fourth CAADP Biennial Review write-shop, held at Kyaka Hotel in Machakos, Kenya, from 27th to 30th June 2023, marked a transformative stride. CIP provided technical support to key national stakeholders on the recently developed biofortification indicators focusing on seed distribution, OFSP consumption among women of reproductive age and children aged 6-23 years, biofortified variety releases, and supportive policy documentation to be included in the fourth CAADP biennial Report. Additional support has been provided through subsequent training workshops and ongoing technical support on data collection, validation and reporting of the targeted biofortification indicators. The involvement of key national partners such as the National Environmental Management Authority, Kenya Investment Authority, Tegemeo Institute of Agriculture Policy and Development, Kenya National Bureau of Statistics, Kenya Revenue Authority, and Kenya Plant Health Inspectorate Service underscores the comprehensive approach that Kenya has undertaken to ensure success in the BR review process.
Integration of Biofortification indicators into the CAADP BR process is a follow up action from the African Union continental declaration on biofortification in 2022. The adoption of the declaration marked the end of a lengthy process that began in 2015 when the African Union's Department of Rural Economy and Agriculture (currently the Department of Agriculture Rural Development, Blue Economy and Sustainable Environment) endorsed biofortification for the continent. This endorsement was swiftly followed by a coordinated campaign by agriculture ministers in all 55 member states to create a roadmap and a framework for scaling up biofortification in Africa.  The International Potato Center (CIP), HarvestPlus and partners have since been supporting member countries to set priorities and action plans to implement and monitor their success in scaling up biofortification and nutrition-sensitive agriculture. The declaration sets clear goals and provides a structure for meaningful indicators to be developed on how each country can track its progress and share that information with the region to inform future work. The just concluded 4th BR cycle includes 12 additional indicators with food fortification being one of the new indicators.
Norman Kwikiriza, Monitoring Learning, and Evaluation Specialist at CIP emphasized the collaborative potential during the meeting. Engaging with representatives from the Kenya National Bureau of Statistics, discussions revolved around the possibility of nationwide biofortification indicators inclusion within their annual crop data collection endeavors. In a statement he said, "This collaborative initiative aspires to provide comprehensive coverage of biofortification progress and more so the impact of OFSP in Kenya's food systems. Looking ahead, CIP's efforts to capture and report biofortification metrics are set to extend across other countries in Africa, influenced by its presence, ensuring comprehensive documentation and availability of evidence and accurate data."
Joyce Maru, Global Director for the Global Sweetpotato Program (CIP) and leading this collaboration through CGIAR's initiative on National Policies and Strategies notes that in a broader context, Kenya's Biennial review process and the collaboration between policymakers and CGIAR research centers such as CIP sets a precedent and offers a valuable learning experience on the importance of accurate data and evidence in informing policy formulation, actions plans and investment both at regional and country contexts.
CAADP is Africa's policy framework for agricultural transformation, wealth creation, food security and nutrition, economic growth and prosperity for all.  The CAADP Biennial Review process has emerged as a pivotal platform for realizing the multifaceted commitments outlined in the CAADP Malabo framework. This comprehensive framework encompasses ambitions to eradicate hunger, alleviate poverty through agricultural development, stimulate intra-African trade in agricultural commodities and services, bolster resilience in the face of climate fluctuations, and enforce accountability for actions and outcomes. Central to the CAADP principles is the concept of Mutual Accountability, which ensures the involvement of pertinent stakeholders in collaborative sector evaluations, facilitated by peer review mechanisms.
Josephine Love, the BR Kenya Focal Person from the Ministry of Agriculture and Livestock (MoALF), highlighted the need to enhance Kenya's efforts in tracking and collecting data on Biofortification initiatives recognizing the expertise of the International Potato Centre (CIP). In a statement she said  
"Biofortification initiatives are currently being implemented in Kenya, however, we have not been diligent in tracking and collecting data on Biofortification. Recognizing the expertise of the International Potato Centre (CIP) in supporting the biofortification of orange-fleshed sweet potatoes in Kenya, we reached out for guidance and technical support in assisting our team in drafting the BR related to this indicator. We extend our gratitude to Dr. Norman, who was dispatched to train our team on the introduction to Biofortification and how Kenya has embraced this approach. Dr. Norman also helped us to capture and compile the necessary data. Through our collaboration with CIP, we have successfully consolidated a network of partners involved in biofortification. This lays the foundation for future engagements and the advancement of the biofortification agenda," affirmed Josephine Love.
In Kenya the special focus has been mainly on Orange-Fleshed Sweetpotato (OFSP) given its growing national recognition in contributing to food and nutrition security therefore accentuating the need for robust data collection and reporting to inform policy formulation. The commendable inclusion of Biofortification indicators, championed CIP working closely with HarvestPlus and other partners represents a significant acknowledgment of biofortification's pivotal role in combatting hidden hunger and advancing nutrition outcomes.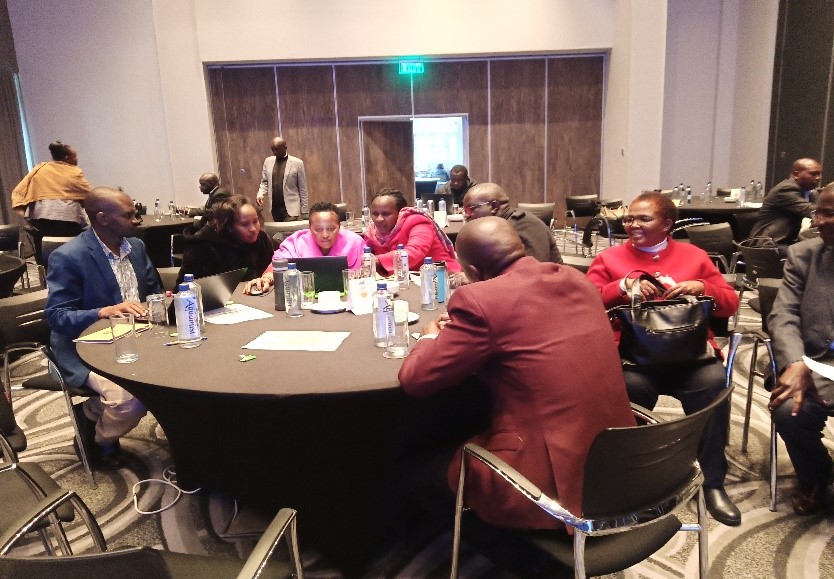 CIP's is expanding the cross-country learning and support through training and briefing designated CCADP BR contacts, who are mainly monitoring, learning, and evaluation officers across Sub-Saharan African countries. Through the capacity and knowledge sharing, these officers are empowered to actively participate in their respective nations' CAADP Biennial reports, ensuring the robust and accurate data collection and report on biofortification indicators. CIP's ongoing engagement in the process, including its recent participation in the crucial continental data validation event held in Dar es Salaam from August 3rd to 6th, 2023, played a pivotal role. Many countries encountered difficulties in gathering data on Biofortification, resulting in only 14 countries being able to provide such data, while others cited challenges in data collection. Notably, certain regions like the Arab Maghreb Union (AMU) did not practice Biofortification.
During the continental validation, CIP and Harvest Plus emerged as key contributors by identifying data gaps, offering suggestions, and suggesting sources for missing indicators. The importance of additional training for data collection on these indicators was acknowledged. Furthermore, it was observed that countries often failed to engage relevant development partners in biofortification data collection. Looking ahead, CIP and Harvest Plus are set to continue leading the drafting of the CAADP report on Biofortification.
---
Photo credit: Patrick Muskoya/Kyaka Hotel
---
This work is part of the CGIAR Initiative on National Policies and Strategies (NPS). CGIAR launched NPS with national and international partners to build policy coherence, respond to policy demands and crises, and integrate policy tools at national and subnational levels in countries in Africa, Asia, and Latin America. CGIAR centers participating in NPS are The Alliance of Bioversity International and the International Center for Tropical Agriculture (Alliance Bioversity-CIAT), International Food Policy Research Institute (IFPRI), International Livestock Research Institute (ILRI), International Water Management Institute (IWMI), International Potato Center (CIP), International Institute of Tropical Agriculture (IITA), and WorldFish. We would like to thank all funders who supported this research through their contributions to the CGIAR Trust Fund.