Innovation and Scaling: An Introductory Online Course
From
Published on

23.03.22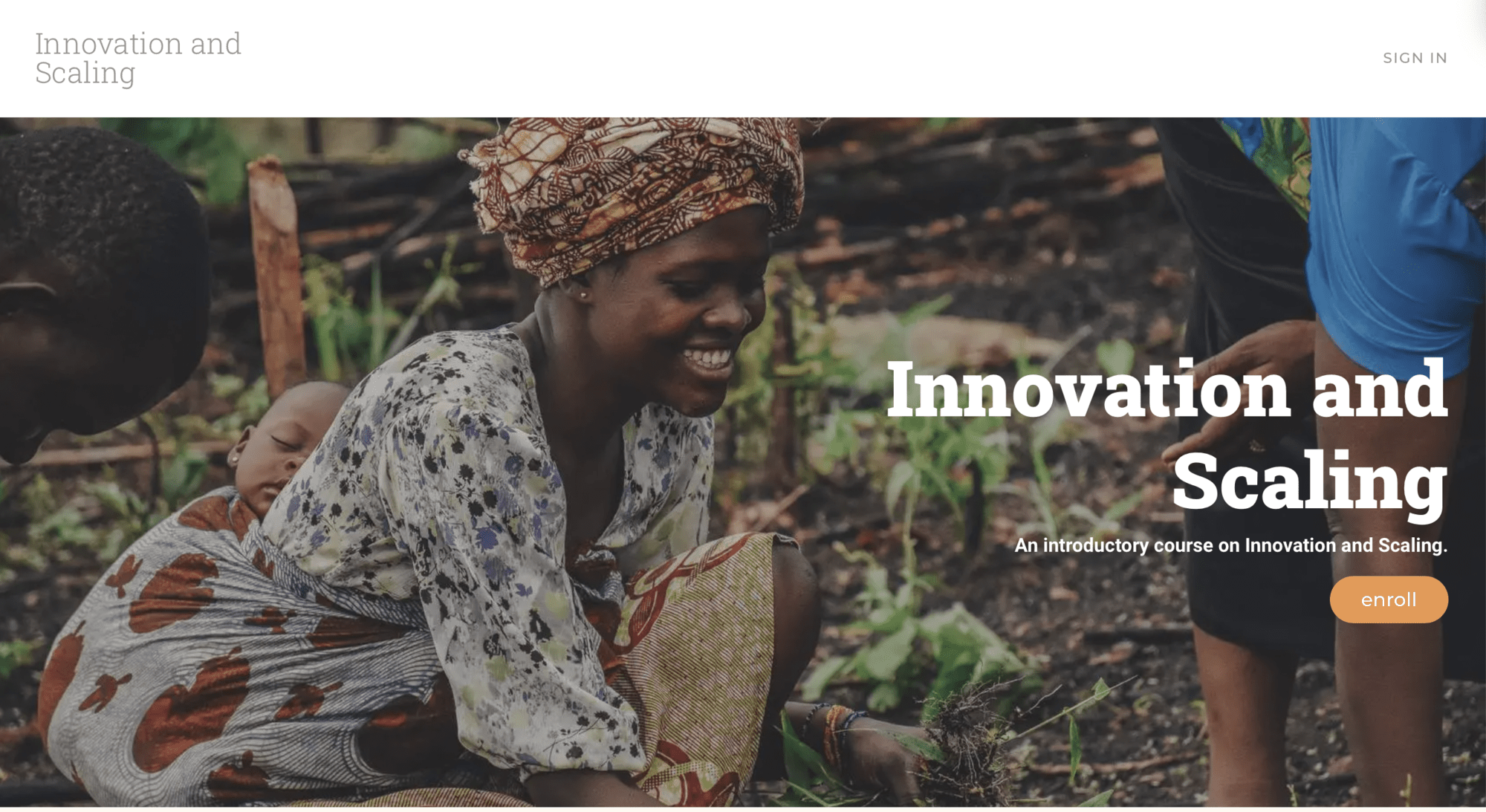 Achieving impact at scale is one of the greatest challenges facing the research and development community, and the term 'scaling of innovation' is increasingly popular in the world of public research and development.  
Pilots never fail, Pilots never scale…
if this sounds like what is happening in your organization, then this course provides a starting point for improved innovation and scaling performance.
As part of CGIAR's commitment to achieving the Sustainable Development Goals, innovation and scaling concepts are centrally positioned in the CGIAR 2030 Research and Innovation Strategy, and in the new CGIAR Initiative portfolio. To support Initiative teams and partners to develop a common understanding of innovation and scaling in the context of agricultural research for development, an online course was developed.  
"We noticed interest in, and a need for innovation and scaling capacity strengthening across the organization, which basically kicked off the development of the course", says Marc Schut, Senior Innovation and Scaling Advisor and Scientist working with CGIAR and Wageningen University. "We then conducted a needs assessment among CGIAR scientist, innovation and scaling experts and managers, which informed the key content and format of the online course", he adds. 
The course covers six Modules that answer questions such as: 
What do we mean with

innovation

?

 

How do innovations scale as part of

packages

?

 

How do we ensure

(gender-)responsible scaling

?

 

How do we measure the

Scaling Readiness

of innovations?

 

How to develop evidence-based

scaling strategies

with partners?

 

Why investing in

innovation portfolio management

?

 
The course introduces basic innovation and scaling concepts, applies these concepts to a real CGIAR case study on banana disease management in Rwanda. Content is provided through short reading materials, video snippets and quizzes. "It was clear that colleagues wanted something short and interactive that focusses on the innovation and scaling basics, that they can do on their desktop and mobile devices at their own pace and time", explains Nikki Tierney, an Instructional Design who supported the design and development of the course. 
Feedback by a course participant:
"The best gain for me was to understand the basic concepts of scaling, such as Innovation Packages, Scaling Readiness, etc. It is a good introductory course, especially for people that want to familiarize themselves with state-of-the-art innovation and scaling topics. Also, the case study was helpful to see how everything is connected."
The result is a course that is free, takes approximately three hours, and provides a certificate to those who successfully complete it. By hosting the course on the online learning platform thinkific, it is accessible to audiences internal and external to CGIAR. 
"It is our ambition that everybody in the CGIAR will know about the course, and we hope that many colleagues and partners will try to find the three-hours to complete it. We aspire that – in the future – the course becomes part of CGIAR talent development programs which will also help us to receive feedback and constantly improve the quality of course", Schut concludes. 
The online course on innovation and scaling was developed by experts representing Wageningen University and CGIAR under the CGIAR Research Program on Roots, Tubers and Bananas (RTB). An animated video explaining the course in 2 minutes can be found here: https://www.scalingreadiness.org/courses/. The course can be directly accessed through: https://innovationandscaling.thinkific.com/courses/innovation-and-scaling.
Please contact Dr Marc Schut (m.schut@cgiar.org), Innovation and Scaling Advisor and Scientist with CGIAR and Wageningen University for any questions or feedback.
Header photo by A. Spratt/Unsplash.