Indo-Gangetic Plain rice-wheat landscapes get climate smart makeover
From
Published on

09.05.18

Impact Area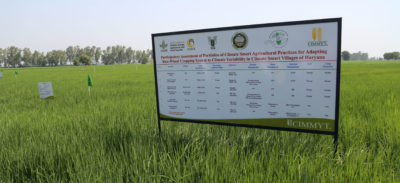 Farmers confront a daunting range of options for potentially achieving high crop yields on India's western Indo-Gangetic Plain, where rice and wheat are planted in rotation to meet high demand for dietary food staples.
Also known as double cropping, the technique has been used in the area since 1965 to intensify production in an increasingly limited growing area, initially yielding positive food security results. Over time, agricultural practices have led to troubling consequences for the landscape, leading to unreliable or lower yields for farmers.
Now, new scientific research into "layering" climate smart agriculture techniques shows promise, revealing the potential for crop adaptability to climate change. Scientific experiments demonstrate the feasibility of climate smart efforts offering a combination of high productivity, benefits to water and energy supplies, and ultimately a smaller environmental footprint.
Read more Indo-Gangetic Plain rice-wheat landscapes get climate smart makeover.