From
Published on

08.04.19

Impact Area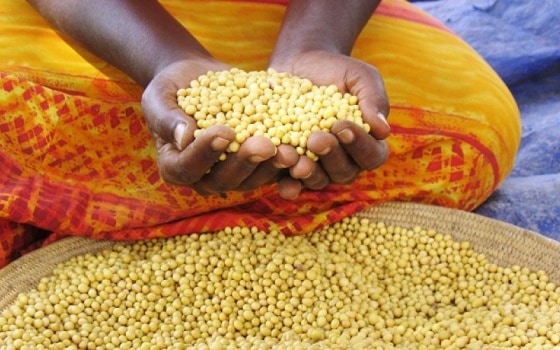 SOYA bean has a high potential for income generation particularly for smallholder farmers who can improve their yields, says International Institute of Tropical Agriculture (IITA) Soybean breeder Godfree Chigeza.
Mr Chigeza said the current soya bean yields of one tonne per hectare was low and that it would be good for smallholder farmers increase to 1.5 tonne per hectare through introduction of a variety of seeds.
He said IITA was carrying out research on new variety of soya bean which would breed bigger and better crops.
He said for commercial irrigation farmers, yields could be as high as three to five tonnes per hectare.
In an interview, Mr Chigeza said farmers preferred the Kafue soya bean variety which was early maturing and drought resistant.
He encouraged farmers to grow soya bean along other crops such as maize or interchangeably as it improved soil fertility.
Mr Chigeza said soya bean had high economic value as farmers could be able to extract cooking oil at house or commercial level.
"I would like to encourage more farmers to grow soya bean because of its health and economic benefits. As International Institute of Tropical Agriculture we are currently conducting research on new variety which will yield better and bigger soya bean," he said.
And IITA Deputy Director General May-Guri Saethre said there was need to put in place robust mechanisms to tackle the adverse effects of climate change.
Dr Saethre prodded farmers not only to grow maize but also drought resistant crops such as cassava.
She said cassava had proved to be of high economic value and that it could be used to bake scones among other uses in the bakery.
Originally published in Daily Nation
The post Improve soya bean yield appeared first on Grain Legumes and Dryland Cereals.