ICRISAT's plant health researchers mine genes to defend chickpea against a deadly pathogen
From
Published on

03.09.21

Impact Area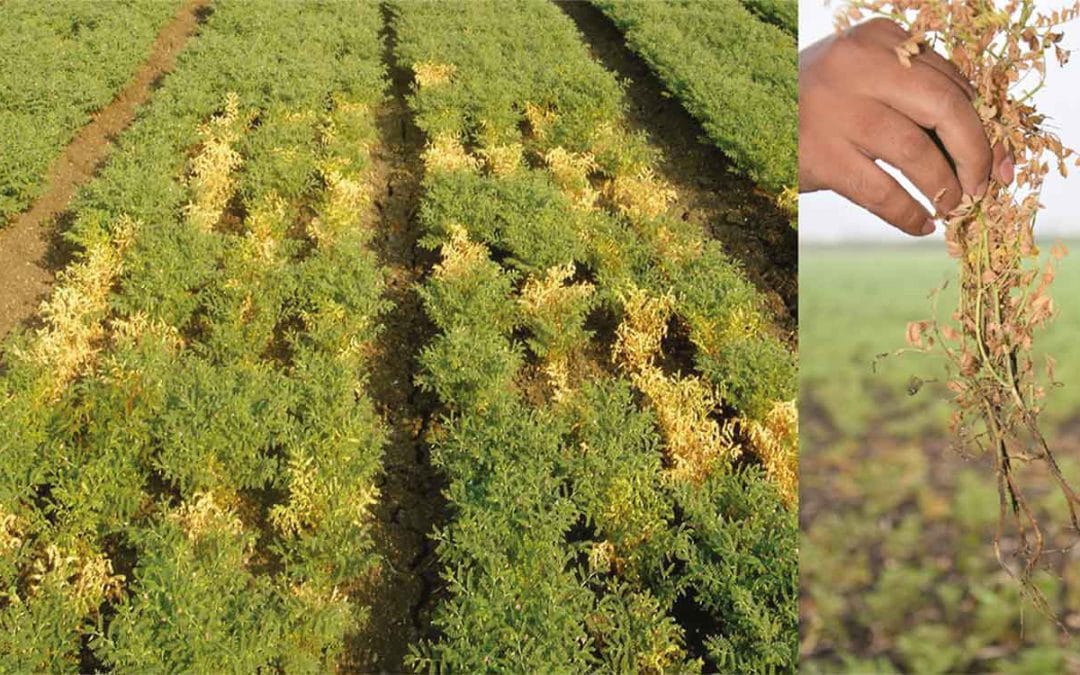 In their battle against dry root rot (DRR) of chickpea, a devastating fungal disease emerging as a major threat in India, researchers at ICRISAT have recently zeroed in on a few promising set of genes that play a key role in the plant's defense. The team led by Dr Mamta Sharma, who in their previous findings had affirmed the role of abiotic stresses in DRR incidence, have now explained the phenomenon at the molecular level. The team has found the involvement of endochitinase and PR-3-type chitinase (CHI III) genes in delaying the progression of DRR.
DRR is caused by Rhizoctonia bataticola, a soil-borne fungus that kills plant tissues and uses the dead matter to sustain itself. Such pathogens are termed necrotrophic. R bataticola is known to infect a wide range of plant species. While Fusarium wilt in chickpea has traditionally been the concern of plant health experts, DRR has emerged over the past decade as a major threat in the heart of India's chickpea producing regions – the central and southern states.
If the climate supports it, DRR can cause up to 75% yield loss in chickpea. Its incidence in Madhya Pradesh, India's biggest chickpea producing state, ranges from 5% to 35%. "Changing climatic conditions bring changes to plant-pathogen interactions, which may either work in the plant's favor or work against it. We are seeing that with rising average temperature and changes to the rainfall patterns, DRR has emerged as a major concern for chickpea farming in India," Dr Sharma, a Principal Scientist who leads the Precision Phenotyping Cluster at ICRISAT, said while explaining the rationale behind the long-term study being conducted in collaboration with the research institutions of the Indian Council of Agricultural Research (ICAR). Dr Sharma is the coordinator of the Center of Excellence on Climate Change Research for Plant Protection at ICRISAT where the study is being done.