Healthier mangroves, more fish
From
Published on

14.10.22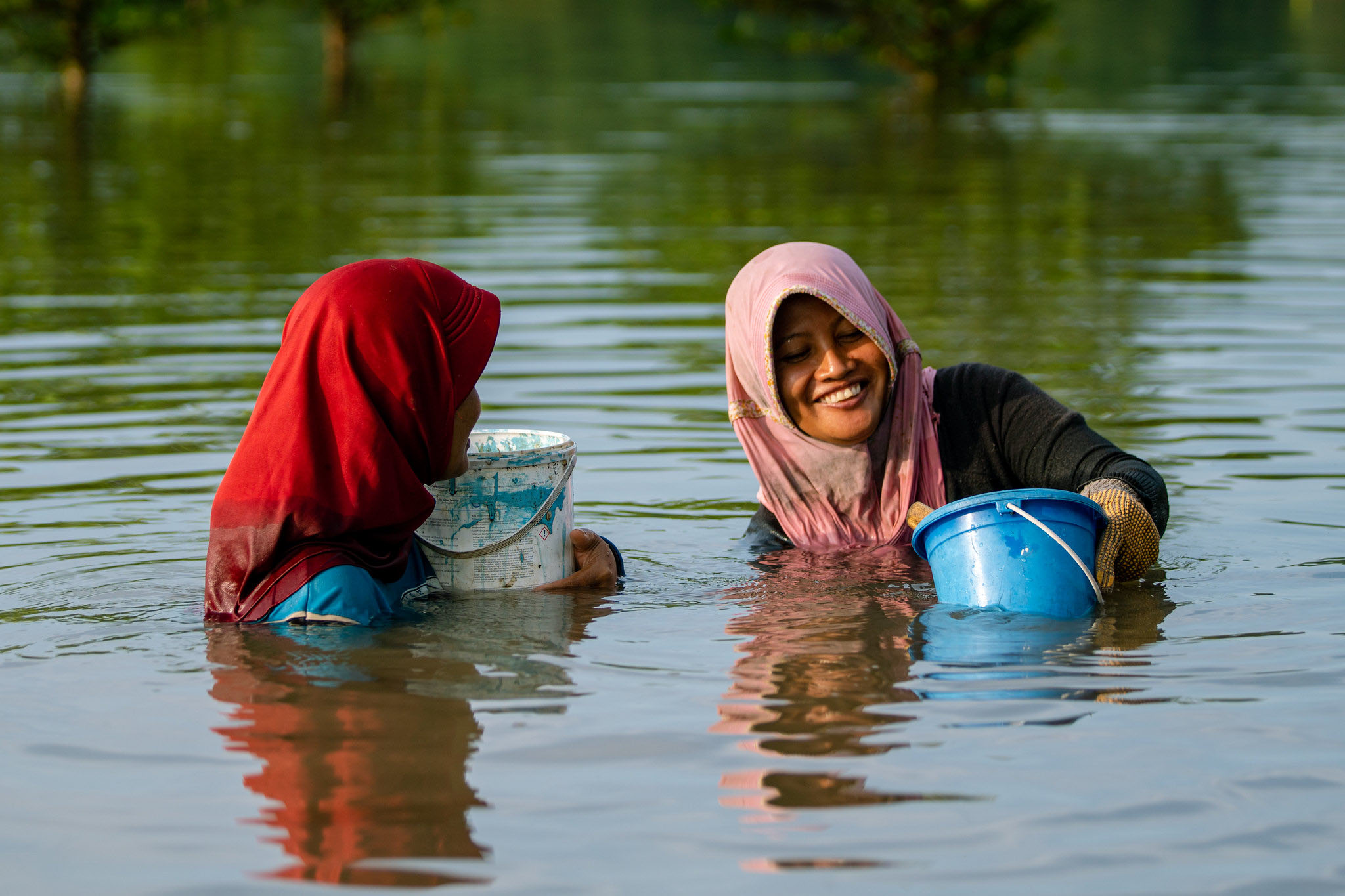 How conserving these critical ecosystems can boost food security and nutrition
Mangroves are finally having a moment. Global recognition is growing of their role as major carbon sinks and the ways they protect coastlines from floods and storm surges. They also harbour a variety of fish and other aquatic animals that support the diets and livelihoods of coastal communities.
Yet in Indonesia, this local biodiversity is threatened when mangroves are cleared for oil palm and, ironically, aquaculture. In fact, in Pangpang Bay on the island of Java, communities that had cleared mangroves to build fish ponds in the 1980s decided to replant them a decade later, when dikes became eroded by the tides and fish stocks declined.
"As mangroves become established, the number and diversity of crabs, fish and other marine biota increase," said local mangrove activist Hendro Supeno in a video filmed in Pangpang Bay. "Without mangroves, the community's food stocks and income are reduced."
To support efforts to conserve and restore degraded mangroves, researchers from the Center for International Forestry Research and World Agroforestry (CIFOR-ICRAF) along with Indonesian partners the University of Diponegoro, Blue Forests, University of 17 August, and Brawijaya University, are gathering evidence of just how much mangroves contribute to local diets and livelihoods.
With support from the David and Lucile Packard Foundation and the United States Agency for International Development, the two-year Restoring Coastal Landscape for Adaptation Integrated Mitigation (ReCLAIM) Project aims to increase the recognition of blue carbon ecosystems and promote evidence-based mangrove restoration.
The project focused on three sites along the coast of Java: protected mangroves in Serang Municipality and Regency, Banten; restored mangroves in Demak Regency, Central Java; and healthy mangroves in Banyuwangi Regency, East Java.
At all sites, a separate team conducted biophysical studies to better understand how degraded mangrove ecosystems affect coastal vulnerability and to identify the potential for restoration.
The nutrition and livelihoods team, led by CIFOR-ICRAF scientists Amy Ickowitz and Mulia Nurhasan, focused on the Demak and Banyuwangi sites. Through socioeconomic and dietary surveys and focus group discussions, they aimed to find out how mangroves support local livelihoods, food security and nutrition.
"Mangroves provide direct, daily benefits to local communities," said Ickowitz, who has studied the link between trees and nutrition and food security for the last 10 years. "Particularly for poor communities, the nutritional contribution that these fish can make to local diets can be key for preventing malnutrition."
Fish and other aquatic animals contain high amounts of micronutrients and polyunsaturated fatty acids, which are very important for physical and cognitive development of children. People also eat the leaves and fruit of mangrove trees, which can be processed into flour and other products.