Nile tilapia fingerling release in northeast Ghana aims to boost incomes and food
From

CGIAR Initiative on Aquatic Foods

Published on

20.10.23

Impact Area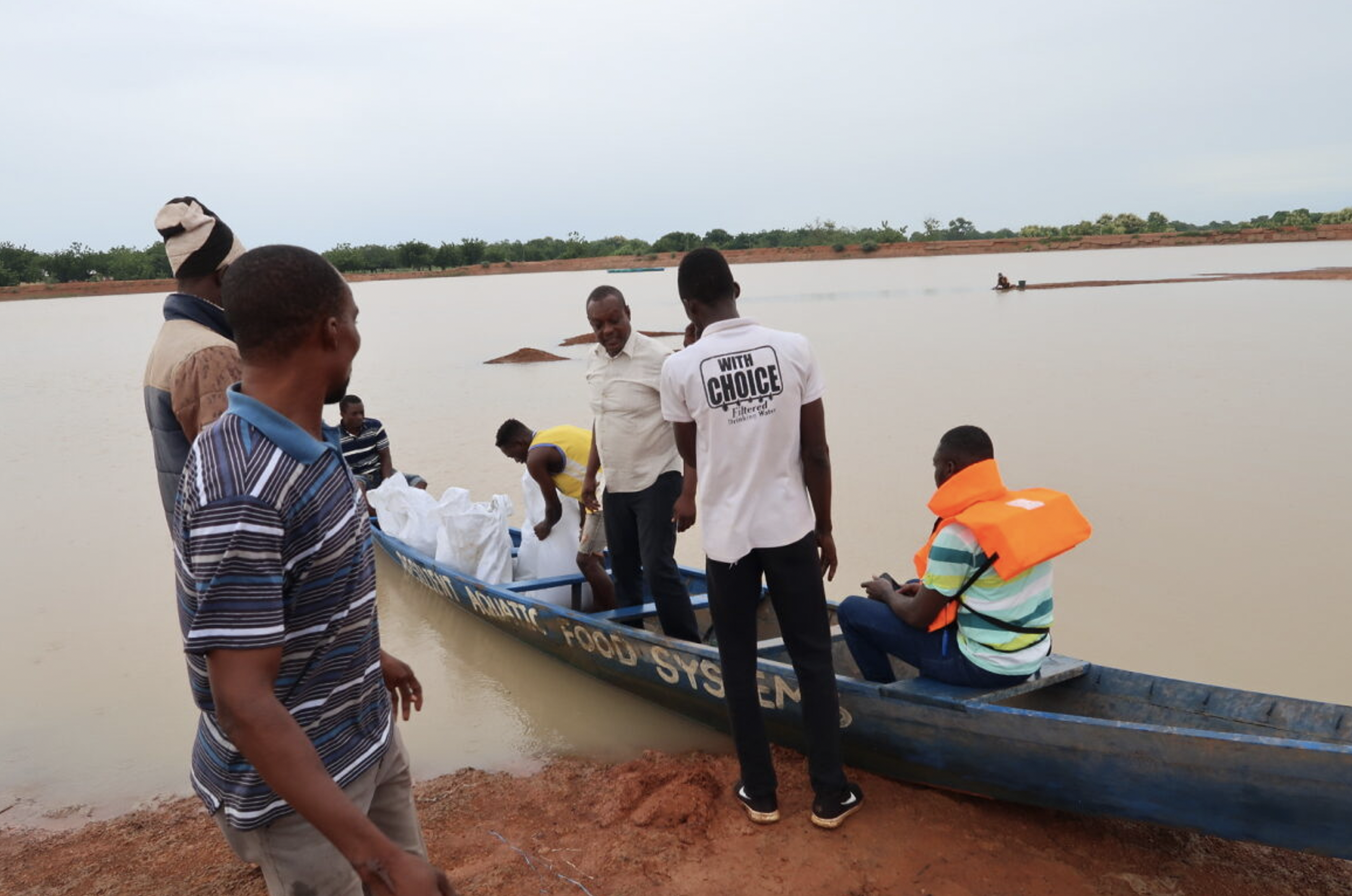 Four communities in Ghana's North-East Region have stocked small local reservoirs with 48,000 fingerlings of the Akosombo strain of Nile tilapia, as part of a pilot project involving the country's Fisheries Commission, CSIR-Water Research Institute and the Aquatic Foods Initiative of CGIAR.
The project supports the multi-purpose use of water infrastructure through the introduction of aquaculture, with the aim of increasing local incomes, improving food and nutrition security, and empowering marginalized groups. With agriculture being the dominant livelihood activity in the region, small reservoirs and dams currently provide rural communities with water access throughout the year, including for dry season irrigation, domestic use, and livestock.
The juvenile tilapia were sourced from the CSIR Water Research Institute in Tamale, and transported in 96 special packs containing oxygenated water . Last month, they were released into stocking cages in the reservoirs at Langbinsi, Nalerigu, Nasoni and Tombu. The production cycle is expected to be six months long, after which the fish will be harvested.
The work supports Ghana's Aquaculture Development Plan, which aims to increase production of farmed fish from around 90,000 tonnes in 2021 to over 210,000 tonnes by 2027. Recent remote sensing work by a team from the International Water Management Institute (IWMI) as part of the Aquatic Foods Initiative identified several sites in Ghana's North-East Region as being suitable for the establishment of aquaculture. This work informed the selection of reservoirs into which the fingerlings were released.
"We have to commend the Fisheries Commission and CSIR-Water Research Institute on their swift use of the results from the remote sensing work to stock these reservoirs with fish and kickstart aquaculture in the region," said Marie-Charlotte Buisson, co-Lead of the Aquatic Foods initiative. "Very soon these communities will have an additional source of food and income that doesn't interfere with other uses of the water bodies, and if properly managed, this should be self-sustaining."
"More importantly, this can serve as an alternative livelihood option for beneficiary youth groups and women, who often migrate to other cities in the country to find menial jobs, especially during the dry season," she continued.
The stocking of fingerlings in the four small reservoirs follows a scoping study and engagement process with communities in each pilot site. IWMI, through its implementing partners and community-level leaders, selected groups of 10-15 youths from each community as the direct beneficiaries of the project.
During the stocking exercise, communities were also provided with fish feed for the first cycle production, a set of water quality instruments and notebooks for record keeping. The groups are expected to use part of the proceeds from the first cycle harvest as seed capital for the subsequent cycles.
This article is based on a blog prepared by Sarah Appiah of IWMI.