Empowering NARES for high-impact rice breeding in Sub-Saharan Africa
From

CGIAR Initiative on Accelerated Breeding

Published on

05.07.23

Impact Area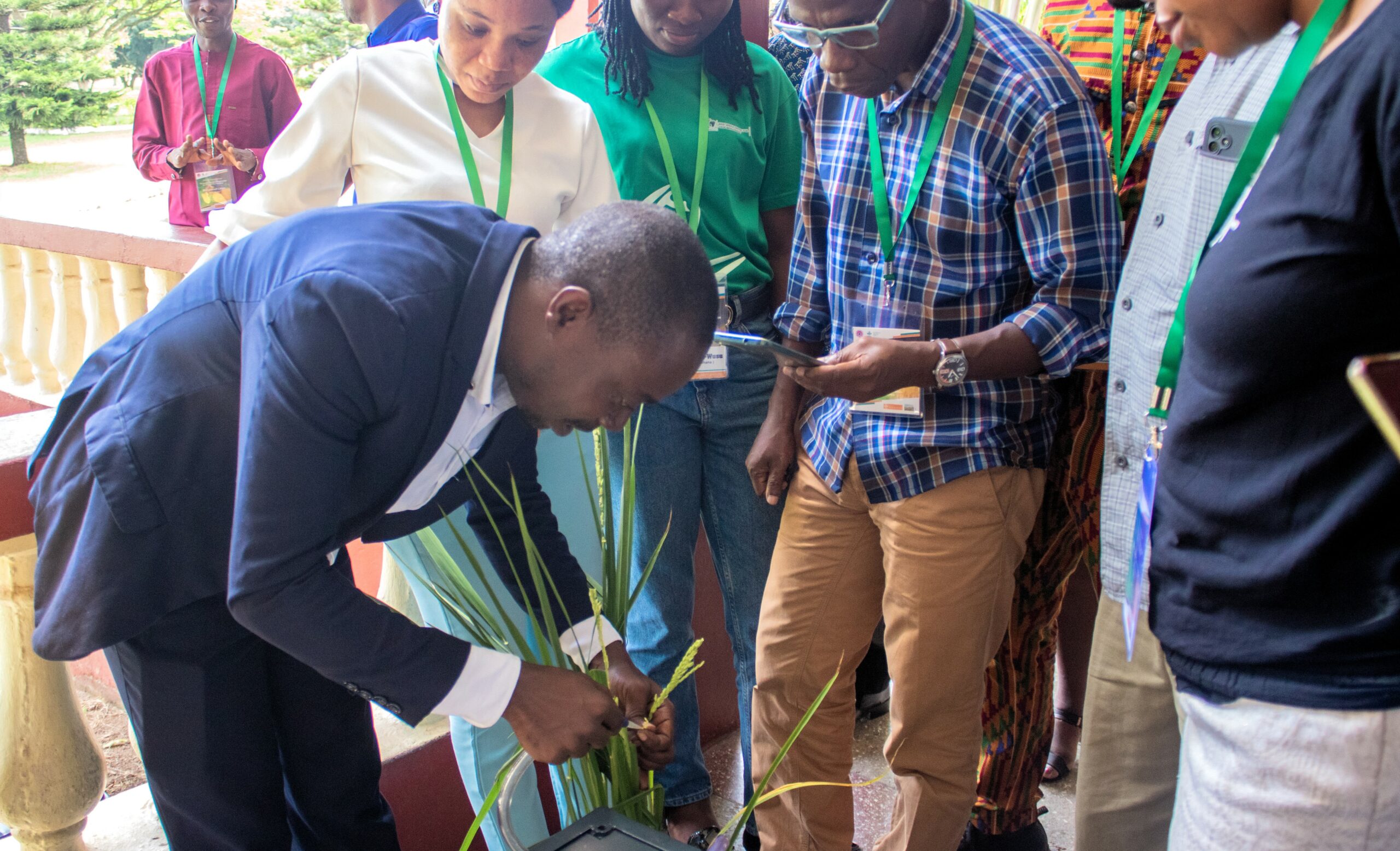 Rice consumption and demand in Sub-Saharan Africa are experiencing an unprecedented increase yet rice breeding systems are not adapted
Sub-Saharan Africa is witnessing a surge in rice consumption and demand that surpasses any other region worldwide. This phenomenon can be attributed to various factors, including population growth, urbanization, and evolving dietary preferences. Nonetheless, the vulnerability of traditional rice varieties, upon which farmers heavily depend in this region, underscores the pressing need for the development of enhanced, climate-resilient alternatives, to effectively address the challenges posed by climate change and a growing demand.
Unfortunately, the existing rice breeding systems and varietal development process in Sub-Saharan Africa follow a conventional, pedigree-based approach that is laborious, expensive, and time-consuming. In this context, the CGIAR's Accelerated Breeding Initiative team recently organized a week-long empowerment workshop, led by Sanjay Katiyar, for National Agricultural Research and Extension Systems (NARES) at the Crops Research Institute (CRI) in Kumasi, Ghana, to bring significant transformation to breeding programmes in West Africa. The June 20-23 workshop, titled "Accelerated Breeding Modernization for Hi-Impact Rice Breeding", brought together over thirty breeders from nine countries in West Africa, representing various crops.
A workshop to significantly transform NARES' breeding programmes in West Africa
The participants were introduced to various aspects of Accelerated Breeding Modernization, including field Rapid Generation Advance (F-RGA), Speed and Smart breeding tools and technologies, digitization,bBar-coding, electronic data capture, data management, and high-throughput SNP genotyping. They also learned about the significance of globally available best Communities of Practice (CoPs) and how they can be effectively integrated into NARES breeding programs. "South Asian NARES have widely embraced Institutionally Customized Speed and Smart breeding technologies to develop demand-driven, climate-resilient, and high-yielding varieties," stated Girish Chandel, IGKV, India.

The workshop was part of a broader project called "Accelerated Breeding modernization to create Hi-impact NARES Breeding Programs", which aims to enhance the rate of genetic improvement and develop improved rice varieties and hybrids specifically tailored for African countries. By incorporating modern breeding principles, innovative technologies, and operational excellence, the work supports the transformation of NARES' breeding programs to ensure food security at the local, national, and global levels. 
"NARES empowerment through Accelerated Breeding Modernization is vital for aligning NARES with CGIAR global breeding programs and achieving the food and nutritional security objectives set by One CGIAR by 2030," emphasized Sanjay Katiyar, Breeding Modernization Lead and ABI-TRANSFORM- Coordinator. 
The participating organizations included Centre National de Recherche Appliquée au Développement Rural (FOFIFA), Madagascar; Agricultural Research Institute of Mozambique (IIAM), Mozambique; Crop Breeding Institute (CBI), Zimbabwe; Tanzania Agricultural Research Institute (TARI), Tanzania; Institut sénégalais de recherche agricole (ISRA), Senegal; Centre national de recherche agronomique (CNRA), Ivory Coast; National Cereals Research Institute, (NCRI), Nigeria; Indira Gandhi Agricultural University (IGKV), India; and Crops Research Institute (CRI) and Savanna Agricultural Research Institute (SARI), Ghana. 
This diverse representation highlights the wide reach and coverage of the Accelerated Breeding Initiative, reinforcing its commitment to fostering impactful change in rice breeding across Sub-Saharan Africa.
__
Written by Sanjay Katiyar, Accelerated Breeding Initiative.
We would like to thank all funders who support breeding research through their contributions to the CGIAR Trust Fund and all funders and partners who have supported the work of Excellence in Breeding, particularly support from Bill and Melinda Gates Foundation.