Eastern India Rainfed Lowland Shuttle Breeding Network (EIRLSBN) celebrated 25 Years of research accomplishments
From
Published on

06.12.17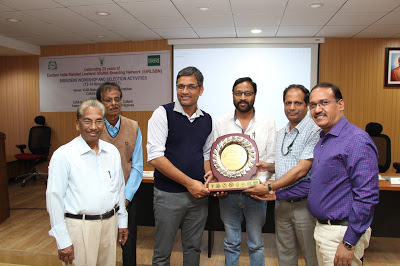 Eastern India Rainfed Lowland Shuttle Breeding Network (EIRLSBN) celebrated 25 years of its establishment and research accomplishment during the recently held annual breeder workshop and shuttle breeding selection activities at National Rice Research Institute (NRRI), Cuttack on 13-15 November 2017.
The network was established in 1992 to improve the yield potential of the rainfed lowland rice varieties of eastern India comprising of Assam, Bihar, Chhattisgarh, Eastern Uttar Pradesh, Odisha and West Bengal. The program which started with six centers (Titabar, Pusa, Raipur, Mashodha, Chinsurah and Cuttack) now operates at nine centers including Bhubaneswar, North Lakhimpur and Sabour. The network aims to develop a broad range of new breeding lines that are suitable for the diverse rice ecosystems in this region. It also focuses on germplasm development, exchange, and joint selection of segregating breeding material. The network has made several notable achievements including production of hundreds of advanced breeding lines, and the release of 20 varieties for eastern India.
During the workshop, the contribution of participating institutions and scientists associated with the network during last 25 years was recognized and honoured. Dr. Himanshu Pathak, Director, NRRI said "Eastern India is a very complex region because of diverse and difficult rainfed ecology and lowland agroecosystem. Operating in such a difficult environment itself is great achievement besides tremendous research efforts made by the network". In attendance were founding members of the network, Dr. J.K. Roy and Dr. S.R. In his address, Dr. Roy said "the network gave opportunity and scope to breeders to expose to elite research material improve and generate new breeding material". Dr. S.R. Das, put emphasis on developing next generation of breeder to carry forward such research platform and expressed his satisfaction over participating institution's encouraging young breeders and training them to take over the baton. Dr. Shalabh Dixit, coordinator of the network, expressed gratitude to all the scientists who worked on this initiative and requested to continue their guidance for their continued guidance to new a generation of breeders in shouldering successful transformation of invaluable research knowledge and experience they are leaving behind. Mr. T.C. Dhoundiyal, Project Manager for South Asia recalled the journey of the network and thanked all the participating institutions for carrying this research forward. He joined Dr. Shalabh in applauding the role of Dr. J.N. Reddy, Principal Scientist of NRRI and one of the founding members of the network for tirelessly coordinating the network activities for many years.
Learn more about IRRI (www.irri.org) or follow us on social media and networks (all links down the right column).