Dr. Mahalingam Govindaraj of HarvestPlus to Receive the 2022 Norman Borlaug Award for Field Research and Application
From

HarvestPlus

Published on

30.08.22

Impact Area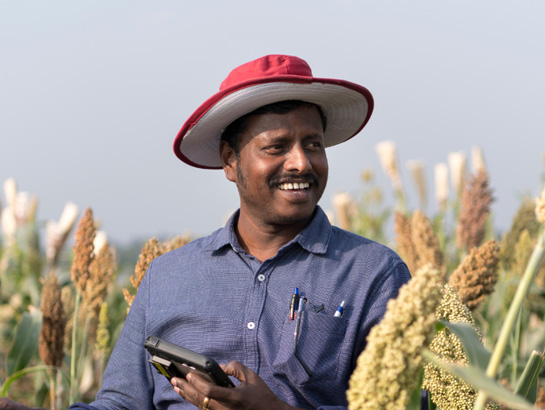 The World Food Prize Foundation has announced that Dr. Mahalingam Govindaraj, Senior Scientist for Crop Development at HarvestPlus and the Alliance of Bioversity International and CIAT, will receive the 2022 Norman E. Borlaug Award for Field Research and Application, which is endowed by The Rockefeller Foundation.
World Food Prize Foundation Senior Director Keegan Kautzky made the announcement during the National Symposium on Food, Nutrition and Environmental Security on August 30 in New Delhi, India.
Govindaraj is being recognized for his outstanding leadership in mainstreaming biofortified crops, particularly pearl millet, in India and Africa. For more than a decade, he has directed the development and dissemination of high-yielding, high-iron and high-zinc pearl millet varieties that have contributed to better nutrition for thousands of farmers and their communities.
"Pandemics remind us that food and nutrition security must go hand in hand," Govindaraj said. "Effectively addressing malnutrition requires that staple crops, such as millet, be bred for essential nutrition, in addition to yield."