Dr. Krishna Joshi appointed as IRRI Representative in Nepal
From
Published on

01.03.18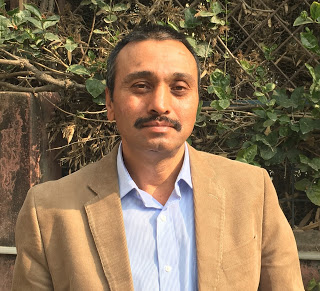 IRRI is pleased to announce the appointment of Dr. Krishna Joshi as the Institute's representative in Nepal, effective 12 February 2018. Dr. Joshi will lead the Institute's key initiatives in the country and will serve as the focal person for all endeavours in strengthening IRRI's partnership with key stakeholders.
Dr. Joshi is an agricultural scientist specializing in plant genetics, crop improvement, seed systems and value chains. With over two decades of experience in the agri-sector, he has led several key agricultural Research for Development (R4D) projects in Bangladesh, Nepal, Pakistan and India, pertaining to rice and other staple crops. Having worked in multi-disciplinary settings at international research and development organizations, civil society and private sector organizations, he is uniquely positioned to leverage his knowledge and skills in furthering IRRI's mission to improve livelihoods and nutrition, and abolish poverty, hunger, and malnutrition among those who depend on rice-based agri-food systems.

Dr. Joshi has been instrumental in developing and popularizing participatory plant breeding and participatory varietal selection approaches for developing varieties that suit climate smart agriculture. He has unique skills in fast-tracking varietal development, testing and deployment for quick impact creation. With a background in strengthening public-private partnerships in South Asia, he is skilled in diversification and sustainable intensification of crops using climate smart technologies, on-farm management of agricultural biodiversity and germplasm exchange. He has also been instrumental in the establishment and development of 3 seed companies in Bangladesh and Nepal, 35 farmers' cooperatives and community-based seed producer groups in Nepal and 21 village-based seed producer groups in Pakistan.
Dr. Joshi has a Doctorate degree in Plant Breeding from the University of Wales, Bangor, UK in 2001, with thesis research on rice varietal diversity and participatory crop improvement in Nepal. He also has an M.Phil. in Plant Breeding and Genetics from the University of Cambridge, UK. He has published 29 research papers in leading international journals, 25 international conference papers, 10 book chapters several policy and discussion papers, co-authored 180 technical papers and articles (also in Nepali language) and served as a reviewer for many international journals.
For more information about the IRRI-Nepal partnership, click here.
Learn more about IRRI (www.irri.org) or follow us on social media and networks (all links down the right column).