Co-design and learning around diversification for resilient agrifood systems in Kenya
From
Published on

12.10.23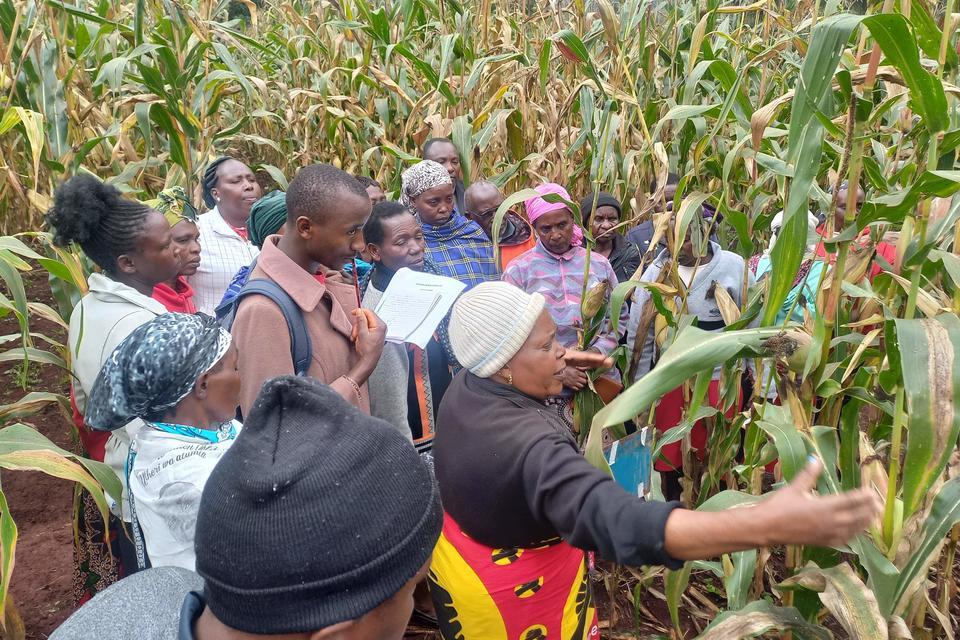 Year in year out, I relied on maize which would fail due to extended droughts and unpredictable rainy seasons, and this would leave us hungry. However, for the past two seasons, using crop diversification and water management technologies, I can harvest beans then follow it up with maize. My family is assured of food, commented Mary Mbuya of Runyenjes, Embu County.
Maize-mixed systems cover over 75% of the cropping land in Kenya, with smallholders dominating the farming systems. Unfortunately, the maize-growing area faces occasional drought stress, resulting in yield losses, in some instances up to 100%. Without alternatives livelihoods, many households have been left at the blink of starvation. The threat of climate change has generated a deep desire to build resilience to the maize faming systems through crop diversification.
Crop diversification seeks to promote crop diversity by crop rotation, multiple cropping, or intercropping, with the goal of improving productivity, sustainability, and supply of ecological systems. Diversifying systems entails using varieties and seeds adapted to local climate and pests, sustainable mechanization, applying soil and water conservation practices, improve water management and investing in agricultural knowledge application.
Crop diversification has proven beneficial not just because it's an innovative farming technique, but also because it manages to overcome a lot of farming problems caused by changing environment, noted Dr. Boaz Waswa, Ukama Ustawi WP 1 Kenya Lead.
The Alliance-CIAT, working with Kenya Agricultural and Livestock Research Organization (KALRO), is implementing UkamaUstawi (UU): Diversification for Resilient Agri-food in East and Southern Africa,  that aims to help millions of smallholders intensify, diversify and de-risk maize-mixed farming through improved extension services, institutional capacity strengthening, targeted farm management bundles, policy support, enterprise development and private investment. The Ukama Ustawi activities in Kenya are being implemented in Nakuru, Embu, Narok, Kakamega and Makueni Counties.
Through the Initiative, KALRO and the farmer groups in Embu County in eastern Kenya used the Mother & Baby Approach to facilitate learning around diversified and resilient cropping systems. Mother & Baby approach is a trial design, and one approach of conducting on-farm participatory action research. The approach facilitates conversations among farmers, extension, and researchers around new innovations.
Using this approach, KALRO researchers and the farmers in Embu County established 6 mother demos on Lead Farmers fields showcasing a set of diverse crop diversification technologies integrating maize and legumes under monocropping, rotation, intercropping and strip cropping systems and complementary technologies include use of manure and fertilizer, furrows, planting pits, mulch and other good agronomic practices. Beyond the mother demos, other farmers established 176 Baby demos on their farms with one or two preferred technologies of their choice. Baby demos serve for own farmer validation and scaling of the promising and preferred technologies. The technologies have been summarized in a easy-to-read brochure that is available to share with the farmers.
Over the two cropping seasons, the farmers, extension, and researchers interacted learning around the technologies. Farmer field days were recently held at two of the mother demo sites in Kirangano village in Runyenjes Sub County and Gichegeri in Manyatta Sub County enabling further farmer-to-farmer learning. The field days drew in over 231 participants including farmers, county agriculture officers, NGOs and private agroinput dealers of whom 160 were women and 71 men.