CGIAR Research Initiative scientists advise Nepal government on linking research and policy
From
Published on

31.05.23

Impact Area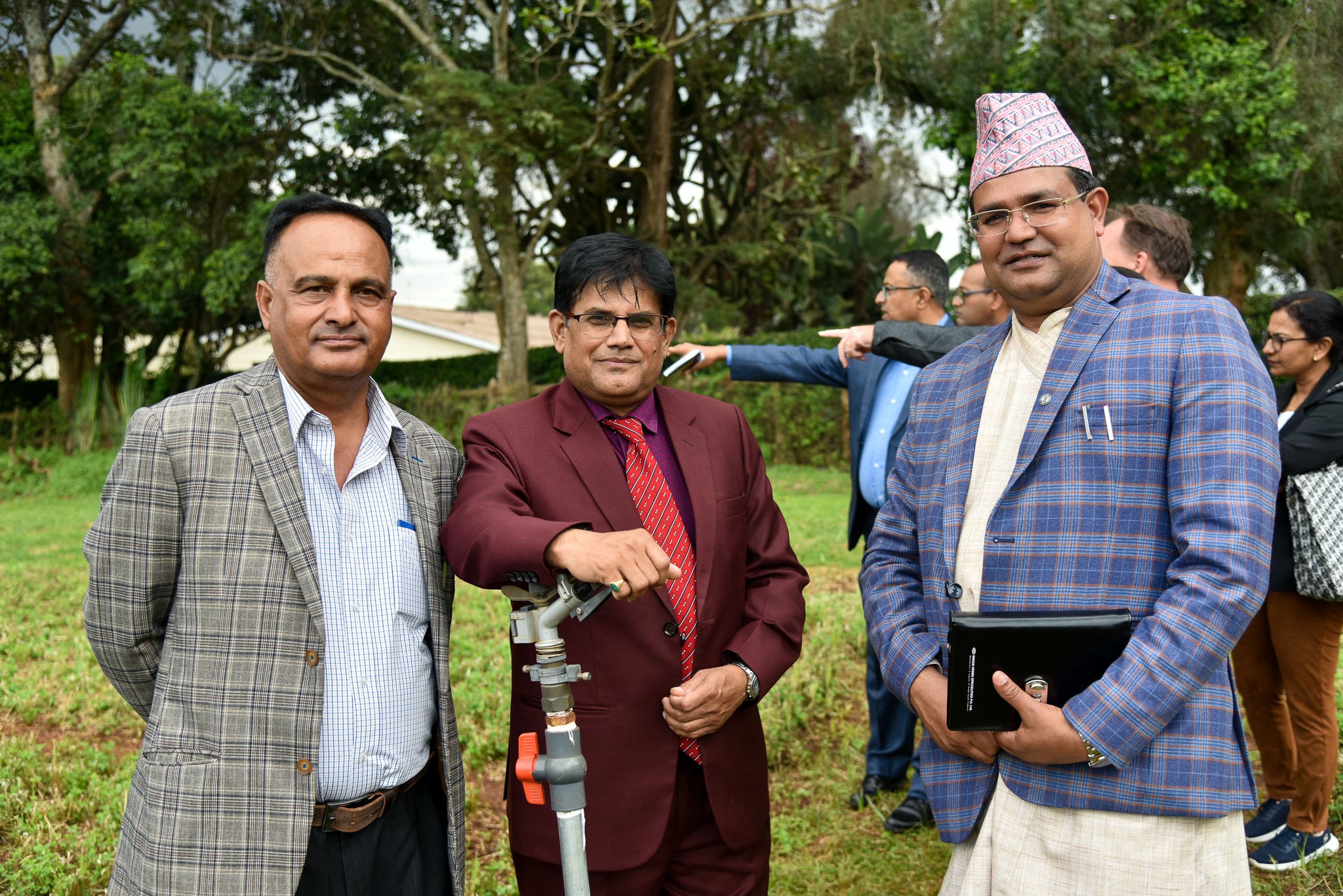 On 10 May 2023, CGIAR scientists from the International Livestock Research Institute (ILRI) and Alliance Bioversity & CIAT leading research in four different CGIAR Research Initiatives came together to discuss how to better link research and policy with Nepali policymakers at ILRI in Nairobi, Kenya. The session, 'Enhanced science-policy interfaces: A South-South dialogue', was part of a week-long trip where a delegation from Nepal travelled to Kenya to strengthen the South-South cooperation and co-creation components of CGIAR's Sustainable Animal Productivity for Livelihoods, Nutrition and Gender Inclusion (SAPLING) initiative that aims to enhance sustainable buffalo value chains in rural Nepal. 
This dialogue built on a March sensitisation meeting organised by the Ministry of Agriculture and Livestock Development (MoALD) in Nepal where 25 stakeholders from various government departments, research institutions, universities and the private sector gathered to discuss the country's Livestock Master Plan (LMP), which will guide long-term national strategies for livestock development. During that meeting, the need was raised for research to inform and develop partners to support the development of Nepal's LMP. Therefore, this additional discussion allowed an opportunity for the delegation to talk to a wider group of CGIAR scientists. 
The session focused on the challenges policymakers face in Nepal, and in many countries, when trying to bridge the gap between researchers and policymakers. Often, research does not align with a country's needs, and policies may simultaneously lack evidence-based foundations. Cynthia Mugo, policy and engagement stakeholder advisor at ILRI, set the tone by prompting the Nepali policymakers, 'You are policymakers, and we are researchers, how can we engage with you?' 

Insights from CGIAR Initiatives:
During the session, scientists from CGIAR Initiatives presented their experiences in engaging policymakers across various countries. 
Spanning

the Resilient Cities

and

One Health initiatives

, Silvia Alonso Alvarez, senior scientist epidemiologist at ILRI, presented

the

MoreMilk project.

This project addresses food safety in Kenya's informal dairy sector through capacity and knowledge building, incentives like increased income and professional development and support through ensuring political buy-in. Effective and facilitated communication between policymakers and informal milk vendors proved essential in bridging the gap between policy and reality. These two initiatives build on the MoreMilk project, continuing to design and test suitable interventions to improve food safety in informal markets for better nutrition and livelihoods.

Michael Peters, tropical forages team leader at CIAT, discussed the creation of an enabling policy environment for the adoption of forages in Kenya that spans several CGIAR initiatives, including SAPLING. Peters emphasized the need for policies regarding functional seed systems that improve the availability, affordability and accessibility of improved forage seeds like vegetatively propagated materials. His view is that for long-term sustainability public-private partnerships are essential, and for economies of scale, the approach often needs to be multinational.

 

Hung Nguyen, co-leader of the animal and human health program at ILRI, introduced the One Health initiative that he also leads, emphasizing the importance of strengthening national One Health platforms. Without adequate resources, countries like Nepal face significant financial losses in the event of zoonotic disease outbreaks. Robust platforms engaging policymakers and the private sector are necessary to break silos and foster collaboration between different sectors and levels of government.

 

As a contribution from

the Livestock and Climate initiative

, Jason Sircely, ecosystem scientist at ILRI, shared rangeland policy and its integration with climate, conservation and One Health concerns. Favourable policies enable action research and the implementation of successful rangeland management techniques, such as community-based and participatory approaches. These strategies could be adapted to countries like Nepal, considering factors like land tenure.

 

Opportunities for collaboration in Nepal:
These insights provided a platform for the Nepali delegation to identify areas where research and policy could be better linked in Nepal and explore opportunities for collaboration. 
First, Nepali policymakers shared that Nepal has developed a national One Health platform but emphasized the need for action in implementing the One Health strategy, managing zoonotic diseases, supporting research for vaccine development and addressing food safety risks in informal markets. Collaboration with ILRI's successful approaches with India's informal markets was suggested, building on the work of A4NH and APART project in Assam, India.  
Second, Nepal has limitations in forage development and importation. Collaboration could explore introducing novel and suitable forage types from other countries and reviewing policies on importation, registration and IP regulations to enable the adoption of new forages. SAPLING could be enhanced with environmental assessments and tools for selecting forages based on Nepal's ecology and livestock systems. 
Third, Nepal's unique mountainous terrain poses challenges in managing rangelands. Policymakers expressed interest in collaborating with ICMOD and ILRI to map priority areas and address the conservation of yaks and restoration of rangelands. 
Lastly, Nepali policymakers sought assistance in identifying areas for investment and potential policy obstacles to aid LMP development. To harness the potential of Nepal's livestock sector and attract investments, Sirak Bahta, senior agricultural economist at ILRI, emphasised the pivotal role of the LMP in aligning investments, policies and interventions to optimise the sector's economic, social and environmental outcomes. From the session, it was clear that the plan should consider key value chains, such as dairy and small ruminants, as well as One Health and rangeland management. ILRI is fully prepared to support MoALD in developing a comprehensive LMP that identifies key priorities for Nepal. 
Demonstrating their commitment to the LMP, Deepak Kumar Kharal, secretary of MoALD, pledged to lead a participatory process that actively involves the private sector and other stakeholders. He reiterated MoALD's commitment to the LMP process as a holistic framework for analysing and guiding the sustainable growth of the livestock sector. 
Namrata Singh, provincial secretary of Madhesh Province in Nepal, shared the Nepal delegation's desire to collaborate with CGIAR and ILRI in developing a livestock master plan: 
"It is important for us to collaborate to develop the livestock master plan. We hope for assistance in budget allocation for not only financial but also manpower resources. We have already talked and shared that we need ILRI's technical support in making a master plan in the future."
In conclusion, the open discussion highlighted various areas of collaboration in Nepal, including food safety and informal markets, tropical forages, One Health and rangeland management. The CGIAR team responded by suggesting possible solutions, such as reviewing Nepal's SAPLING activities and LMP priorities to include One Health and rangeland management. This dialogue exemplifies the strength of CGIAR initiatives, as each initiative has its role in improving livelihoods, which allows research findings to be shared across countries and integrated into the policymaking process. The Initiatives will continue to engage with the Nepal government to further develop ideas for collaboration and support the development of a comprehensive LMP.
Written by Madeline Wong (ILRI). Header image: Nepal policymakers in the forage plots (ILRI/Madeline Wong)