CGIAR hosts a workshop in Thailand highlighting a ground-breaking approach to scaling agricultural innovations
From

CGIAR Initiative on Asian Mega-Deltas

Published on

20.11.23

Impact Area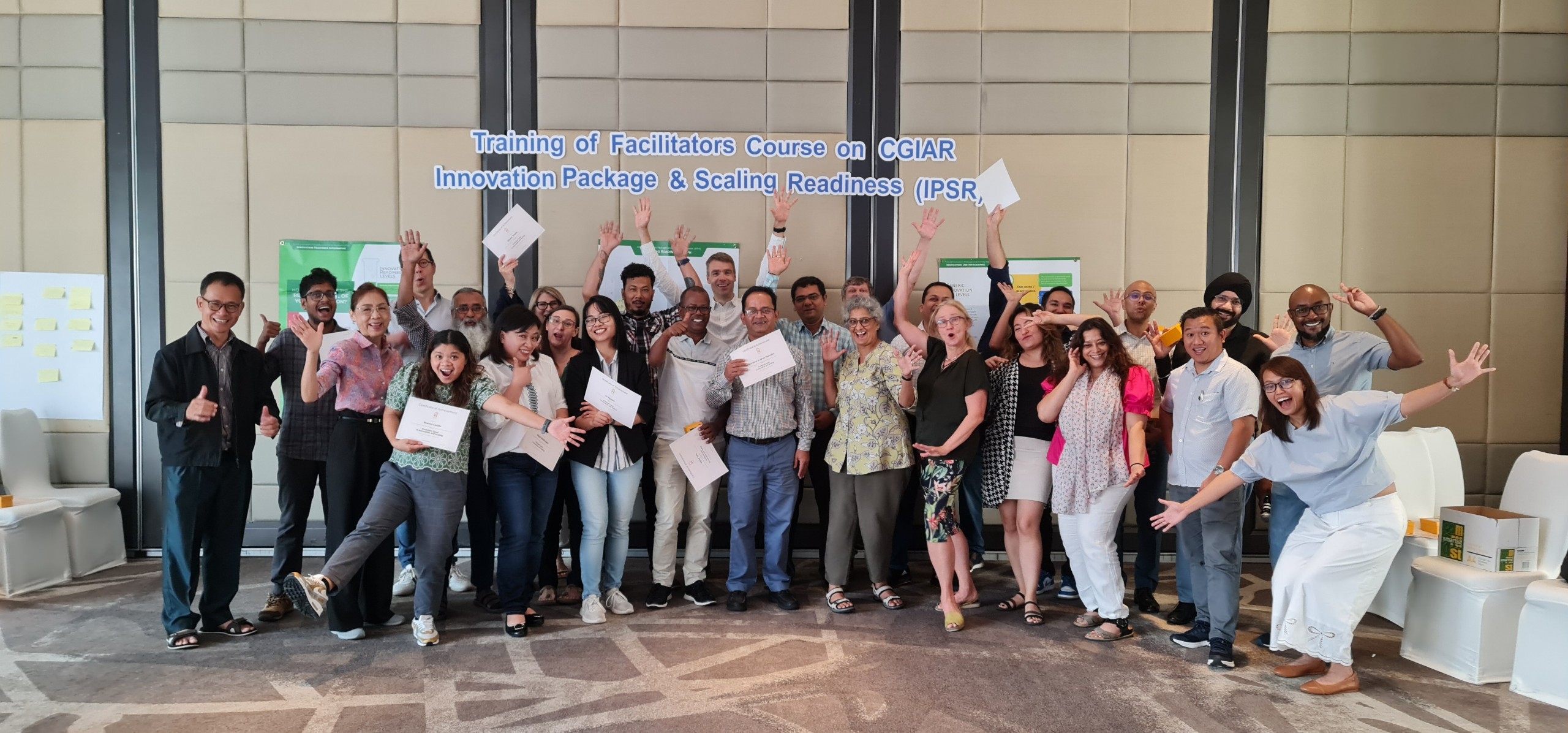 To equip researchers and development practitioners with a transformative strategy for scaling agricultural solutions, CGIAR organized the Innovation Package and Scaling Readiness (IPSR) workshop in Bangkok, Thailand on November 7–10, 2023. Developed by CGIAR, workshop participants learned about the IPSR – an "agile and human-centered approach" to scale agricultural innovations.
In his opening remarks, Dr. Marc Schut, senior innovation and scaling scientist at CGIAR, emphasized the significance of a systematic approach to scaling, underlining the complexity of the process and the need for a different mindset. He stressed that the workshop aimed to equip experts with the skills and mindset necessary to apply the IPSR approach to their respective Initiatives and projects.
Dr. Bjoern Ole Sander, IRRI country representative Thailand and lead of the CGIAR Initiative on Asian Mega-Deltas, shared in his welcome message that the workshop will bring a spotlight to the importance of embracing new challenges in a developing agricultural context and fostering collaboration and co-creation with partners. He stressed that CGIAR initiatives should take this approach of scaling seriously and identify context-specific adjusted/adapted approaches in relation with partners' interest and engagement.
The 4-day event featured a comprehensive agenda, including fundamental sessions on innovation and scaling readiness concepts, basic facilitation skills, and practical elements such as pitching and simulating IPSR workshops. Co-facilitators Dr. Rica Flor, scientist at IRRI Cambodia, and Dr. Edwin Kang'ethe, scaling expert at CGIAR, provided invaluable guidance throughout the workshop, ensuring participants were well-equipped to understand and implement the IPSR approach.
On the third day, the trainees witnessed an actual IPSR session, with a focus on packaging the mechanized rice straw composting innovation for Thailand. This practical exercise aimed to immerse participants on the process at the same time implement an innovation packaging with the partners and key stakeholders of the innovation.

Notable highlights from the workshop discussions included the emphasis on clarifying the scaling ambition, the need for context-specific packages sensitized in the IPSR approach, and the crucial role of evidence for scaling readiness of any innovation. The collaborative effort between the innovation team and demand partners in presenting innovations was also underscored, along with the need of a stage gating process to determine the viability of innovations in specific contexts for both scaling and managing a portfolio of innovations.
The diverse participant group, comprising CGIAR staff from various centers and Initiatives, academia, private sector, and agricultural development practitioners across Asia, provided a wealth of perspectives and expertise, enriching the workshop's outcomes.
Dr. Edwin Kang'ethe shared that workshop in Bangkok was a success and an important milestone, serving as the fourth similar event in the Training of Facilitators series, following those in Nairobi Kenya, Texcoco Mexico, and Addis in Ethiopia. He proudly shared "that the participants were highly engaged, curios and interested in responsibly and inclusively scaling the science products and outputs they produce, with a focus on sustainability and building upon existing strategies, approaches, and partnerships."