CGIAR Food Systems Accelerator Entrepreneur Spotlight: Transforming Communities through Nutritious Food: The Yellow Star Produce and Food Processors Journey
From

CGIAR Initiative on Diversification in East and Southern Africa

Published on

26.06.23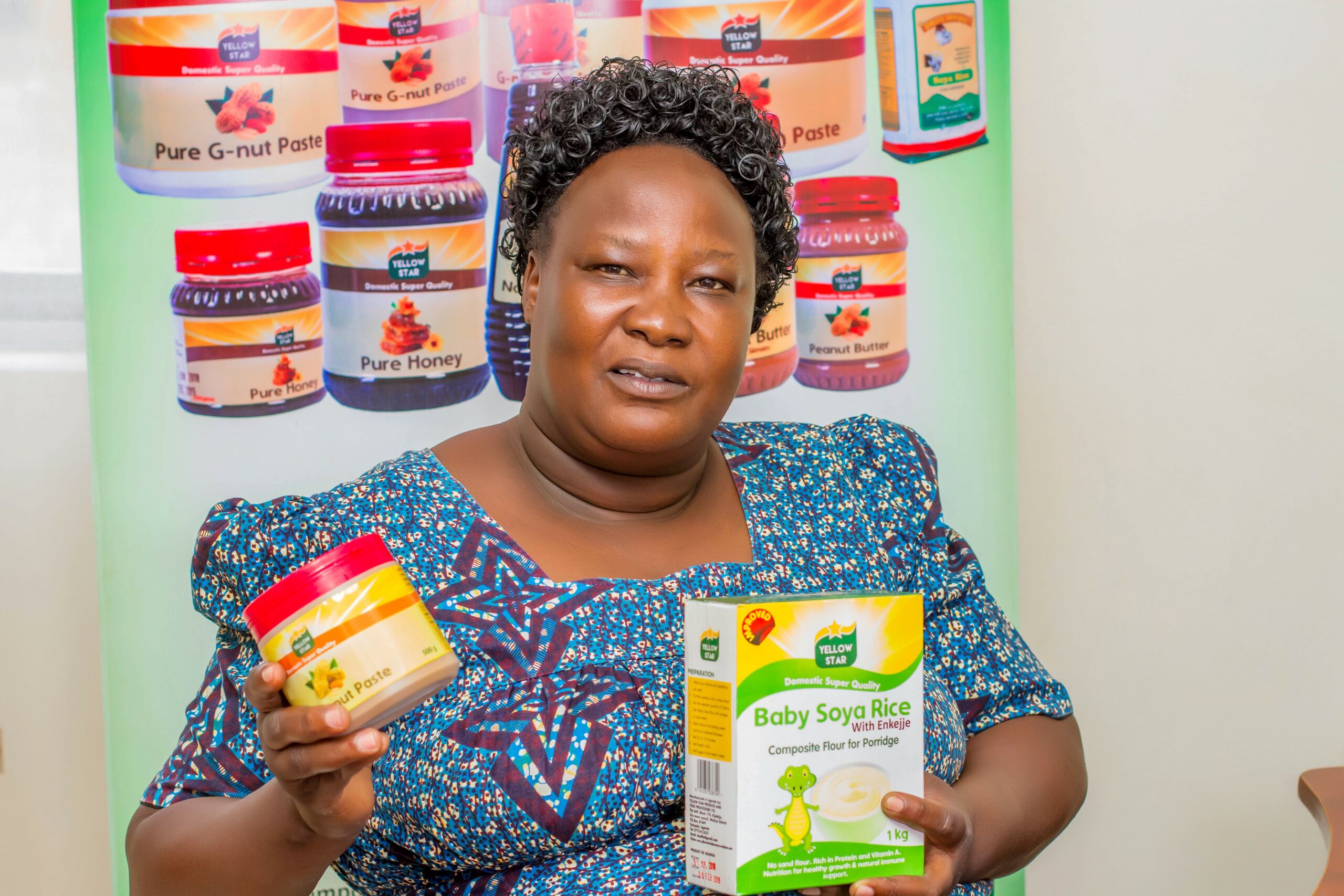 In the heart of Uganda, a passionate and seasoned entrepreneur named Florence Okot saw a pressing need for more nutritious food in her community, particularly among vulnerable children, and to contribute to employment opportunities for marginalised communities. This motivated her to start Yellow Star Produce and Food Processors, a company dedicated to improving nutrition through the production of high-quality composite flour and other food products. Since its founding, Yellow Star Produce and Food Processors has been dedicated to addressing community challenges and improving access to nutritious products for vulnerable groups such as children and expectant women. Through the company's emphasis on value addition and last-mile distribution, Yellow Star ensures convenient access to nutritious products, enabling these communities to access the essential nutrients necessary for their well-being.
The Challenges
"When I witnessed the nutrition challenges faced by orphans and vulnerable children during my years as a national coordinator for an international organisation, it struck a chord within me. These children, scattered in the suburbs of Kampala, deserved better. Coming from Northern Uganda myself, I understood their struggles." – Florence.
In Uganda, numerous communities are grappling with significant nutrition challenges, particularly among orphans and vulnerable children. Statistics reveal that 29% or 3 in 10 children under the age of 5 are undernourished,  underscoring the pressing need to tackle this critical issue. However, it's not just the children who are affected. Pregnant women also face the challenge of inadequate access to nutritious food. Studies indicate that a significant percentage of pregnant mothers in Uganda lack proper nutrition, with the prevalence of being underweight and anaemic among women being 9% and 32% respectively.
The situation extends beyond the immediate health concerns. It also has far-reaching implications for employment and livelihoods. Ensuring access to good quality nutritious food requires addressing the underlying factors that hinder people from obtaining it. In order to access nutritious food, households require not only a source of income but also the knowledge and skills necessary to make informed dietary choices and prepare nutritious meals. It is a multifaceted approach that addresses both economic and educational aspects. Addressing the interplay between nutrition and economic factors is essential for breaking the cycle of malnutrition and promoting overall well-being in the country.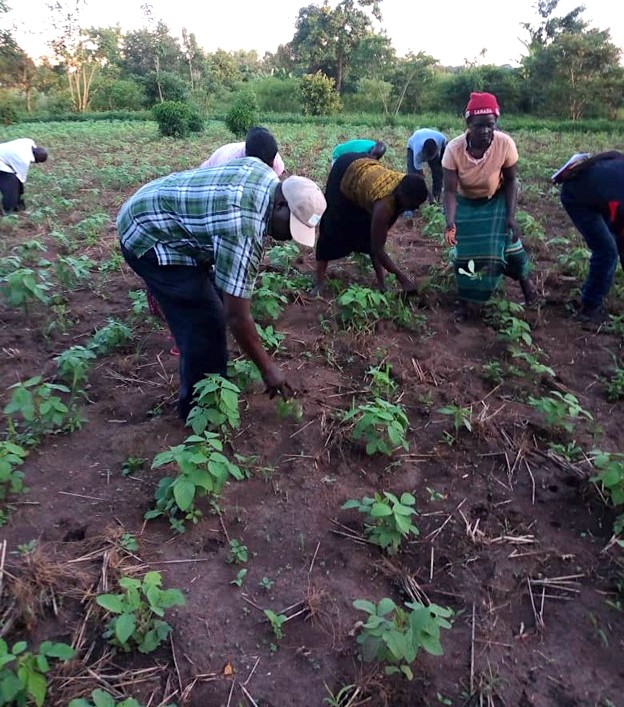 Women farmers in the field in Yellow Star's outgrower network. Photo credit: Yellow Star Produce and Food Processors
The Yellow Star Solution
"As a village girl child raised by farmer parents in the farmland settlements of Northern Uganda in the 1960s, I actively participated in various grain farming activities, gaining practical skills in food production. These experiences became the foundation for my journey of supporting farmer groups and establishing an agro-processing venture for sustainable production.
I initially started by trying to teach vulnerable mother to make composite flour for improved nutrition, but the response wasn't as expected. That's when I decided to take matters into my own hands, producing high-nutrition foods. The positive response was overwhelming, and slowly, it grew into a business. I started training women groups as outgrowers. In 2014, I officially registered Yellow Star Food Processors and began establishing the necessary structures. Our target market and beneficiaries are expectant mothers and children, from the earliest stages of life, breastfeeding to weaning." – Florence.
Florence Okot, a native of Gulu in Northern Uganda, grew up in a region deeply affected by civil war since the 1980s. Coming from a large family of eight siblings, Florence, along with her siblings, informally started Yellow Star Produce and Food Processors in 1997. With a background in social work and experience working for various NGOs focused on children's welfare, Florence initially balanced her role as a social worker with launching her business.
Yellow Star Produce and Food Processor's humble beginnings involved grinding products like soya beans at home and selling them to mothers struggling to provide adequate nourishment for their children. Encouraged by the initial success, Florence expanded her product range to include millet powder, peanut butter, and honey, all of which were warmly received within the village and among neighbours and friends.
As demand for her nutritious products grew, Florence seized the opportunity to supply supermarkets, taking advantage of the limited number of such establishments in Uganda at the time. In 2000, she made the strategic decision to relocate to Kampala, the capital city, where she discovered a broader customer base and eventually established a small factory to meet the ever-increasing demand.
Recognizing the hardships faced by women from the war-torn North who sought better lives in the city, Florence extended a helping hand by inviting them to become door-to-door sellers of Yellow Star's products. This not only empowered the women but also enabled them to earn a percentage of the profits generated.
Here is how the Yellow Star Business Model works:
Currently, Yellow Star sources 40% of its produce from women-led farmer groups, and 60% from micro enterprises. The company provides training to these women-led farmer groups on sustainable production practices for legumes and cereals. The training curriculum includes topics such as good agronomic practices and strategies for mitigating the effects of climate change, which are crucial for sustainable production. Yellow Star then processes the raw materials sourced from farmers into nutritious products specifically targeting the Bottom of the Pyramid (BOP) market. These products include healthy nutritious porridge flour for pregnant women, fortified baby porridge, soybean family porridge, and immune-boosting porridge for the elderly. The company then sells its products to retail supermarkets, hospitals, and other healthcare providers ensuring a guaranteed market for the women-led farmer groups and helping them make their produce competitive to access high-value urban markets within the region.
With a steadfast commitment to empowering women and promoting sustainable agriculture, Yellow Star has successfully transformed locally sourced grains into wholesome products that cater to the needs of children, women, and mass populations.
Yellow Star's mission extends beyond delivering high-quality finished products to the masses. The company is actively involved in supporting local farmers and micro enterprises while championing sustainability. In 2022, through close collaboration with 1,500 farmers and 10 micro enterprises, Yellow Star successfully sourced over 1,800 metric tons of essential crops such as soya beans, millet, and maize. This collaborative effort led to the creation of 65 jobs, directly benefiting local communities and significantly enhancing livelihoods. Moreover, their endeavours enabled an estimated 250,000 households to gain access to nutritious food, underscoring their commitment to promoting overall well-being and improving food security in the region.


Yellow Star Products. Photo credit: Yellow Star Produce and Food Processors
CGIAR Food Systems Accelerator Support
"We are excited to be part of the program, as it offers us the opportunity to acquire extensive knowledge on modern and improved technological strategies for climate-smart agriculture and resilience to climate change. This knowledge will empower us to enhance our training programs on good climate-smart agronomic practices, reaching an additional 2,000 small-scale farmers. Our goal is to promote sustainable agriculture, increase productivity, and ensure guaranteed market access in cereal and other grain value chains. In addition, participating in the accelerator program allows us to establish valuable partnerships through networking avenues. These partnerships will enable us to champion access to healthy nutrition and food security, working towards a better future for all." – Florence.
Yellow Star Produce and Food Processors is one of the agribusinesses that the CGIAR Food Systems Accelerator (CFSA) is supporting to scale climate-smart innovations that address food system challenges. This support focuses on innovations designed with a user-centric approach for smallholder farmers and with strong potential for commercial sustainability, which perfectly aligns with the company's mission to produce high quality nutrient rich foods for a better standard of living.
"In Yellow Star, we see an ambition to grow not just a business, but also the impacts of a business in a community that needs to support marginalized rural people, especially women.  To achieve these outcomes, the company needs to grow and thus requires both financial and technical assistance to achieve them. By working with Yellow Star, we look to make it possible to improve product quality through product optimization processes and supply chain improvements to increase the efficiency of raw material supplies. Both are necessary to serve low-income consumers with nutritious food while assuring raw materials suppliers of income and are the focus of the acceleration and support journey with Yellow Star." – Dr. Eliud Birachi, Market Researcher and Agriculture Value Chain Development, Pan African Bean Research Alliance (PABRA) at Alliance of Bioversity International and CIAT.
CFSA Technical Advisors in collaboration with the Pan-Africa Bean Research Alliance (PABRA) are providing support to Yellow Star Produce and Food Processors in strengthening market linkages for its suppliers. This includes improving the quality of grains sourced from farmers through the implementation of a traceability system and providing training on seed handling procedures to reduce post-harvest losses. Additionally, they are collaborating with the company to develop a scaling plan to expand the reach of its products beyond its current market.
Furthermore, the accelerator program is helping Yellow Star Produce and Food Processors in developing a standardized approach to measuring impact, strengthening gender inclusion within its supply chains including identifying opportunities to support its women farmers further, navigating regulatory issues, and offering mentorship through coaching and peer-to-peer exchange.
From the company's humble beginnings to the establishment of a thriving enterprise, Yellow Star Produce and Food Processors has always stayed true to its core values. By engaging women-led farmer groups and micro enterprises, they are not only improving livelihoods but also fostering a sense of empowerment and climate resilience within communities. The impact of their work resonates far beyond the breakfast table, extending to the lives of children, expectant mothers, women farmers, and entire households.
Featured image: Florence Okot, Founder and CEO of Yellow Star Produce and Food Processors. Photo credit: Yellow Star Produce and Food Processors
Author: Mercy Zulu-Hume – Program Lead
The CGIAR Food Systems Accelerator is an agribusiness support program within CGIAR Research Initiative on Ukama Ustawi: Diversification for resilient agrifood systems in East and Southern Africa. Responsibility for editing, proofreading, layout, opinions expressed, and any possible errors lies with the authors and not the institutions involved.
CGIAR is a global research partnership for a food-secure future. To learn more about its Research Initiative for East and Southern Africa Ukama Ustawi, please visit here.
Check out our last blog here.