CGIAR Food Systems Accelerator Entrepreneur Spotlight: Afri-Farmers Market – Leveraging Technology to Empower Rural Farmers
From

CGIAR Initiative on Diversification in East and Southern Africa

Published on

26.05.23

Impact Area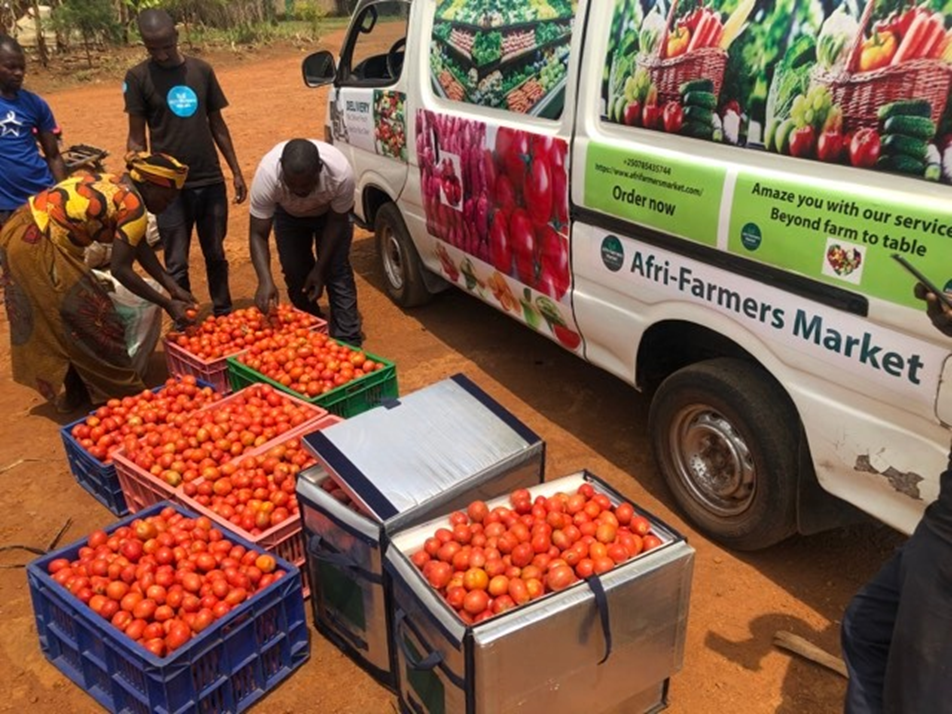 Entrepreneurship is not just about building a successful business; it's also about using one's skills, resources, and network to create a positive impact on society. Norman Mugisha, the founder and CEO of Afri-Farmers Market, is a perfect example of an entrepreneur who is making a difference in the world.
The Challenges
"I recognized the direct need for rural farmers to access markets for their produce, farm inputs, and capacity building, to uplift their household income and break free from the cycle of poverty. I had to leave the United States and come back home to implement this dream. Realizing that rural farmers often faced challenges in reaching larger markets and lacked the necessary resources to improve their farming practices, I felt compelled to return home and establish the Afri-Farmers Market, bridging the gap between farmers and consumers". – Norman

Women walking to the market with their produce. Photo credit: Afri-Farmers Market
Norman's upbringing in rural areas of Rwanda gave him firsthand understanding of the harsh realities faced by smallholder farmers. Over 60% of the Rwandan population is employed in agriculture, with smallholder farmers comprising the majority of this workforce. However, despite their significant contribution to the country's economy, smallholder farmers struggle with numerous challenges.The lack of access to markets and fair prices, post-harvest losses, combined with the absence of quality inputs and support on agronomy, leaves them vulnerable to exploitation and poverty. In fact, over 56% of Rwandan farmers live in poverty, with many earning less than $1.90 per day. It is also worth noting that Rwanda is ranked as one of the top 20 countries in the world with the highest prevalence of undernourishment, and with over 30% of its population experiencing hunger and malnutrition. Finally, post-harvest losses can be as high as 40% depending on the value chain.
Driven by a desire to combat these issues and boost food security in rural communities, Norman recognized that creating a stable market, fair prices, quality inputs, extension services and reducing post-harvest losses for farmers was crucial. With this in mind, he founded Afri-Farmers Market, an agriculture technology (agtech) company that helps local farmers access stable markets for their produce, thereby improving their incomes and food security. 
The Afri-Farmers Market Solution

The Afri-Farmers Market online platform. Photo credit: Afri-Farmers Market
Afri-Farmers Market is an enterprise that is committed to creating a sustainable market for smallholder farmers in Rwanda. Through its platform, it connects farmers to buyers, providing them with access to stable markets and fair prices for their produce. Afri-Farmers Market also offers training on agronomy to farmers on sustainable farming practices, such as use of quality farm inputs, crop rotation and soil conservation. In addition, the company has developed an input package financing mechanism for select farmers within its network with the intention of expanding its scope to include all network farmers. The company's platform has a user-friendly website where they showcase farmers' produce and buyers can easily place orders. After a customer has placed an order, Afri-Farmers Market provide an option for door-to-door delivery or packaging the orders for buyers to collect from their stores.
Here is how the company's business model works: Afri-Farmers Market operates as an online marketplace that connects smallholder farmers with buyers, including individuals, restaurants, hotels, and supermarkets. The company aggregates produce from farmers on a daily basis and transports it to their central distribution store in Kigali. The information about their produce, including prices and quantities available is uploaded onto the platform. Buyers can then browse the website and place orders through the platform. Afri-Farmers Market handles the logistics of delivery, ensuring that the produce is transported from the farm to their central store in Kigali and then delivered to the buyers in a timely and efficient manner. The efficiency of this model is remarkable as Afri-Farmers Market ensures that buyers receive fresh produce daily. For each transaction, the enterprise charges a small commission on doorstep deliveries, which helps cover its operating costs. Some buyers also have the option to collect their orders directly from the central store in Kigali, further supporting the company's activities.
Since its inception in 2020, Afri-Farmers Market has worked with 5,780 farmers in Rwanda supporting them to access stable and fair prices for their produce. The platform has also facilitated the sale of over 17,000 tons of fresh produce, with a reach of over 4,000 households. Through its efforts, the company's platform has not only helped farmers increase their incomes and improve food security but has also contributed to the development of a sustainable and inclusive agricultural value chain in Rwanda.
"My ultimate goal with the Afri-Farmers Market is to promote inclusive economic growth, alleviate poverty, and enhance food security by empowering rural farmers with the necessary resources, networks, and knowledge to succeed in the agricultural sector." – Norman
CGIAR Food Systems Accelerator Support

Norman in the field training a group of women farmers on regenerative agricultural practices. Photo credit: Afri-Farmers Market
"I joined the CFSA program because I wanted the skills, mentorship, and resources to take Afri-Farmers Market to the next level. I believe that the CFSA program will help Afri-Farmers lift millions of smallholder farmers across Africa out of poverty and make fresh food more accessible and affordable for everyone on the continent." – Norman
Afri-Farmers Market is one of the agribusinesses that the CGIAR Food Systems Accelerator (CFSA) is supporting to scale climate-smart innovations that address food system challenges. This support focuses on innovations designed with a user-centric approach for smallholder farmers and with strong potential for commercial sustainability, which perfectly aligns with the Afri-Farmers Market mission to create a sustainable market for smallholder farmers in Rwanda.
CGIAR climate-smart agriculture (CSA) technical advisors are assisting Afri-Farmers Market in improving the quality and quantity of agricultural produce, with a particular focus on Agriculture Risk Management to effectively manage climate risks. This is especially crucial for crops like maize, tomatoes, vegetables, and beans, where sustainable production by farmers in Rwanda is often challenging. Although Afri-Farmers Market provides CSA extension services to its farmer network as part of its business model, this alone is not enough. To mitigate the risks associated with climate and improve production outcomes, the CSA technical advisors are collaborating with the investment readiness advisors to support the company to determine financing options and models for de-risking production technology.
"With our scientific expertise, we are supporting Afri-Farmers Market with climate risk assessments to help them reduce crop loss, strengthen their agro-advisory system, promote increased and diversified production, and attract private capital. By accessing this information and using the tools provided, the company can help farmers adapt to climate shocks." – Dr. Aniruddha Ghosh, Scientist, Climate Action at Alliance of Bioversity International and CIAT.
Moreover, the accelerator program is helping Afri-Farmers Market in developing a standardized approach to measuring impact, strengthening gender inclusion within operations, ensuring better compliance with data regulations, and offering mentorship through coaching and peer-to-peer exchange. With the support of CFSA, Afri-Farmers Market can scale its impact, reach more farmers, buyers, and households, and create a more sustainable and equitable agricultural sector in Rwanda.
As an entrepreneur Norman Mugisha's journey with Afri-Farmers Market is a testament to the power of innovation and impact. By sharing his experience and knowledge, he is inspiring the next generation of young socially conscious entrepreneurs to pursue their passions, tackle big challenges, and make a positive impact in their communities and beyond. Norman is showing that combining business acumen with a social mission can lead to a successful enterprise that creates a meaningful difference in the world. The Afri-Farmers Market mission to leverage technology to support rural smallholder farmers to access stable markets for their produce, enhance their farm production and enable consumers to access quality and low-cost fresh produce, is making a difference in the lives of farmers in Rwanda.
If you are interested in learning more about Afri-Farmers Market, you can reach out to them at: afrifarmersmarket1@gmail.com, +250 781 204425, WhatsApp: +1 7072180869.

Afri-Farmers Market Team celebrating their end of year party 2022. Photo credit: Afri-Farmers Market
The CGIAR Food Systems Accelerator is an agribusiness support program within CGIAR Research Initiative on Ukama Ustawi: Diversification for resilient agrifood systems in East and Southern Africa. Responsibility for editing, proofreading, layout, opinions expressed, and any possible errors lies with the authors and not the institutions involved.
CGIAR is a global research partnership for a food-secure future. To learn more about its Research Initiative for East and Southern Africa Ukama Ustawi, please visit here.
Check out our last blog here.
Featured image: The Afri-Farmers Market van picking up harvest from farmers at their farms. Photo credit: Afri-Farmers Market.
Author: Mercy Zulu-Hume, Program Lead