CGIAR and Denmark Partner in the Fight Against Antimicrobial Resistance
From
Published on

22.11.18

Funders

Denmark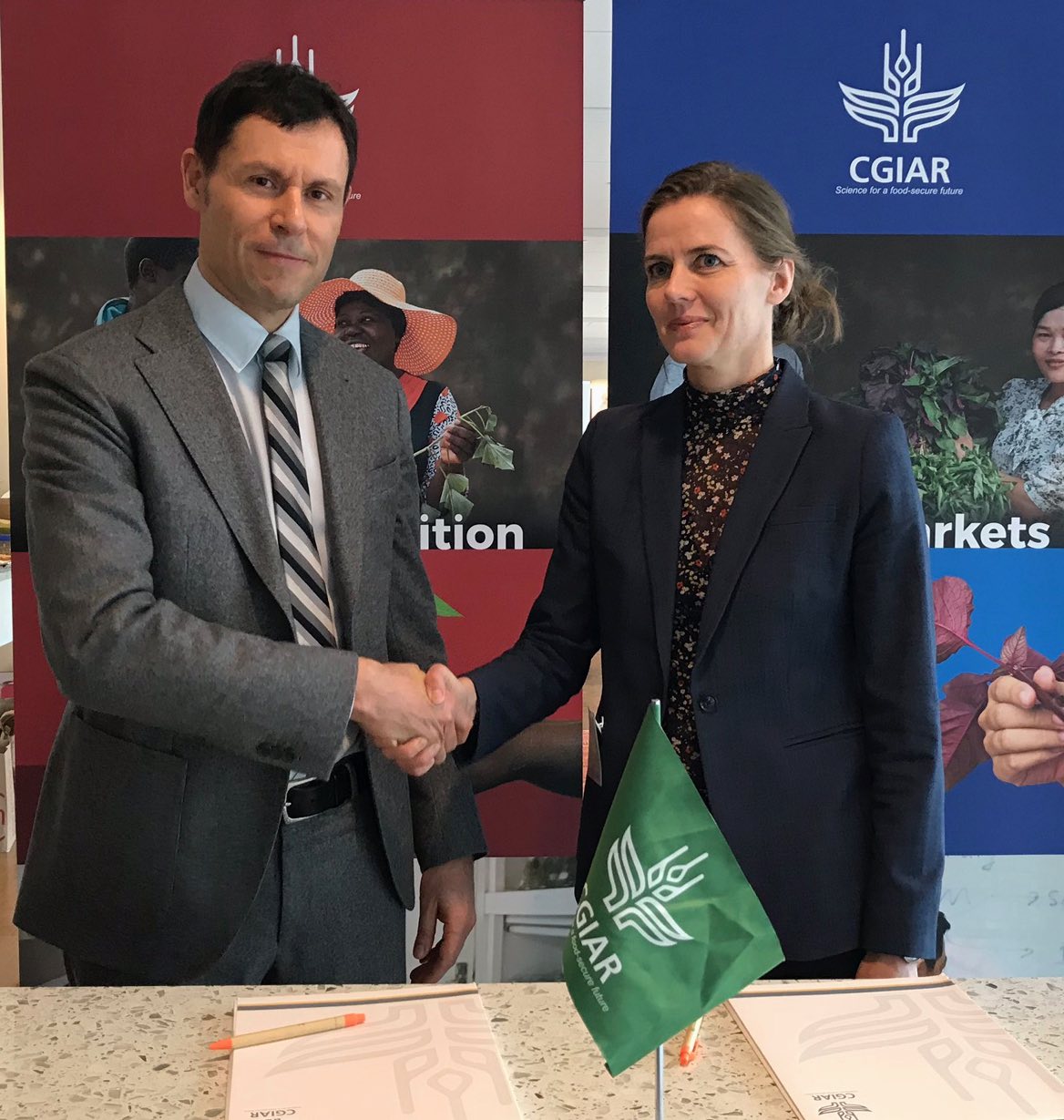 CGIAR, the world's largest global agricultural innovation network, and the Government of Denmark signed a Memorandum of Understanding (MoU) last week to cooperate on contributing interdisciplinary solutions to antimicrobial resistance (AMR). This partnership aims to provide evidence and research on AMR, and support the development and implementation of context-specific solutions for AMR elimination with a particular focus on low- and middle-income countries as the prevalence of drug resistance generally is higher in these countries than in most industrialized countries.
It is widely recognized that AMR is a significant threat to global health, prosperity and economic growth – putting agricultural systems at risk. AMR is seen as a particular risk in developing countries where it is often coupled with weak health systems and a lack of resources and technological capacity. AMR, the ability of microorganisms to adapt to medications such as antibiotics, rendering them ineffective, requires action across sectors and countries. Recognizing the multi-sectoral approach required, CGIAR and Denmark are partnering in the global fight against AMR.
"The greatest challenges and burdens of AMR will be felt in low- and middle-income countries by poor farmers, producers and consumers. CGIAR, with its global reach and strong partnerships in these countries, is well positioned to provide solutions to this issue." said Elwyn Grainger-Jones, Executive Director, CGIAR System Organization. "An effective response will require technical, institutional and policy innovations and strong partnerships across public and private sectors. CGIAR is pleased to be partnering with Denmark to work on this important global health issue."
"Antimicrobial resistance is a serious global threat that requires ambitious global solutions on multiple levels. I am very proud that Denmark is now taking leadership in our future global work on finding new solutions for the serious challenges with antimicrobial resistance we are facing today," said Denmark's Minister of Health, Ellen Trane Nørby.
With its mandate to improve livelihoods of poor people through agriculture and food systems research, CGIAR is ideally positioned to tackle agriculture-related AMR risks in low- and middle-income countries, and to test and promote solutions to mitigate risks.
"It will take a true 'One Health' approach to address the AMR challenge: combining innovations in human, animal and environmental health. This initiative brings together important CGIAR capabilities to contribute to global solutions to AMR in low- and middle-income countries." said John McDermott, Director of the CGIAR Research Program on Agriculture for Nutrition and Health (A4NH).
CGIAR research portfolio's focus on AMR has steadily grown in recent years in the CGIAR Research Program on Livestock (LIVESTOCK), led by the International Livestock Research Institute (ILRI) and A4NH, led by the International Food Policy Research Institute (IFPRI), with links to a the CGIAR Research Program on Fish, led by WorldFish, and potential links to the CGIAR Research Program on Water, Land and Ecosystems (WLE), led by the International Water Management Institute (IWMI), particularly through its Resource Recover and Reuse program.
This portfolio of global research programs includes grants focusing on antimicrobial use and on AMR emergence in risk hot spots characterized through close interactions of people, animals, and environment (One Health). LIVESTOCK and A4NH contribute to research on the complex pathways of AMR. Both programs start with the use of antimicrobials in livestock and fish production, with LIVESTOCK focusing on the livestock health impacts and A4NH on the implications for human health.
CGIAR and Denmark have joined forces to promote understanding of knowledge of, attitudes toward, as well as practices and incentives for antimicrobial use and the roles of formal and informal markets in low- and middle-income countries. They will conduct research on AMR transmission dynamics at the human-animal-environmental interfaces in different contexts and designs, and evaluate AMR-specific and AMR-sensitive interventions to reduce antimicrobial use in low- and middle-income countries. Furthermore, they will play a key role in supporting evidence-based policy dialogue for actionable surveillance of antimicrobial use and AMR, as well as leading capacity development and knowledge-sharing initiatives.