Can improved crop breeding boost gender equality?
From

CGIAR Initiative on Accelerated Breeding

Published on

12.10.23

Funders

Australia, Bill and Melinda Gates Foundation, Germany, United Kingdom, United States of America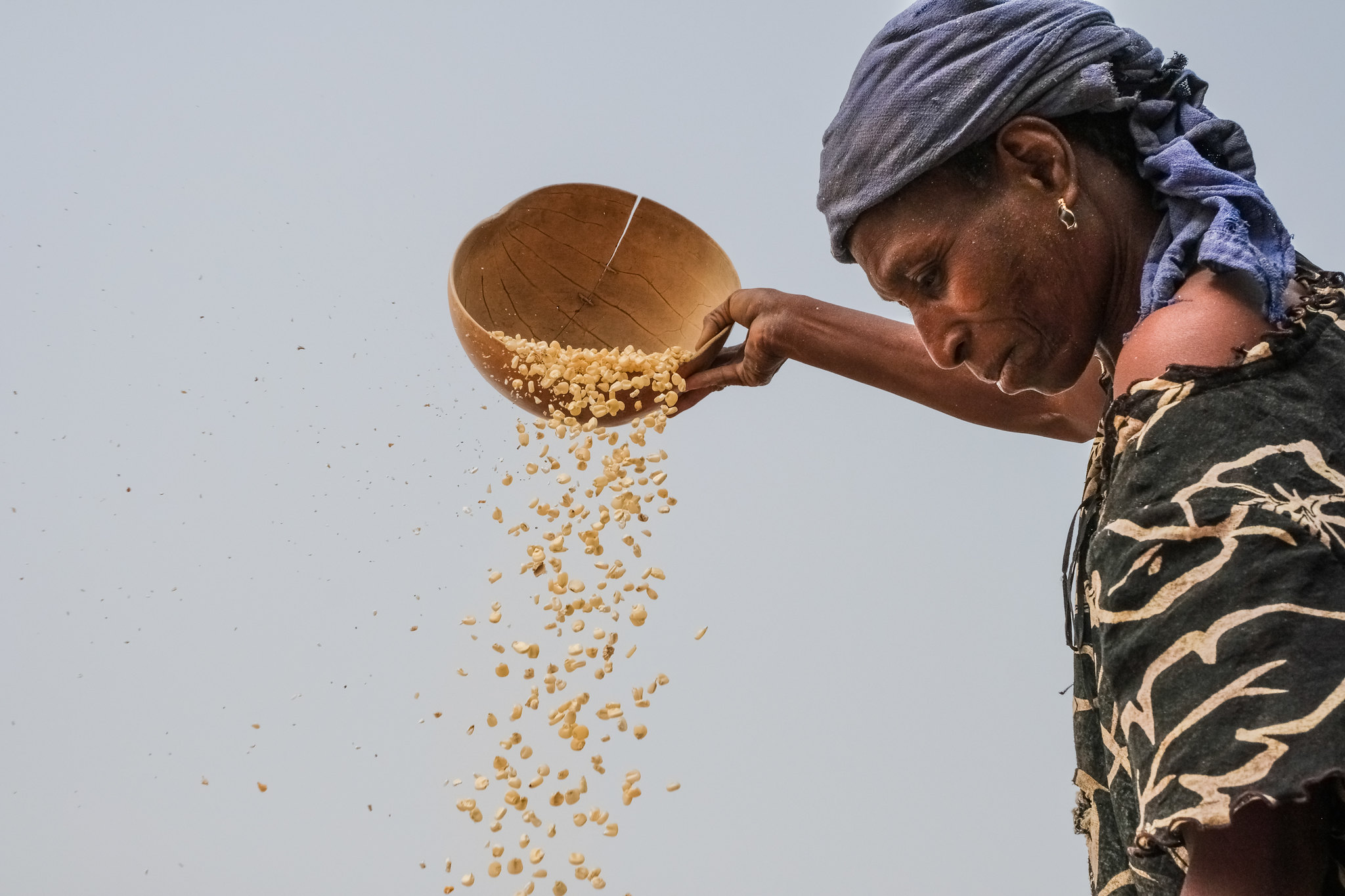 As we recognize the International Day of Rural Women this month, Michael Quinn, Lead of CGIAR Accelerated Breeding Initiative, examines how improved breeding is benefiting – and involving – rural women across Africa, Asia and Latin America.
More than ever, food systems and livelihoods are dependent on agricultural innovation. Yet, particularly in the Global South, women do not always benefit from these as much as men.
But research in rural areas demonstrates that empowering women economically and in domestic spheres leads to progress on education, nutrition, and food security. As women are often the primary caretakers in households, their nutritional status, childcare practices, as well as their personal sources of income, can influence the entire household's nutrition and wellbeing.
In the realm of crop breeding, this means breeders must understand the needs and preferences of women.
But the traits desired by women and men are often quite different. For example, men may prefer a high-yielding crop variety, assuming it will bring in more income at market. But women farmers may reject it if it is hard to prepare, or if their children refuse to eat it. Knowing what traits women prefer means varieties are more likely to be broadly and rapidly adopted – and meet the work, nutrition, and production needs of women.
To meet this challenge, CGIAR's Accelerated Breeding Initiative, together with CGIAR and national partners, are working to develop successful varieties that meet specific needs of both women and men. We do this by incorporating farmers' preferences, both men and women, into all stages of development of new varieties of food crops – from product design to farm, from market to household.
Let's navigate through the crop development journey to understand how CGIAR breeding is contributing to gender equality. 
In the design stage: new varieties based on women's needs
In rural areas, women are often responsible for a large share of domestic, agricultural, and non-agricultural work. Thus, breeding success relies on insights into women's preferred cultivation and processing methods, and on preparation and cooking times. Women may also have insight into the nutritional qualities needed for themselves, their children and when breastfeeding.
CGIAR's variety development now incorporates these insights in the set of traits required for new products, known as Target Product Profiles (TPPs). Through CGIAR's Accelerated Breeding Initiative, each breeding pipeline has established TPPs, building upon work initiated by the Excellence in Breeding Platform.
This gender-disaggregated data from the Market Intelligence Initiative is incorporated into the TPPs, to ensure products will meet the needs of farmers, processors, and consumers – improving
Gender-disaggregated data is first gathered and analysed by the Market Intelligence Initiative, through structured household surveys, participatory rural appraisals, and participatory varietal selection. Recently, the Initiative also used tools such as choice experiments, experimental auctions, and gamification of priority farmer traits. With these results, breeding programs enhance TPPs to more effectively integrate gender information.
Also beneficial to promoting gender intentionality has been increasing gender diversity within CGIAR breeding teams. Now, specialized teams are able to attract young talent, women scientists, and foster partnerships. This, in turn, facilitates greater participation of women in product design. 
On the farm: reduced burdens and drudgery
Half of the beneficiaries of improved CGIAR varieties are women farmers. To support them, breeding pipelines are specifically targeting traits that reduce the need for labour-intensive tasks, often carried out by women and children. This includes creating varieties that require less manual weeding and pesticides, and are easier to thresh or process. By reducing these burdens, women and girls can save time, effort, and money that can be redirected towards other areas.
For example in Africa, there is a strong push to develop cowpea varieties, a crop predominantly cultivated by women. In 2022, CGIAR and national partners in Ghana and Nigeria   that were not just higher yielding and disease and pest resistant, but were also specifically designed for faster maturing times and easier harvesting, alleviating the workload borne by women. 
At the market: benefits for women's incomes and economic opportunities
These new varieties also help developing new opportunities for employment and entrepreneurship of women and young adults. Targeted varieties are better suited for local value chains, thus creating new entrepreneurial opportunities and employment.
For example, CGIAR released orange flesh sweet potato that can more easily be used for purée. This provided bakers in Eastern Africa with a key ingredient for baked and fried foods, generating new income opportunities for women. 

With the increase in income, women gain empowerment and enhanced visibility within their communities. The increased bargaining power helps them to actively engage in decision-making processes concerning food, land, and water systems. This results in greater investment in children's education, health, and nutrition, ultimately leading to long-term economic growth. 
In the household: saving time and energy to invest in the future
Throughout the crop journey, from planting to consumption, women work more hours than men in developing countries – but they earn less. As such, saving time is very important in a new variety.
For example, collection of firewood and water, and meal preparation are mostly conducted by women and girls. To enhance the livelihoods of women, CGIAR aims to achieve a 30% reduction in cooking times of certain key varieties which frees up valuable time for women and girls, allowing them to invest it in education, training, off-farm employment, and income-generating activities. Moreover, less work means less assistance from children, affording them more time for education and play.
Accelerated Breeding partners recently launched high-yielding, quick-cooking bean varieties in East Africa, which are expected to be used by 1.8 million women farmers and adopted by more than 3.4 million households. 
On the table: improving nutrition for women and families
CGIAR's varieties are designed to be nutritious crops, providing whole households with health benefits – particularly for women and young consumers. At least thirty-five percent of the new CGIAR's varieties released by partners in 2022 aim to reduce malnutrition among women and young children. These varieties were partly developed via feedback provided by women farmers, illustrating the virtuous circle induced when women are included in the process, from seed to plate.
For example, in Africa, vitamin A deficiency is high among children, pregnant women, and breastfeeding mothers. CGIAR made significant investments to enrich maize with provitamin A. As a result, 18 varieties with intermediate to high levels of provitamin A were released in African countries from 2012 to 2022.
Working through regional breeding hubs in Africa and Asia, breeding networks with national partners also accelerate and enhances the breeding of orange flesh sweet potato varieties with locally important traits — such as low sugar, early maturity, and increased vitamin A and iron.
In 2022 alone, CGIAR partners released 105 biofortified varieties aimed at reducing malnutrition among women and children.
Conclusion
At every step of this journey, Accelerated Breeding Initiative, scientists and partners asked themselves how to deliver greater benefit to rural women and girls. Through collectively developed target product profiles, they are creating new varieties that improve household nutrition, require less drudgery, are faster to cook and easier to prepare, and generate increased income for women.
Research demonstrates that women's economic participation and ownership contributes to poverty reduction, improved nutrition, health, and school attendance for children. Women invest a greater proportion of their earnings in their families and communities compared to men. So, improving gender equality through agriculture can result in generations that are better nourished, educated, and equipped to contribute productively to their economies. The benefits of better breeding will be seen both within the agricultural sector and beyond.
     —–
By Michael Quinn, Director, Breeding Modernization and Innovation; and, Lead, CGIAR Accelerated Breeding Initiative. With support from Julie Puech, Accelerated Breeding Initiative's Communications Consultant. We would like to thank all funders who support CGIAR research through their contributions to the CGIAR Trust Fund. Crop varieties referenced above are the results of work by CGIAR Centers Alliance of Bioversity International and CIAT, International Potato Center (CIP), International Institute of Tropical Agriculture (IITA), International Maize and Wheat Improvement Center (CIMMYT) and national partners. Main photo: Woman cleaning maize in Ghana. Photo by Axel Fassio/CIFOR.