Big ambitions power CGIAR's new GDI Action Plan 2023-24 
From
Published on

31.05.23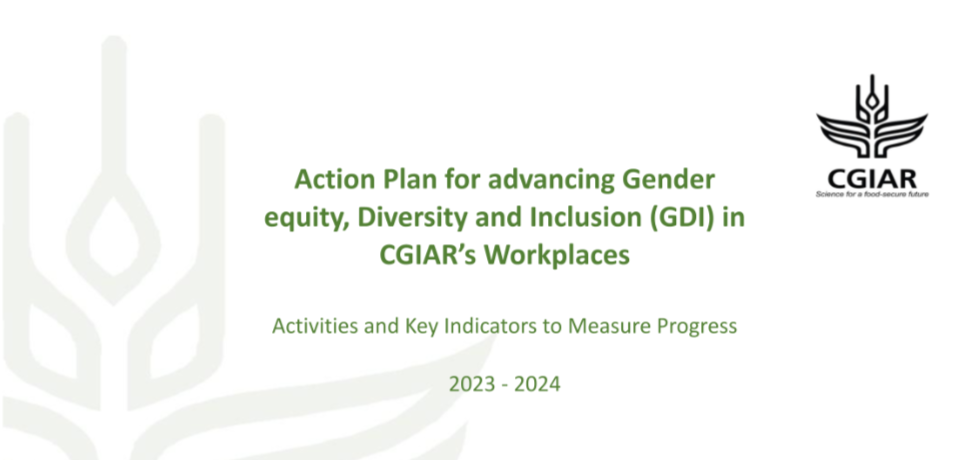 CGIAR is excited to announce the launch of our workplace Gender, Diversity and Inclusion (GDI) Action Plan for 2023-2024.
Finalized in early April 2023 after months of wide-ranging consultations, the two-year Action Plan builds on the momentum of recent GDI achievements, lessons-learned and incorporates evidence-based best practices. 
The new GDI Action Plan has been in development for the past several months, using the same robust consultative approach that guided the preparation of CGIAR's first GDI Action Plan (2020-2021). It is also similarly ambitious and substantial, demonstrating CGIAR's continued commitment to advancing gender equity, diversity, and inclusion (GDI) across our organization. This has involved a series of broad consultations with a wide range of colleagues and external experts.
"I am pleased and proud to see the progress CGIAR has made in advancing gender equity, diversity, and inclusion over the past few years. But there is still important work to be done," said Claudia Sadoff, CGIAR Executive Managing Director and Gender Champion. 
"That's why our new two-year GDI Action Plan is so important. It builds on our strengths and previous successes, but takes our commitment to gender equity and inclusion to the next level." 
"By putting our values into action, we create a fairer, more effective workplace," she added. 
The Action Plan will adopt a two-pronged approach, focusing both on shorter-term approaches to support the implementation of the integrated operating structure, and set out a longer-term vision for the future beyond 2024. Clear and tangible indicators have been outlined in the Action Plan to help monitor and track progress against each of the outputs. 
CGIAR's new GDI Action Plan (2023-24) includes several key components with a focus on both shorter-term goals and a longer-term vision: 
A continued focus on integrating accurate Gender, Diversity and Inclusion data into workforce planning and decision-making

Expanding diversity targets beyond gender

Developing mechanisms to monitor diversity dimensions throughout the career pipeline

Mitigating inequity and potential bias in recruitment and promotion processes

Developing and adopting shared approaches to work-life balance, parental leave, and other inclusion-related policies

An increased focus on the development of inclusive leaders

A shared approach to safe and respectful workplaces
"This new Action Plan is another exciting step on our shared journey to consciously create welcoming workplaces and an inclusive culture across all CGIAR locations," said CGIAR's Global Director of People and Culture, Fiona Bourdin-Farrell.
"The Plan has a continued focus on appropriate people data, to ensure we have an even greater understanding of our talent demographics and what they expect from our workplace, as well identifying ways we can make our workplace even more fair, safe and respectful," Fiona said.  
"As we know, this is not only the right thing to do, it is the smart thing to do. A truly inclusive workplace will help us attract and retain top talent, promote a culture of respect and dignity, and ultimately contribute to CGIAR's successful delivery of our mission to transform food, land, and water systems in a climate crisis."
To read the full version of the "Action Plan for Advancing Gender equity, Diversity and Inclusion (GDI) in CGIAR's Workplaces: Activities and Key Indicators to Measure Progress 2023 – 2024", please visit CGIAR publications.