BASICS-II brings together public-private stakeholders to promote sustainable cassava seed delivery in Tanzania
From
Published on

28.03.22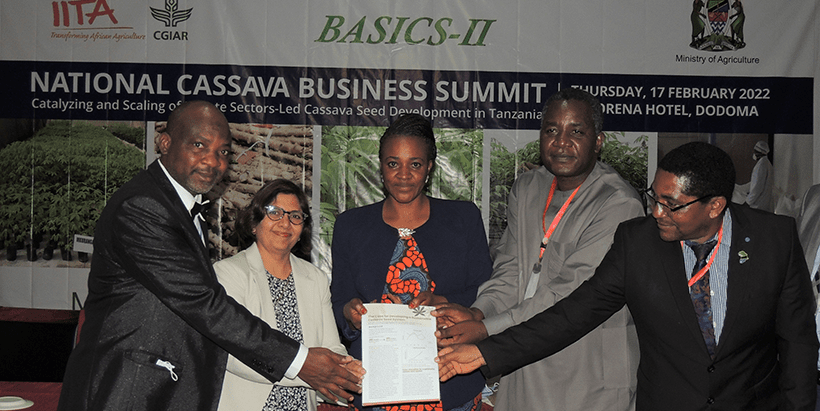 The project Building Economically Sustainable Seed Systems for Cassava, Phase 2 (BASICS-II) organized a day-long National Cassava Business Summit towards developing a cassava seed system in the country. The summit was held on 17 February in Dodoma, Tanzania.
The meeting aimed to catalyze public-private partnership sector-led investment in the cassava seed value chain, bringing together about 100 participants from the public and private sectors, NGOs, institutions, entrepreneurs, farmers, and other key cassava stakeholders.
In her opening remarks, the IITA Eastern Africa Hub Director,  Leena Tripathi, noted that cassava is at the heart of IITA's works and lauded the government for its efforts in developing the crop for commercialization through launching the National Cassava Development Strategy (2020-2030) in 2021.
"I am glad that Tanzania and Nigeria are comparing notes on developing the cassava sector," she said.
Tripathi also noted that IITA has multidisciplinary experts in breeding, disease management, and tools such as Nuru and SeedTracker, agronomy, and postharvest management. IITA is ready and willing to share its expertise and technologies for agricultural sector development.