Addressing Salinity in Water Management and Agriculture: Experts Share Insights at ICWFM 2023
From

CGIAR Initiative on Asian Mega-Deltas

Published on

18.10.23

Impact Area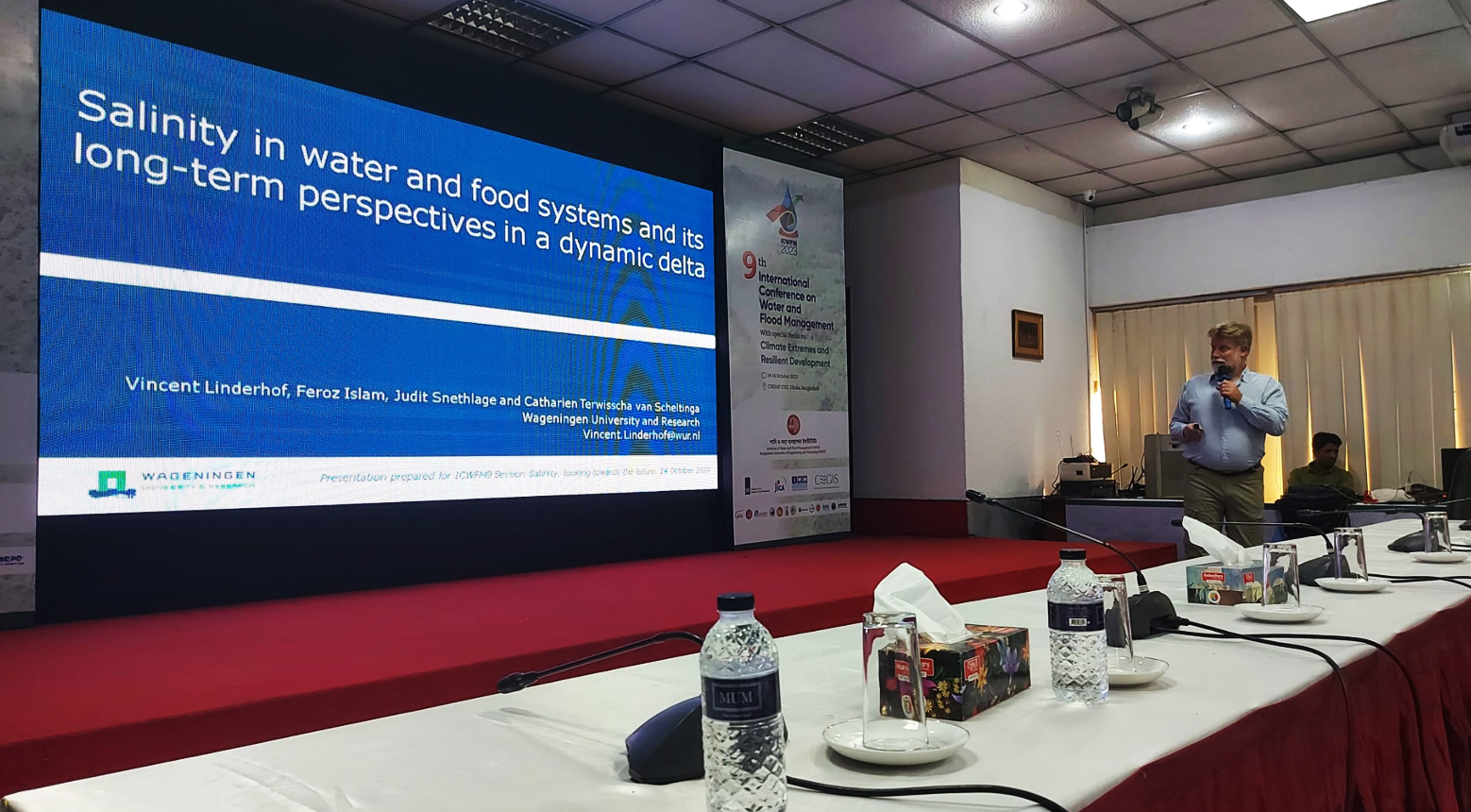 Wageningen University and Research (WUR) and the CGIAR Initiative on Asian Mega-Deltas (AMD) recently organized a session at the 9th International Conference on Water and Flood Management (ICWFM 2023) in Dhaka, Bangladesh to discuss the pressing issue of salinity and its impact on water management and agriculture. The session, titled "Looking towards the future: Transition pathways in water management and agriculture, addressing salinity," aimed to bring together experts and stakeholders to exchange knowledge and insights on this critical challenge.
The session included keynote presentations from distinguished experts in the field. Dr. Manoranjan Mondal, senior scientist at the International Rice Research Institute (IRRI) and member of the AMD team, delivered a keynote presentation on "Salinity and water management for higher productivity in the coastal zone of Bangladesh." Dr. Vincent Linderhof from WUR spoke on "Salinity in water and food systems and its long-term perspectives in a dynamic delta." These presentations provided valuable insights into the implications of salinity and its effects on water management strategies.
The session also included short reflections and interactive discussions with the audience, which were expertly moderated by Catharien Terwisscha van Scheltinga from WUR. The session concluded with a summary and closure by Prof. Mashfiqus Salehin of Bangladesh University of Engineering and Technology (BUET), the Chair of the session.
The key messages derived from the session emphasize the importance of proactive measures and collaborative efforts in tackling the challenges associated with salinity. Experts highlighted that while salinity levels may increase in the future, better water management practices at the polder and farmers' field level, including improved drainage during critical periods, can help mitigate its adverse impacts. However, there is a need to further enhance understanding through practice-oriented research and studies.
The session also emphasized the vital role of collaboration and co-creation of pathways to address salinity and operationalize solutions in the context of Bangladesh. Participants expressed a strong willingness to work together, demonstrating the commitment of various implementing agencies to finding sustainable solutions.
As salinity continues to pose challenges to water management and agriculture, events like the ICWFM9 session play a crucial role in fostering knowledge exchange, interdisciplinary collaboration, and policy alignment. By focusing on science-based planning and linking research initiatives with existing policies, Bangladesh can navigate the complex landscape of salinity and contribute to a more sustainable and resilient future.
ICWFM has been held biennially since 2007 by the Institute of Water and Flood Management of BUET, and ICWFM 2023 is the ninth event. This year, the central theme of ICWFM-2023 is 'Climate Extremes and Resilient Development'.