A Locally Led, Data-Driven Approach toward Transformative Adaptation: CGIAR's Climate Resilience Initiative (ClimBeR) Presents Real-Life Examples
From

CGIAR Initiative on Climate Resilience

Published on

07.11.23

Impact Area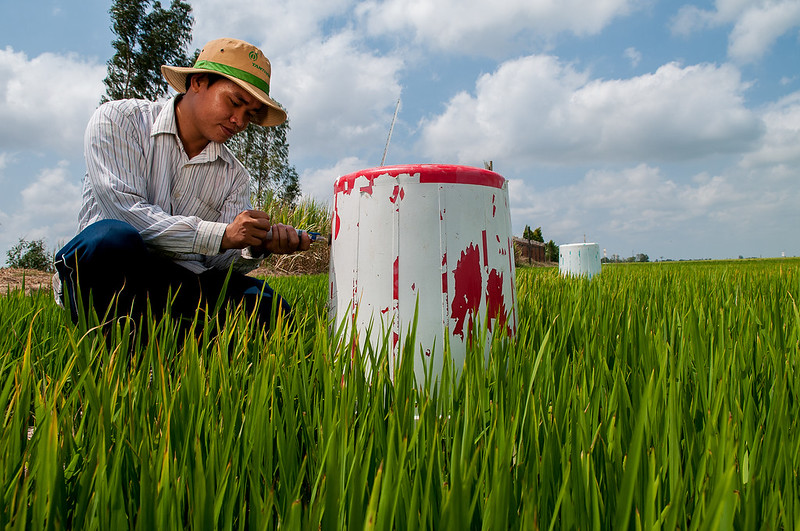 Ahead of the first-ever UNFCCC Global Stocktake at COP28 –– a crucial moment to assess global progress towards the goals of the Paris Agreement, –– representatives from governments, UN agencies, civil society organizations, and the private sector came together during Climate Week NYC on September 19, 2023, to reflect on progress to date, what course correction is needed to align with the Paris Agreement, and strategies which will help achieve this shift.  
CGIAR's Climate Resilience Initiative (ClimBeR), which aims to transform the climate adaptation capacity of food and agricultural systems in low- and middle-income countries, contributes to the Global Goal on Adaptation by supporting equitable, sustainable, and transformative adaptation. During the event, ClimBeR showcased numerous efforts to meet these goals.  
Equitable and Measurable Action towards Transformative Adaptation 
A key finding in the synthesis report during the technical dialogue of the first Global Stocktake is to strengthen the global response to the threat of climate change. Governments need to support systems transformations that mainstream climate resilience and low greenhouse gas emissions (GHG) development. The report also noted that "systems transformations open up many opportunities, but rapid change can be disruptive. A focus on inclusion and equity can increase ambition in climate action and support."  
There are multiple methodologies and indicators that can inform our progress towards the Global Goal for Adaptation (GGA). Their continued development is essential to monitoring and evaluating efforts across adaptation planning and implementation. But importantly, these need to be driven by local contexts, populations, and priorities to encourage adequate and effective adaptation action, which will help promote transformative adaptation. 
To provide concrete examples of ClimBeR's contributions to the implementation of the Paris Agreement, the initiative's science and implementation officer, Sabrina Rose, participated during the discussion attended by other intergovernmental organizations such as the UN Food and Agriculture Organization (FAO), UN Environment Programme (UNEP), and UN Development Programme (UNDP). In the discussion, she highlighted how ClimBeR has worked toward equitable, transformative adaptation. 
During the event, she shared:  
"ClimBeR is researching how to better support countries to access finance from the Green Climate Fund (GCF), particularly for adaptation. We're partnering with the African Group of Negotiators Expert Support (AGNES), as well as the governments of Kenya, South Sudan, and Uganda, to define proposals that really address concerns related to adaptation in vulnerable regions."  
ClimBeR's work to help governments access climate finance is aligned with the report's findings, which state that the assessment of collective progress on adaptation has revealed an urgent need to rapidly scale up finance for adaptation, to meet the growing needs and priorities of developing countries. 
In the synthesis report, it was stated that a fundamental starting point for enhanced adaptation action is the dissemination of climate information through climate services to meet local needs and priorities. In Guatemala, ClimBeR has been working with the Ministry of Agriculture, Livestock, and Food to strengthen Local Technical Agroclimatic Committees (also known as MTAs), which support farmers' decision-making in the field and avoid local-level losses. To date, there are now 19 active MTAs spread throughout the country. About 37,000 farmers receive climate information through the MTAs. 
Recognizing that climate change is a risk multiplier that can affect fragile ecological, socioeconomic, and political systems and institutions, ClimBeR has been actively involved in research on climate security.  
"Kenya has a strong policy framework for climate action. Right now, Kenya is undergoing updates to the third National Climate Change Action Plan, which will hopefully inform the next NDC (Nationally Determined Contributions) in 2025. As part of this work, we're now collaborating with the Ministry of Environment, Climate Change, and Forestry to look at a new area of research: the impact of climate on conflict in the agriculture sector and vice versa." 
How We Move Forward 
The Global Stocktake provides a historic opportunity to accelerate transformation through enhanced climate-nature-food synergies. To track our progress, we must gather and assess accurate data to develop sound metrics. This must include data at local scales because impacts vary by region and community. We must also investigate the challenges of providing equitable access to climate finance and achieving greater policy coherence.
Photo Credit: G. Smith/CIAT