Policy seminar: Europe's Farm to Fork and Biodiversity Strategies aim to build healthy and sustainable food systems
From
Published on

30.07.20

Impact Area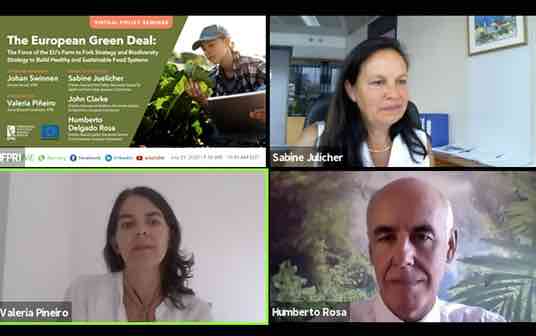 By Khiem Nguyen
The COVID-19 pandemic and its economic fallout have underlined the importance of building a robust and resilient food system that ensures access to healthy, affordable, and environmentally sustainable diets for all. The European Commission's (EC) Farm to Fork Strategy and the Biodiversity Strategy, adopted in 2020, play an integral role in Europe's ambitious response to climate change and environmental challenges along the food chain. A July 23 virtual event, co-organized by the EC and IFPRI, explored these strategies, their roles in the European Green Deal, and their international implications.
The European Union's discussions on agricultural food policy have implications outside of Europe and North America. "It's also the developing world, especially African countries, [which] will be heavily affected through what is being discussed today because they are connected to the EU through trade, global value chains, foreign investment, but also through regulatory spillovers," said IFPRI Director General, Johan Swinnen. "Globally, the EU and its regulations have a major impact on agrifood trade, climate change, and sustainable development, which includes biodiversity."
The European Green Deal, which sets out to make Europe climate-neutral by 2050, recognizes that food systems are integral to environmental and climate sustainability, as they both contribute to and face challenges from climate change. The Farm to Fork Strategy translates the Green Deal to the food sector by outlining challenges, opportunities, and a path to transition to more sustainable food systems. The strategy lays out 27 explicit actions with measurable targets, with impact assessments to monitor progress.
"What is very important is that we really include all policies that are relevant to food systems and that we include all actors," said Sabine Juelicher, Director for Food and Feed Safety at the EC Directorate-General for Health and Food Safety. The Farm to Fork Strategy not only includes sectors along the chain of food production (agriculture) and food processing (retail, hospitality) but also consumers.
Photo Credit: Sabine Juelicher and Humberto Rosa of the European Commission, right, discuss the EU's strategies for food systems with IFPRI's Valeria Piñero.