Water-energy-food-ecosystem nexus in India—A review of relevant studies, policies, and programmes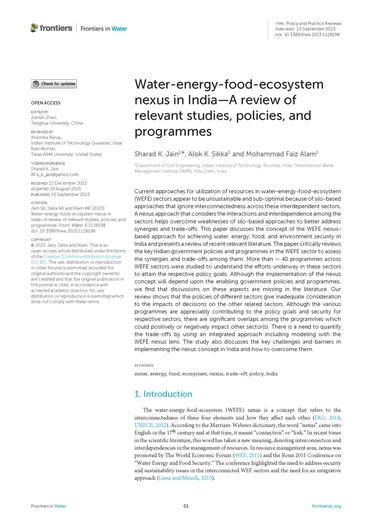 From
Published on

15.09.23

Challenges
Download
Water-energy-food-ecosystem nexus in India—A review of relevant studies, policies, and programmes
Jain, S. K.; Sikka, Alok K.; Alam, Mohammad Faiz
Current approaches for utilization of resources in water-energy-food-ecosystem (WEFE) sectors appear to be unsustainable and sub-optimal because of silo-based approaches that ignore interconnectedness across these interdependent sectors. A nexus approach that considers the interactions and interdependence among the sectors helps overcome weaknesses of silo-based approaches to better address synergies and trade-offs. This paper discusses the concept of the WEFE nexus-based approach for achieving water, energy, food, and environment security in India and presents a review of recent relevant literature. The paper critically reviews the key Indian government policies and programmes in the WEFE sector to assess the synergies and trade-offs among them. More than ˜ 40 programmes across WEFE sectors were studied to understand the efforts underway in these sectors to attain the respective policy goals. Although the implementation of the nexus concept will depend upon the enabling government policies and programmes, we find that discussions on these aspects are missing in the literature. Our review shows that the policies of different sectors give inadequate consideration to the impacts of decisions on the other related sectors. Although the various programmes are appreciably contributing to the policy goals and security for respective sectors, there are significant overlaps among the programmes which could positively or negatively impact other sector(s). There is a need to quantify the trade-offs by using an integrated approach including modeling with the WEFE nexus lens. The study also discusses the key challenges and barriers in implementing the nexus concept in India and how to overcome them.
Jain, S. K.; Sikka, Alok K.; Alam, Mohammad Faiz. 2023. Water-energy-food-ecosystem nexus in India—A review of relevant studies, policies, and programmes. Frontiers in Water, 5:1128198. [doi: https://doi.org/10.3389/frwa.2023.1128198]