Pumping behavior of solar irrigation farmers for assessing the sustainability of groundwater in Bangladesh and India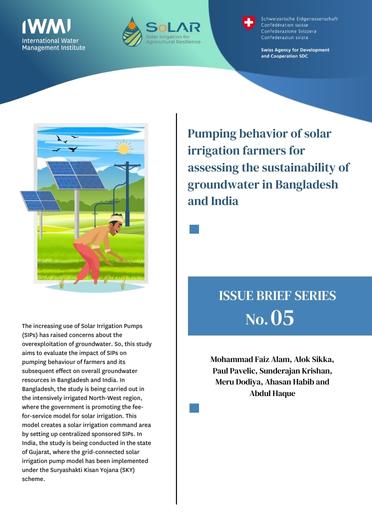 From
Published on

07.11.23
Pumping behavior of solar irrigation farmers for assessing the sustainability of groundwater in Bangladesh and India
Alam, Mohammad Faiz; Sikka, Alok; Pavelic, Paul; Krishan, S.; Dodiya, M.; Habib, A.; Haque, A.
The increasing use of Solar Irrigation Pumps (SIPs) has raised concerns about the overexploitation of groundwater. So, this study aims to evaluate the impact of SIPs on pumping behaviour of farmers and its subsequent effect on overall groundwater resources in Bangladesh and India. In Bangladesh, the study is being carried out in the intensively irrigated North-West region, where the government is promoting the feefor- service model for solar irrigation. This model creates a solar irrigation command area by setting up centralized sponsored SIPs. In India, the study is being conducted in the state of Gujarat, where the grid-connected solar irrigation pump model has been implemented under the Suryashakti Kisan Yojana (SKY) scheme.
Alam, Mohammad Faiz; Sikka, Alok; Pavelic, Paul; Krishan, S.; Dodiya, M.; Habib, A.; Haque, A. 2023. Pumping behavior of solar irrigation farmers for assessing the sustainability of groundwater in Bangladesh and India. Colombo, Sri Lanka: International Water Management Institute (IWMI). 4p. (Issue Brief Series 5)