Diagnostic Techniques of Soil Borne Plant Diseases: Recent Advances and Next Generation Evolutionary Trends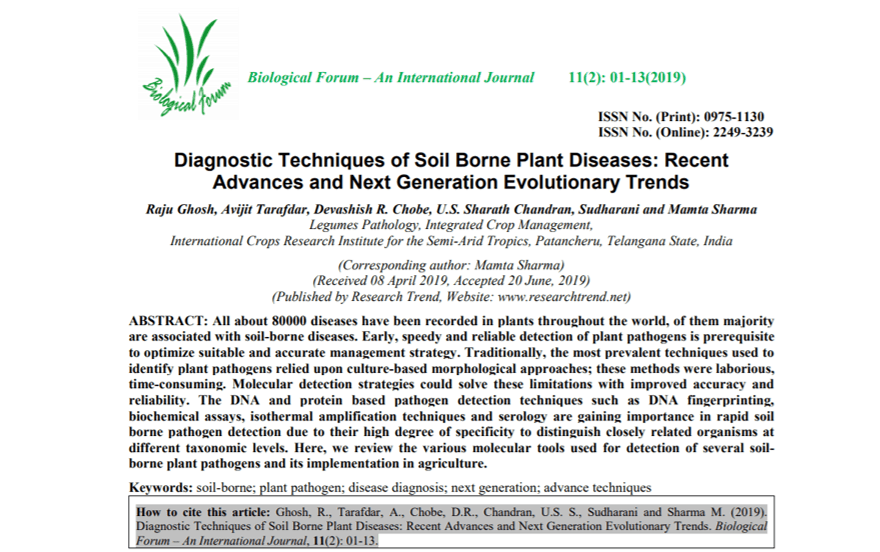 From
Published on

13.04.20

Download
ABSTRACT: All about 80000 diseases have been recorded in plants throughout the world, of them majority
are associated with soil-borne diseases. Early, speedy and reliable detection of plant pathogens is prerequisite
to optimize suitable and accurate management strategy. Traditionally, the most prevalent techniques used to
identify plant pathogens relied upon culture-based morphological approaches; these methods were laborious,
time-consuming. Molecular detection strategies could solve these limitations with improved accuracy and
reliability. The DNA and protein based pathogen detection techniques such as DNA fingerprinting,
biochemical assays, isothermal amplification techniques and serology are gaining importance in rapid soil
borne pathogen detection due to their high degree of specificity to distinguish closely related organisms at
different taxonomic levels. Here, we review the various molecular tools used for detection of several soil- borne plant pathogens and its implementation in agriculture.
Read full article: https://hdl.handle.net/20.500.11766/10752