Young farm entrepreneurs look at high-biomass sorghum and pearl millet for biofuel feedstock
From
Published on

11.10.21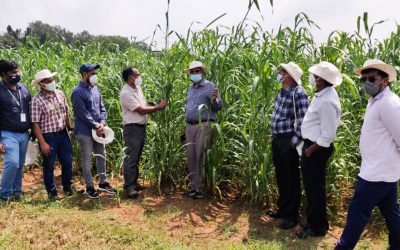 The Government of India's concerted efforts to replace 20% fossil fuels with ethanol blends by 2025 is attracting agricultural entrepreneurs to invest in renewable energy. This week, Mr Lalit Jhawar and Mr Mayank Gupta, two young IIT graduates running a profitable farming venture in Maharashtra, accompanied by biofuel experts Mr YB Ramakrishna and Mr Divakar Rao, visited ICRISAT headquarters in Hyderabad to learn about cultivation of sweet sorghum, high-biomass sorghum and pearl millet for use as biofuel feedstocks.
ICRISAT scientist, Dr A Ashok Kumar, in his presentation gave an overview of ICRISAT's research on sorghum innovations suited to 1G and 2G biofuels and for biogas production. He said that there were options to choose from for biomass requirement in addition to gains from nutritious fodder and grain. He highlighted the fact that sorghum is ratoonable and is a highly water-efficient crop. He said that a package of agronomic practices developed by ICRISAT foster the best crop growth and offer protection against insects and diseases.
Ready-to-use sorghum varieties for biofuel production
For 1G biofuels, sweet sorghum lines (ICSV 25308 and RVICH 28) with high brix (sugar content) of 16% at par with sugarcane were developed. These cultivars did not compromise on grain yield and the residue made for nutritious fodder (Nalini et al., 2013; Ashok Kumar et al., 2010). Experiments conducted in sugar mills proved the compatibility of the machinery for extracting ethanol from sorghum. However, sorghum stalks have to be crushed within 24 hours of harvest due to the higher rate of moisture loss compared to sugarcane. He said that the efficacy of techniques for retaining the sugars in stalks is under study.
For 2G biofuels, 4-5-meter tall multi-cut high-biomass varieties were developed. These varieties are highly suitable to providing biofuel feedstock (dry biomass of 15-20 tons/ha) and nutritious fodder. The brown-midrib varieties (introgression lines carrying bmr genes) with low (15%) lignin are easily digestible by cattle and provide greater nutrition than other varieties (23% lignin) for the same amount of fodder.
Currently, 3G biofuels, biogas and biomethane production techniques are under study. Preliminary studies show that anerobic digestion is much cheaper than bioethanol production and the biogas production potential of sorghum hybrid (ICSSH 28) is 80% higher than the corresponding weight of rice straw.