What are people saying on Twitter about #ClimateSecurity? CGIAR's Climate Resilience Initiative tracks the conversation
From

CGIAR Initiative on Climate Resilience

Published on

25.01.23

Impact Area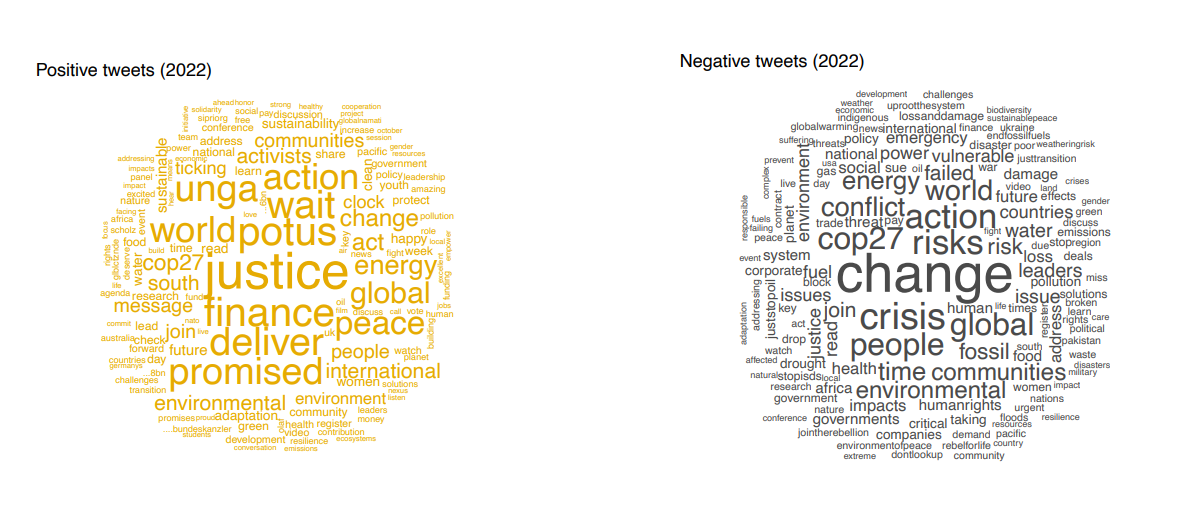 Image: Word clouds containing the 150 most frequent words on Twitter conversations about climate security in 2022. Check the source, Tracing the evolution of climate security debates on Twitter,
for data going back to 2014.
A team of scientists at CGIAR's Climate Resilience Initiative built a tool to track #ClimateSecurity conversations on Twitter. The results so far show that, unlike climate change, the discussion of security implications of climate variability and change is not a contentious issue. At least not yet. 
By Sean Mattson, Climate Resilience Initiative
"Climate security" refers to any threats to states, societies and individuals, and encompasses risks directly or indirectly caused by climate change, including the potential for conflict. Climate change isn't usually solely responsible when bad things happen in society. But just as climate change can supercharge a tropical cyclone or turn once-predictable rainfall into a seasonal roulette of deluge or drought, a warming world can be bad news for peace and security. 
In this emerging field of research, where conceptual definitions are not yet fully agreed upon, scientists at CGIAR's Climate Resilience Initiative (ClimBeR) track the social media platform Twitter to monitor global discussions around climate security.  
The database can be utilized on this dashboard and traces climate security-related discussions back to 2014. To date, the database contains more than 300,000 tweets and uses metrics such as interactions, timestamps, words, language, sentiment, hashtags, images, and countries mentioned to piece together the public discussion on climate security. The analysis builds on cutting-edge digital methods and adapts existing algorithms to the climate security context to piece together the public discussion on the theme. 
"We're basically monitoring the narratives that are being disseminated about climate security," said Bia Carneiro, a social research and media specialist affiliated with ClimBeR and the Alliance of Bioversity International and CIAT, who is leading this research. "Once we understand the conversations, we can ask not only how we can contribute, but also how our research can have a meaningful impact." 
Visualizing the climate security debate 
The tool is the first of its kind for monitoring climate security debates in public digital spaces. It forms part of efforts by Carneiro and colleagues at CGIAR FOCUS Climate Security to develop a digital research strategy that digs into online data and digital interactions to gain insight into subjects that don't necessarily show up in traditional research approaches. "We're at the intersection of computer sciences and social sciences," Carneiro said. 
Users of the tool can apply several filters to delve into the data through visualizations rendered by the program. For example, one can do a detailed search around a spike in online activity to understand the topics in discussion. In the figure below, an upward trend in climate security content circulating on Twitter is visible and, in particular, a large peak during COP 27 last December in Egypt, the United Nations' annual climate conference where the topic was discussed at several events.  

Climate Security tweets from 2014 to 2022. Tweets, retweets, quote tweets, and replies are aggregated by month.
(Source: Tracing the evolution of climate security debates on Twitter)
The researchers so far have two main takeaways from the dashboard's data. One, most spikes in online chatter happen around global scale events, such as United Nations conferences, showing that the climate security discussion is still largely institutional, with the international research community and international organizations generally setting the tone of the debate. The second is that even though climate security is a relatively new field that has several definitions and interpretations, there is little polarization in the public narratives. At least not yet. 
"How we conceive climate security is still a matter of discussion and people think about it in many different ways," Carneiro said, adding that the tool can potentially help systematize the various interpretations and map thematic priorities related to climate security. "Even so, there is an agreement that climate security should be high on the international agenda."
This is exemplified by the figure below, which shows the weekly average sentiment of tweets. In the period of Russia's veto on a climate security resolution at the UN Security Council, as well as the beginning of the Covid-19 Pandemic during the last months of 2019 to the first months of 2020, there was a negative trend. This may indicate dissatisfaction around climate security being relegated as an international issue.  

Moving climate-security science forward 
Given the growing awareness of climate change's augmentative impact on issues such as food security, mobility and eventually conflict, data from the Climate Security Dialogues monitoring tool creates a baseline for researchers to monitor conversations as they inevitably expand. Carneiro and colleagues just published a working paper covering the historical data and identifying trends from 2014 to 2022. 
"Our aim is to parse the discussion and learn about how people are framing climate security in relation to food insecurity, drought, conflict, mobility or other related subjects," Carneiro said.  
The working paper also points to some of the institutions that are most engaged in debates about climate security and could be used to inform the creation of a network or community of practice of actors that work on climate security issues. Moving forward, better understanding of the climate security discussion will help people appreciate where conversations are, what kind of resources are available and the information gaps that need to be filled. 
"We'll have more information on the knowledge, science, and experiences that are going around," Carneiro said. "This will help us advance a research agenda where we can map discussions, investigate their context, fill knowledge gaps and, essentially, help move the conversation forward." 
This work is led by CGIAR FOCUS Climate Security and CGIAR's Climate Resilience Initiative. Team members directly involved are:
Bia Carneiro, Co-lead Digital Innovation, CGIAR FOCUS Climate Security
Giulia Tucci, Visiting Researcher in Digital Methods, CGIAR FOCUS Climate Security
Frederico Gomes, Consultant
CGIAR FOCUS Climate Security co-leads are Grazia Pacillo and Peter Laderach.