Waking up in a post-Cop 27 world
From

CGIAR Initiative on Climate Resilience

Published on

19.12.22

Impact Area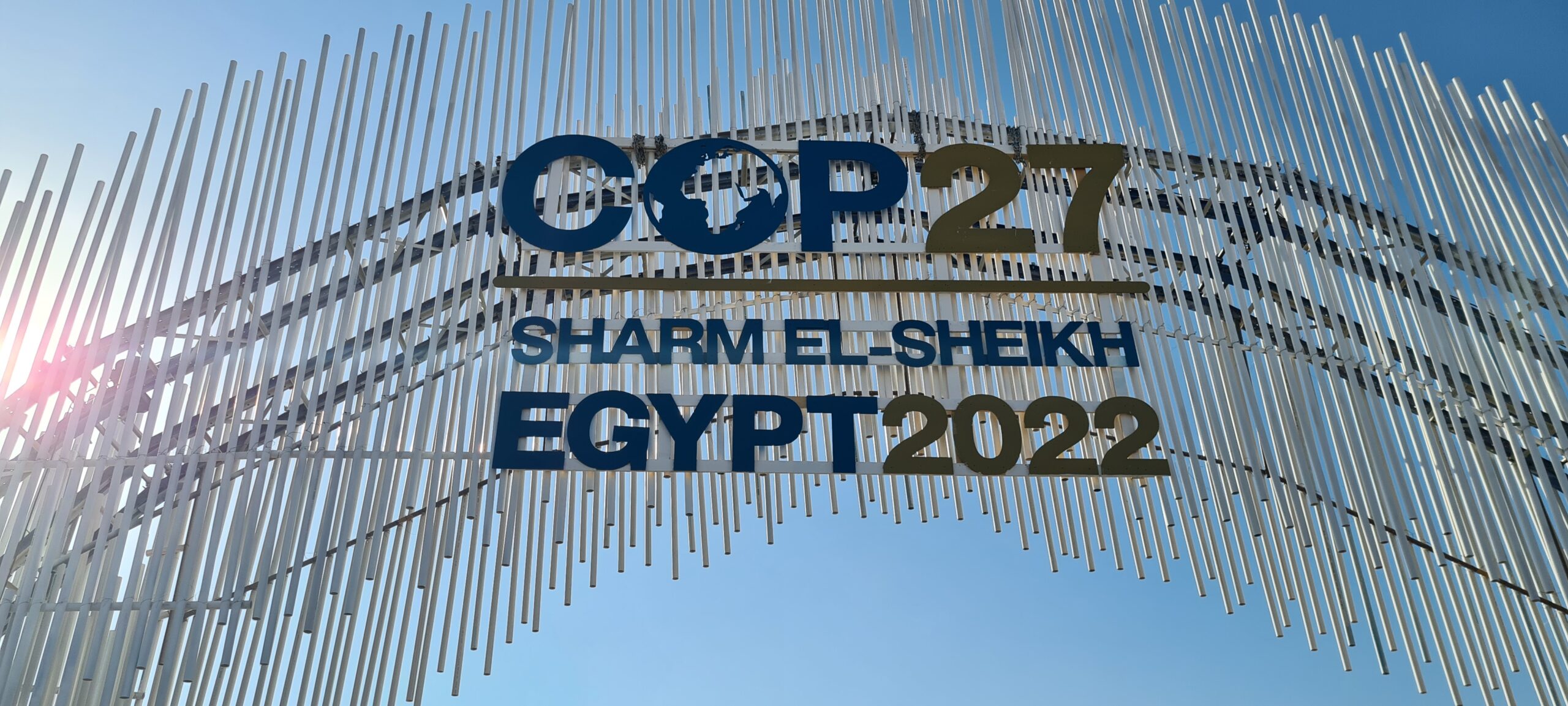 By Murat Sartas, Innovation and Impact Management Scientist, CGIAR's Climate Resilience Initiative (ClimBeR)
Our lessons from COP 27: For effective climate action, we must go beyond technical fixes and innovate and scale context-specific action, partnership collaboration, and digital ecosystem management systems packages for organizational solutions
COP 27 was very exciting, refreshing, intense and tiring, and – if we're fortunate – a hope-inspiring milestone for saving Earth from climate disaster for humanity.
The annual United Nations climate conference, held in Sharm el-Sheikh, Egypt, gathered 45,000 people from all over the world. Young folks from Africa sang and danced daily for Earth's future in the Children and Youth Pavilion, adjacent to the first-ever Food and Agriculture Pavilion hosted by CGIAR, the UN Food and Agriculture Organization and the Rockefeller Foundation.
But as the hundreds of stimulating side events continued deep into the event's second week, tension began growing over the closed-door negotiations among the 197 member states and territories that are part of the United Nations Framework Convention on Climate Change (UNFCCC). Would any breakthroughs finally put the brakes on planet-warming gases? Where would agriculture be in future negotiations? Would the term "food systems" make it into the final texts?
My CGIAR colleagues are preparing a range of expert reactions to COP27. But for now, here's my take.
Did we make significant progress this time? 
Waking up to COP27's breakthrough decision on Loss and Damage felt like, this time, we made significant progress. However, reading the draft decision over a coffee dampened my spirits somewhat. It's not yet clear how much money will be provided, and it's rather sobering to realize that such a funding mechanism has been sought for about three decades. And without a clear commitment from major polluters to reduce emissions, the damage will continue.
These details made me think that little has changed from the "you damage, we suffer" (YDWS) paradigm that has long paralyzed effective climate action.
As scientists, we know that a sense of equity is one of the critical defining features of homo sapiens and influences our opinions significantly. The sense goes beyond humans, as shown by the famous fairness behavioral study on capuchin monkeys that demonstrated the consequences of unfair treatment.
However, despite widespread awareness of the Anthropocene epoch Epoch – the age of humans that could usher in the world's sixth mass extinction event – I wonder when we will collectively use our cognitive and organizational superiority to avoid the Anthropocene's worst possible outcome.
Coming up to my full senses after finishing the coffee, I started reflecting on why we keep seeing climate change primarily as a redistribution problem. Part of the issue, I believe, is that we don't know enough to enact meaningful climate action.
We need more facts on proven organizational and institutional solutions to get us out of the YDWS paradigm. We need to know which instruments, organizational arrangements, funding mechanisms, and accountability systems can enable us to operationalize climate action at the global scale.
We need more facts on which organizational and institutional solutions packages can work in ecological, economic, and social contexts. We need experiments on the workflows, governance, and capacity development solutions that can enable deploying the funds fast in a transparent and accountable way.
Where are we headed on climate and agriculture? 
Agriculture – a significant emitter of planet-heating greenhouse gases – finally joined the climate agenda at COP 23 in Bonn, Germany. This resulted in the formation of the Koronivia Joint Work on Agriculture (KJWA), which has guided climate action on agriculture.
Initially, Koronovia prioritized collaborative action on:
Outcome workshops.
Assessment of adaptation, benefits, and resilience.
Improved soil.
Improved nutrient use.
Improved livestock management systems.
Socioeconomic and food security dimensions.
In 2018, FAO synthesized the learnings from the workshops and highlighted the need for coordinated action and coherence.
At COP 27, the Decision -/CP.27 joint work on the implementation of climate action on agriculture and food security highlighted that "solutions must be context-specific and take into account national circumstances, especially if they are to be scaled up," and emphasized, "(9) the urgent need to scale up action and support with regard to capacity building, access to finance, and technology development and transfer…"
The COP 27 decision also "decided to establish the Sharm el-Sheikh online portal under the joint work referred to in paragraph 14 above for sharing information on projects, initiatives and policies for increasing opportunities for implementation of climate action to address issues related to agriculture and food security."
The Koronovia CP.27 decisions clearly addressed the "why" of organizational and institutional solution gaps with the clear need for context-specific and scalable solutions. It also provided important insights about "what" these solutions should look like by presenting the priority areas and some specific features the solutions need to have.
Finally, the decision provided an important point on the "how" by deciding on the Sharm el-Sheikh online portal. We think the Koronovia CP.27 is an important step for showing the willingness to address the gaps and provide essential guidelines for closing them.
What is next, yet another portal? 
The next step after COP 27 is to develop the online portal. However, we must remember that the portal is an entry point for globally coordinated and collaborative climate action, not a technological fix that will automatically guarantee better results.
Many online portals present potential climate adaptation, mitigation, and resilience solutions. A recent review of digital sources on innovation and impact identified more than 20 online portals providing information about projects, initiatives, policies, and solutions, as requested by Koronovia CP.27. Although these portals offer essential information about the existing intervention and solutions assets, their use for coordinated and collaborative climate action at scale is minimal.
Scientific studies on innovation, scaling, and impact indicate that no single technical solution alone can achieve impact at scale. The technical solutions must be packaged with complementary solutions such as practices, capacity-development programs, and organizational and institutional arrangements. In other words, the Sharm el-Sheikh online portal needs to be complemented by capacity-building activities, new organizational units, workflows, team enhancement practices, novel collaboration metrics, etc.
How can a global science-based innovation system, CGIAR, can contribute? 
Finding suitable organizational and institutional solution packages to address specific circumstances in various contexts is challenging. It requires not only theoretical knowledge about findings in the management and innovation sciences but also practical research since no theoretical knowledge can capture all the complexities of climate action.
Moreover, the responsiveness of the solution packages to the priorities of local governance actors and national systems is a critical success factor for the effective use of the solutions. Therefore, the learning and capabilities of organizations that combine theoretical knowledge with a long history of research and partnerships with local and national governance actors are critical for the effective use of the Sharm el-Sheikh online portal and the organizational package complementing it.
CGIAR is an organization that combines demand from local and national governance actors with theoretical scientific knowledge and practical innovation solutions across the globe. It has multiple platforms that can be integrated into the Sharm el-Sheikh online portal, such as CGIAR Dashboards and CGIAR Innovative Solutions Explorer.
It has been co-developing multiple context-specific organizational and institutional solutions in its Climate Resilience Initiative (ClimBeR), testing and validating private sector-led climate action (business) models in its AICCRA Program and already built a climate action platform to coordinate the climate science and innovation activities globally. These solutions can be integrated into the solution package centered around the Sharm el-Sheikh online portal to accelerate the speed of coordinated and collaborative climate action at scale. The learning from the successful implementation and mistakes by CGIAR can significantly enhance the next stage of the Koronovia process.
Towards innovative context-specific organizational solution packages for effective climate action at scale
COP 27 has achieved a significant milestone through the "Loss and Damage Response Fund," and the Koronovia process has entered a mature stage. However, achievements are fragile and can be rolled back, as COP 27 in Egypt has indicated. To avoid losing the gains, we must innovate and scale context-specific organizational solution packages that combine technical solutions with individual and organizational capabilities. We have existing assets and learnings, such as the CGIAR, and we must find ways of capitalizing on them to support UNFCCC's efforts.