Unlocking prosperity: The National Potato Strategy for Nigeria
From

CGIAR Initiative on National Policies and Strategies

Published on

16.10.23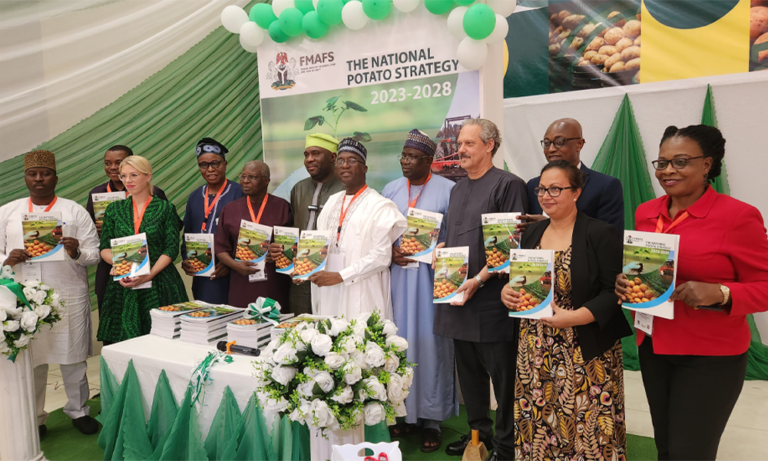 October 2023 (Jos Plateau, Nigeria) The National Potato Strategy for Nigeria was launched to usher in a new era for Nigeria's potato industry capable of delivering sustainable food and nutrition security, fostering trade surplus, and boosting incomes.
At its core, the strategy recognizes that the potato value chain in Nigeria faces a complex of challenges. To overcome these hurdles and unlock the sector's full potential, the strategy combines key players, harmonizes their efforts, and harnesses their collective strengths.
At the launch event, distinguished speakers amplified the call for action. Engineer A. G Abubakar, representing the Federal Ministry of Agriculture and Food Security (FMAFS), explained the untapped possibilities of potato commercialization in Nigeria. Dr. Markus Wagner, GIZ Country Director, also echoed this and vividly depicted the strategy as a catalyst—a blueprint for action. He underscored the critical role of ensuring quality seed access and sector-wide coordination through strategic partnerships.
Read the entire article on CIP website.
---
This work is part of the CGIAR Research Initiative on National Policies and Strategies (NPS). CGIAR launched NPS with national and international partners to build policy coherence, respond to policy demands and crises, and integrate policy tools at national and subnational levels in countries in Africa, Asia, and Latin America. CGIAR centers participating in NPS are The Alliance of Bioversity International and the International Center for Tropical Agriculture (Alliance Bioversity-CIAT), International Food Policy Research Institute (IFPRI), International Livestock Research Institute (ILRI), International Water Management Institute (IWMI), International Potato Center (CIP), International Institute of Tropical Agriculture (IITA), and WorldFish. We would like to thank all funders who supported this research through their contributions to the CGIAR Trust Fund.