Turkana, Kenya: Reaping Immense Benefits of Vegetables Production
From

CGIAR Initiative on Nature-Positive Solutions

Published on

11.07.23

Impact Area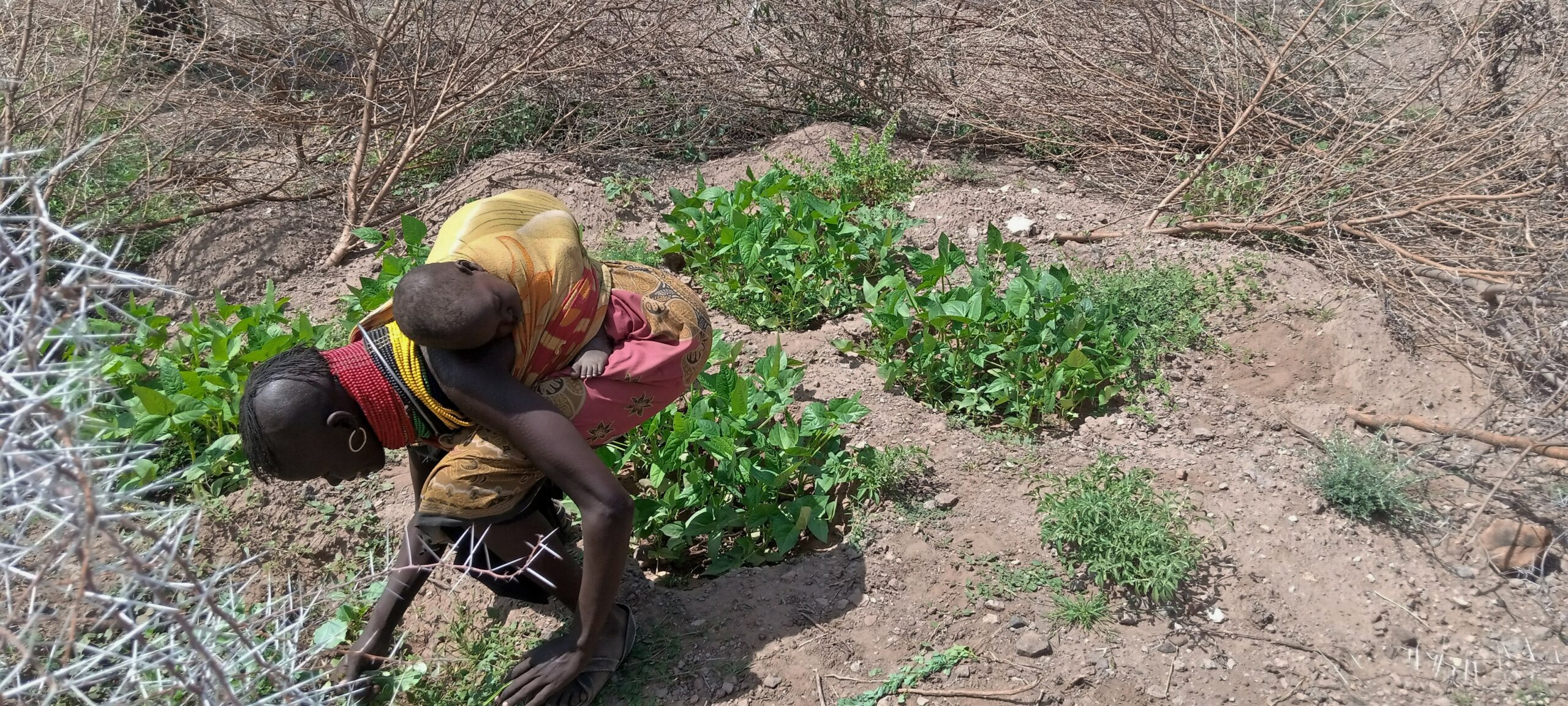 Research by CGIAR's Nature+ Initiative in arid and semi-arid Kenyan nomadic communities showed declines in nutrition driven by climate change and drought. But pastoralist communities that grew vegetables had better diets than those that didn't.
By CGIAR Initiative on Nature-Positive Solutions
Authors: Dr. Céline Termote and Rachel Kibui, Alliance of Bioversity International and CIAT
Kenya's Turkana County is one of the country's arid and semi-arid land (ASAL) regions. These are characterized by low rainfall and – largely due to climate change – erratic weather patterns that bring drought and flooding. Often the region, as in other ASAL areas, Turkana faces several challenges such as water and food shortages, malnutrition, poor access to amenities and healthcare, diseases, pest invasions, and conflicts tied to competition for natural resources.
Communities in Turkana are mostly pastoralist, meaning they migrate together with their livestock, mainly cattle, goats and sheep, in search of water and pasture. This migration affects communities in various ways. There are children who must drop out of school to accompany their families' migrations, often to areas that lack amenities such as health centers. Family nutrition is negatively affected as they can only eat what is available in the areas they move to.
Customarily, pastoralist communities consume milk and meat, sometimes supplemented with wild fruits, vegetables and herbs. Sometimes only milk and meat are available since rearing livestock is their main economic activity and source of food especially milk, meat and blood. Many times, proceeds from sale of livestock are spent on buying other foods like flour, sugar and rice, among others.
Vegetable production: better household nutrition, incomes
Through the project 'Improving dietary quality and livelihoods using farm and wild biodiversity through an integrated community-based approach in Turkana and Busia counties, Kenya', communities in Turkana now produce vegetables. Vegetable production has improved diets and increased income, among other benefits. Balanced nutrition includes vegetables and pastoralist communities can take their vegetable-planting skills with them as they migrate, which helps balance their diets. Proper nutrition is particularly important for vulnerable groups including children, the elderly and the sick.

The project began in Turkana in 2020 and concluded in 2023. It was funded by the German Federal Ministry for Economic Cooperation and Development (BMZ) through the Deutsche Gesellschaft für Internationale Zusammenarbeit (GIZ) and the Fund for International Agricultural Research (FIA). CGIAR's Nature-Positive Solutions Initiative and the Alliance of Bioversity International and CIAT collaborated on the project.
The project's main goal was to empower communities to make better use of the potential of seasonally available, biodiverse and nutritious foods for improved farm resilience, food and nutrition security, and to generate incomes in Kenya's Busia and Turkana counties. The purpose of the project was to pilot-test it in two new contexts in Kenya, institutionalize good practices and document lessons for scaling, following the successful integrated, community-based approach for farm, market and diet diversity, previously applied in Vihiga County. The new pilot testing involved farmers, community health workers, agricultural extension agents and local NGOs.
The project started in 2020 during the challenges of the COVID-19 pandemic, and an end-line evaluation was carried out towards the end of 2022 when Kenya declared the worst drought ever in its history. Nonetheless, interesting impact results were generated and presented during the outreach workshop in Turkana County.
Like other regions in northern Kenya and in the Horn of Africa, Turkana County has been grappling with the effects of extreme drought, the worst in the last four decades. The drought exacerbated the already existing challenges in the county, food and water shortage being among the major ones.
Building resilience and enhancing diet diversity
An impact evaluation was done in 17 communities (10 intervention and 7 control villages). Almost 360 households with children 6-36 months old were involved at baseline and 596 households with small children at project conclusion. The impact was measured at the community level (involving group members or direct beneficiaries as well as non-group members or indirect beneficiaries in the intervention communities).  While water shortage came out as a major challenge to vegetable production, the diet quality situation was better in communities that practiced vegetable production.
People settled around areas where vegetable production was ongoing, with some harvesting directly from their farms, while others bought the same from neighbors. When people settle in central, strategic places, it means that they can beat the challenges of nomadic life such as access to basic amenities including hospitals and schools. Additionally, it becomes easy to target and pull together intervention programs. The availability of vegetables for sale also diversifies household income. This means families are able to improve their standards of living.
Issues affecting diet diversity in Turkana
Several issues have affected Turkana County in terms of diet diversity. Climate change and a prolonged dry season left many in the communities with no choice but to eat whatever was available, with many people depending on relief food. Disasters such as the war in Ukraine strained food supply and diet diversity as did the pandemic. While there was a notable decline in diet diversity over the course of the study, the decline in intervention communities was significantly less compared to the control communities. This tells a story of resilience and adoption of better diets among the intervention communities, which should be expanded to other communities in Turkana and other ASALs areas.
"Despite the worsening of the dietary diversity indicators in both intervention and control communities, the project had a net positive result, being the difference in decline between intervention and control communities," said Francis Oduor, a postdoctoral fellow at the Alliance Bioversity International and CIAT, during his presentation at the final workshop in Turkana. The workshop brought together over 30 participants including representatives from the county government of Turkana in the ministries of health, agriculture, and trade, community health outreach (CHO) officers, farmers, and researchers, among others.
Reaping the benefits of collaboration
Throughout the implementation period, the project strived to work with the community in developing simple solutions by tapping into local knowledge and promoting co-learning to co-create and implement interventions under the 'Integrated Community-based Approach.' The collaboration involved working not only with communities and researchers but also close collaboration with the Ministry of Health (MoH), the Ministry of Agriculture and Save the Children. The co-creation process mainly consisted of six workshops held at each of the 10 intervention communities to design Community Action Plans (CAP). Besides training on kitchen gardening and nutrition counselling, the county government provided seeds for planting in kitchen gardens during the CAP implementation phase.
"Save the Children collaborated with the county government from where up to 160kg of seeds were received and sent to beneficiaries. The seeds included cow peas, spinach and watermelon. Through their collaboration with The Alliance of Bioversity and CIAT, seed money amounting to Ksh45,000 was provided during the CAP implementation launch to support farmers in their projects. The ministries of Health, Agriculture and Trade were instrumental in providing the groups with training and support," said Moses Modo of Save the Children's Department of Food Security and Livelihood.
Empowered to empower – the multiplying effect
Initially, 382 beneficiaries were trained in kitchen gardening, while 11,401 were reached with nutrition education and counseling activities. Although only 382 were trained in kitchen gardening, an additional 344 had set up gardens. Still, this number could be higher as some trainees said they had trained more than five people, and the chain continues even beyond the project implementation time. Those who sell vegetables spend their income mainly on buying other foods such as milk, meat and cereals to help supplement family diets. From the village savings and loaning associations, the communities narrated how they have been able to save money, some of which was loaned to members to start up income-generating activities and to pay school fees for children.
Gradually but surely, Turkana is showing that nomadic communities in the region can not only thrive on pastoralism but also make farming part of their livelihoods.