Transforming Kenya's Food Systems and Establishing a Science-Policy Interface
From

CGIAR Initiative on National Policies and Strategies

Published on

14.04.23

Impact Area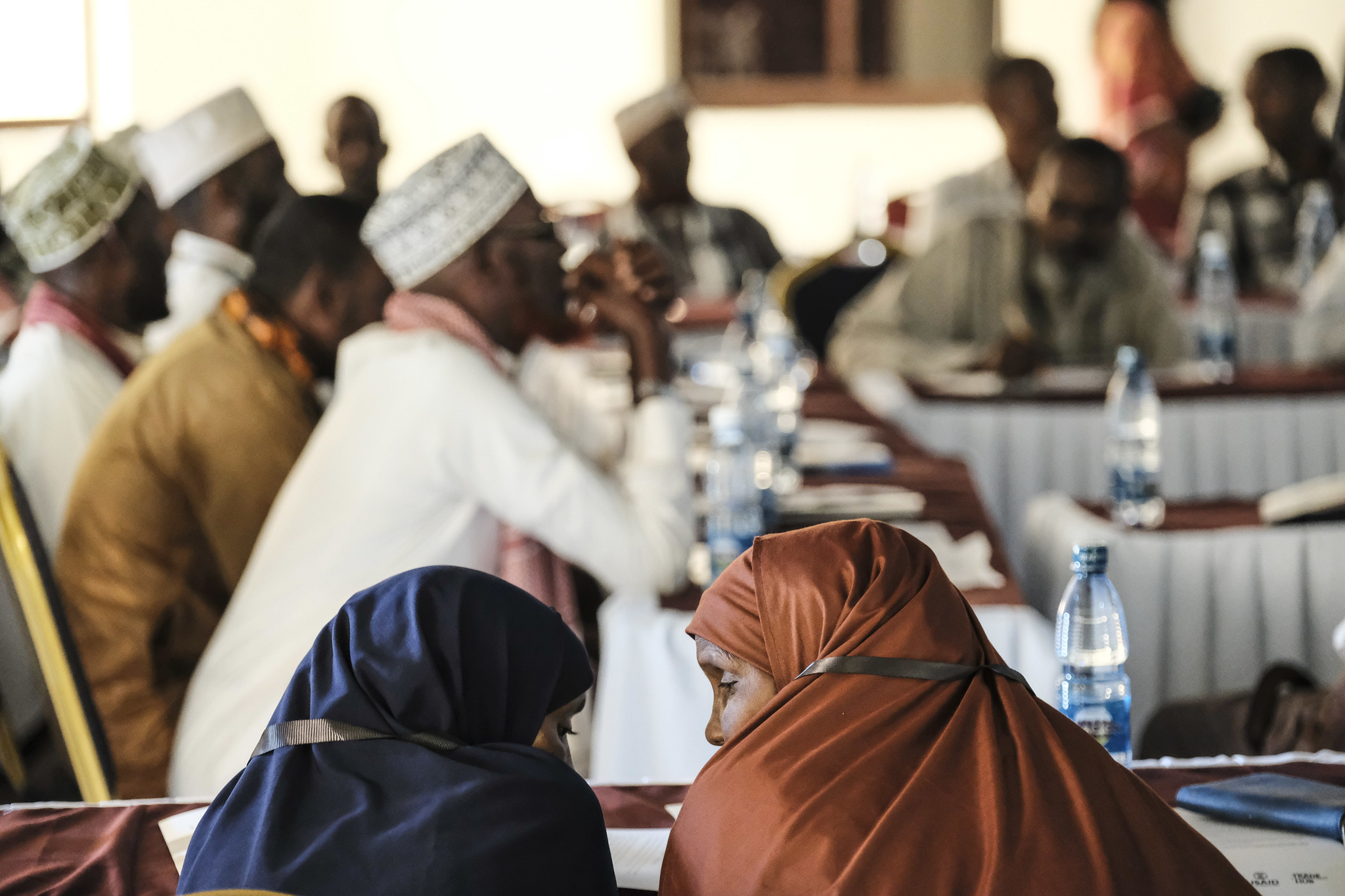 Key messages
The Government of Kenya has prioritized a bottom-up approach and seeks innovative policy solutions to food systems while working closely with national and international research organisations such as the CGIAR.
Digitalization and a vibrant national and international food policy research community in Kenya provide an opportunity to support policy- and decision-makers with state-of-the-art policy solutions in an era of unprecedented challenges and crises.
The Government of Kenya plans to put a stronger focus on coherent policy design and on strengthening the science–policy interface; on improving access to data; on enhancing data-sharing between counties, and between counties and the national government; and on empowering counties to get involved in data collection.
The 1st Kenya Food Systems Conference, held in Nairobi in early April and organised by the Ministry of Agriculture and Livestock Development (MoALD) and the CGIAR Initiative on National Policies and Strategies (NPS), had two key aims: to come up with a set of recommendations to guide food system transformation policies over the coming years and work out how to enhance the dialogue between scientists and policymakers.
Kenya is a land of massive opportunities, possessing abundant natural resources and great potential for scaling up agricultural production and the transformation of its food system. It has a young, well-educated population – 35% of its 53 million inhabitants are below the age of 35 – and it is an important hub for agrifood tech start-ups. It also has a wealth of national and international research institutions which will play a key role in the country's future agricultural transformation.
But Kenya also faces many challenges. Recent droughts have had a devastating impact on pastoral systems, with millions of livestock dying of starvation. Gains in crop productivity over the last decade have begun to stall or decline. The rising cost of fuel and fertiliser has made foodstuffs increasingly expensive. Many Kenyans cannot afford a healthy diet – 36% live below the national poverty line – and a quarter of children are stunted by malnutrition.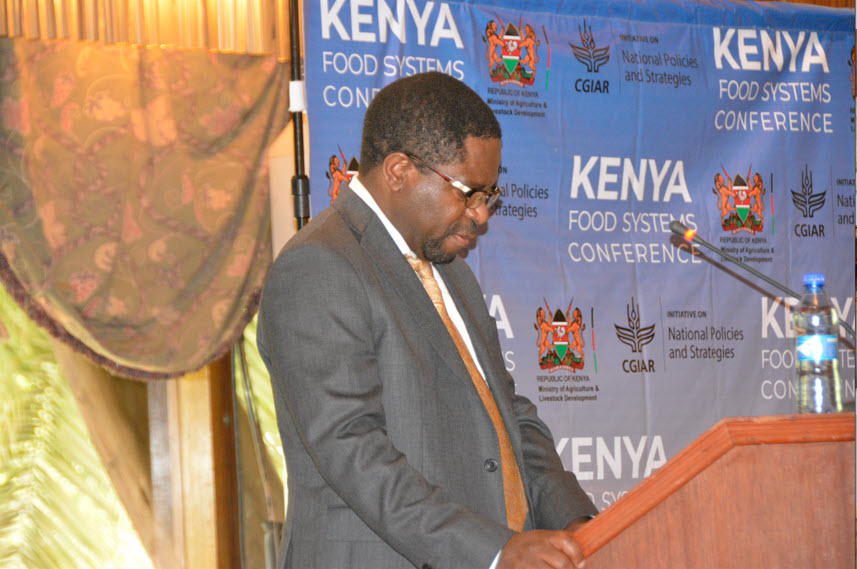 Increasing agricultural productivity and providing safe, nutritious food for the population is among the factors that inspired Kenya's new government to launch its Bottom-Up Economic Transformation Plan. One of its flagship policies focuses on agriculture. It gives MoALD's Research and Innovation Directorate a mandate to strengthen research and promote the use of agricultural innovations.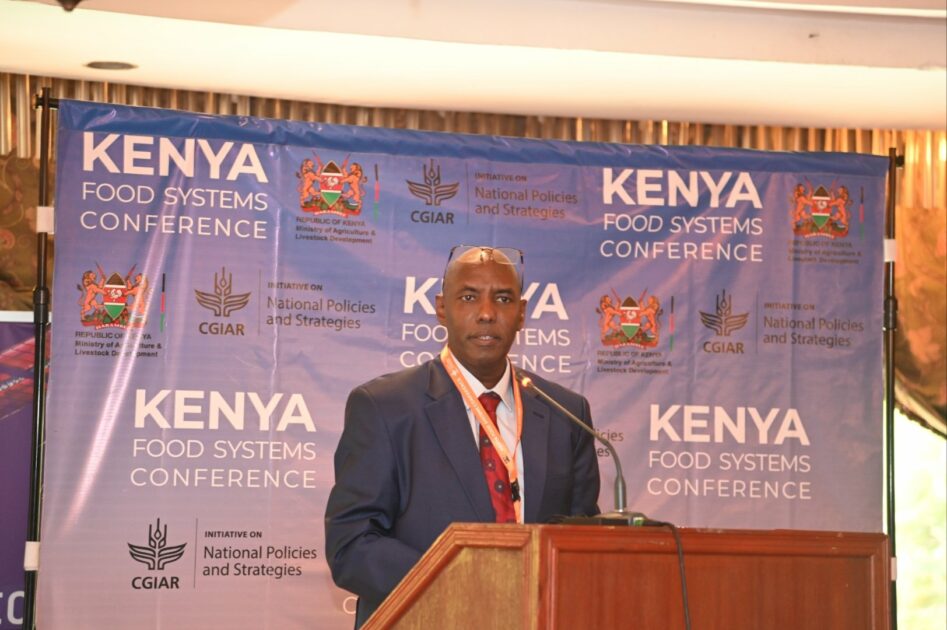 "This conference is the start of a new era of enhancing science and policy, and identifying current and future research demands, so research can provide timely information to policy-makers," said Cabinet Secretary Mithika Linturi, whose speech was read in his absence at the official opening by Kello Harsama, Principal Secretary for Crop Development at MoALD. During the first day, some 20 speakers, representing every aspect of the food system, discussed a broad range of issues. These fell into three main categories.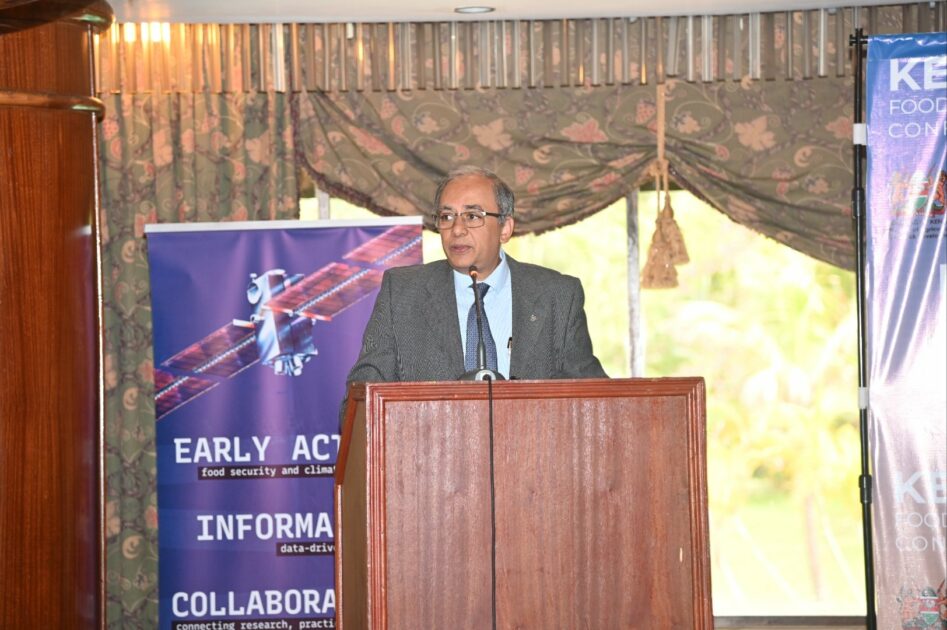 The first session on transforming food supply chains focused on the uncertainties and potential for growth in maize production, on the cost of agricultural inputs, on improving post-harvest management, on building the capacity of food producers through extension and digital services, and on reducing risk for farmers, for example through livestock and crop insurance schemes.
The second session on transforming the consumer environment and behaviour looked at the options for addressing high food prices, at the importance of promoting healthier diets and influencing consumer preferences, at food safety, and at the largely unregulated informal food sector, which supplies the bulk of food for people with low incomes.
The final session explored the drivers of food system transformation. The presentations looked at the current state of food, fertiliser and fuel markets, at how to climate-proof agricultural production and the food system, at the impact of migration and urbanisation, and at the role that women and young people could play in transforming the food system.
The lack of coordination between the public sector, the private sector and research agencies, as well as between government departments, was seen a significant problem. Just to give one example, 13 different government agencies have a role to play in food safety, yet there is no coordination between them. "To develop sustainable food systems in our country, we need to look at collaborations and partnerships – there are too many uncoordinated stakeholders," said Leonard Kubok from the Agricultural Transformation Office (ATO) when summarising the findings of the first day.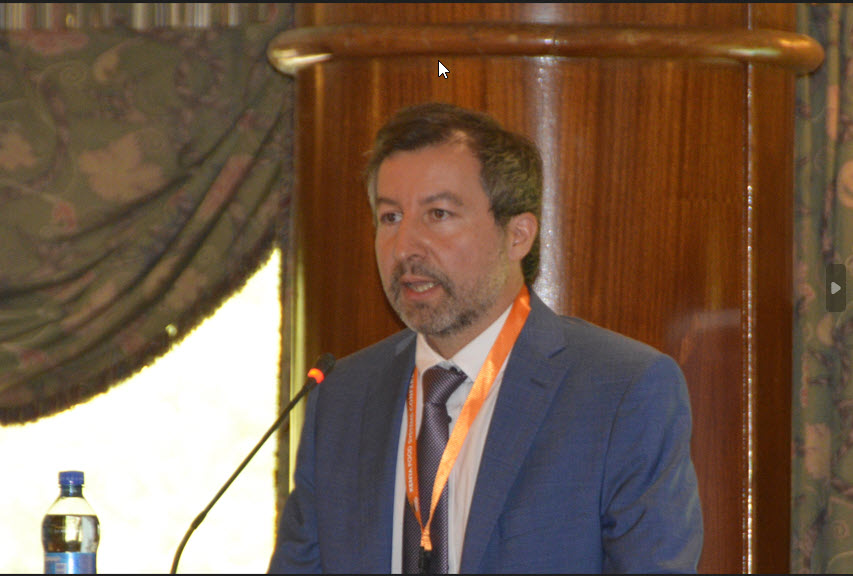 There also needs to be a closer relationship between scientists and policymakers. "Successful science–policy dialogue requires action from both sides," said Clemens Breisinger, country programme leader for the International Food Policy Research Institute (IFPRI) and lead of the CGIAR NPS initiative. "Researchers have to make sure that they produce high-quality, relevant and timely policy recommendations. Policymakers must be willing to consider research-based recommendations in their decision-making and create an environment where science can thrive." Indeed, the NPS Initiative was created with this in mind.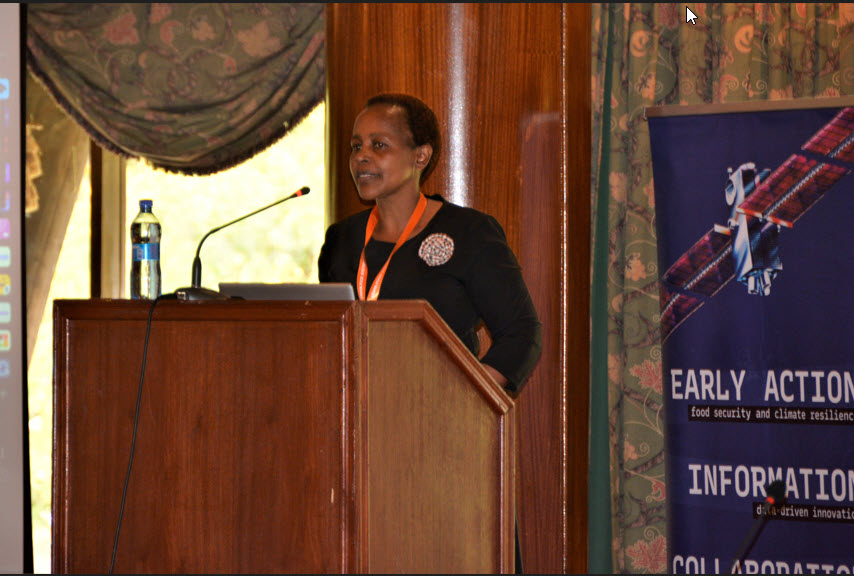 Supporting the Bottom-Up Economic Plan
Introducing the recommendations which emerged from the first day of the conference, Joseph Karugia of the International Livestock Research Institute (ILRI) said there were four nuggets of wisdom which had stuck in his mind. "First, livestock do not need rain – they need water." That is why the government is planning to build 100 mega-dams over the next five years. "Second, don't spend all your energy fighting the old, but building the new. Third, the cost of inaction in de-risking agriculture and the food supply chain is the large expense we inevitably incur on relief programmes." Finally, he said it was vital to develop new policies which are informed by a rigorous assessment of past successes and failures.
The recommendations – you can see them here – fell into the five main outcomes commonly used in the food system framework: health, productivity, resilience, inclusion and sustainability. There were also six cross-cutting recommendations. The latter included encouraging a stronger focus on coherent policy design and implementation, harnessing the power of knowledge by strengthening the science–policy interface (for example, by organising conference such as this one); improving access to data; enhancing data sharing between counties, and between counties and the national government, and between Kenya and other countries; and empowering counties to get involved in data collection.
A panel discussion moderated by Joyce Maru of the International Potato Centre (CIP) generated some lively discussion. All those involved endorsed the recommendations and highlighted issues which they considered of particular importance. "The crisis we have today is largely because of policy failure," said Kilimo Araap Lagat, an agricultural economist based in Nandi County. "Agricultural policies are still determined at the national level, but action takes place at the county level and below." Improving coordination between different tiers of government and strengthening the capacity of county governments will be vital in future.
Other panelists stressed the importance of increasing investment in agriculture and food system transformation, improving access to data and creating closer links between the private sector, the government and research agencies. Much more needs to be done to get young people involved in agriculture.
The final panel discussion, moderated by Clemens Breisinger, discussed how to bridge the science–policy gap and how to finance food policy research. "Science can only become relevant by addressing the needs of our farmers," suggested Paul Gamba, from the Department of Agricultural Economics and Agribusiness Management at Egerton University. Besides being demand-driven, agricultural research needs to be better funded. Scientists, he suggested, need to be less shy about what they are doing, and policymakers need to give more guidance about what sort of research they need.
Michael Keenan of IFPRI pointed out that policies often need to be made very rapidly, whereas research takes time. "Including research from the beginning of policy conception is important," he said. If you wait until the policy has been designed, it will be too late for the research to have any influence. There needs to be more work done on sharing the data gathered by scientists, government departments and the private sector and leveraging the digital for the new era of the science–policy interface in Kenya.
Recommendations made by the conference will be handed over to the Ministry of Agriculture and Livestock Development. "I am encouraged by the recommendations and we will use them," said Harry Kimtai, Principal Secretary for Livestock Development. The recommendations should become part of the Agricultural Sector Growth and Transformation Strategy (ASGTS) tracked by the Agricultural Transformation Office.
"We also need to create a more permanent and sustainable mechanism to deliver these recommendations," said Richard Ndegwa, Acting Secretary for Research and Innovations at MoALD. "We need to involve the private sector, national research organisations and the CGIAR. To develop sustainable food systems, all stakeholders must be on board." He suggested that the team which had convened the conference should play a key role in promoting its recommendations and in establishing a mechanism to develop and sustain the science–policy interface in Kenya.
---
Video Day 1 • April 5, 2023
---
Video Day 2 • April 6, 2023
---
Author: Charlie Pye-Smith
---
---
This work is part of the CGIAR Research Initiatives on National Policies and Strategies (NPS). CGIAR launched NPS with national and international partners to build policy coherence, respond to policy demands and crises, and integrate policy tools at national and subnational levels in countries in Africa, Asia, and Latin America. CGIAR centers participating in NPS are The Alliance of Bioversity International and the International Center for Tropical Agriculture (Alliance Bioversity-CIAT), International Food Policy Research Institute (IFPRI), International Livestock Research Institute (ILRI), International Water Management Institute (IWMI), International Potato Center (CIP), International Institute of Tropical Agriculture (IITA), and WorldFish. We would like to thank all funders who supported this research through their contributions to the CGIAR Trust Fund.
---