Transforming food environments: Empowering fruit and vegetable vendors in Viet Nam and Nigeria for a healthier future
From

CGIAR Initiative on Sustainable Healthy Diets

Published on

27.06.23

Impact Area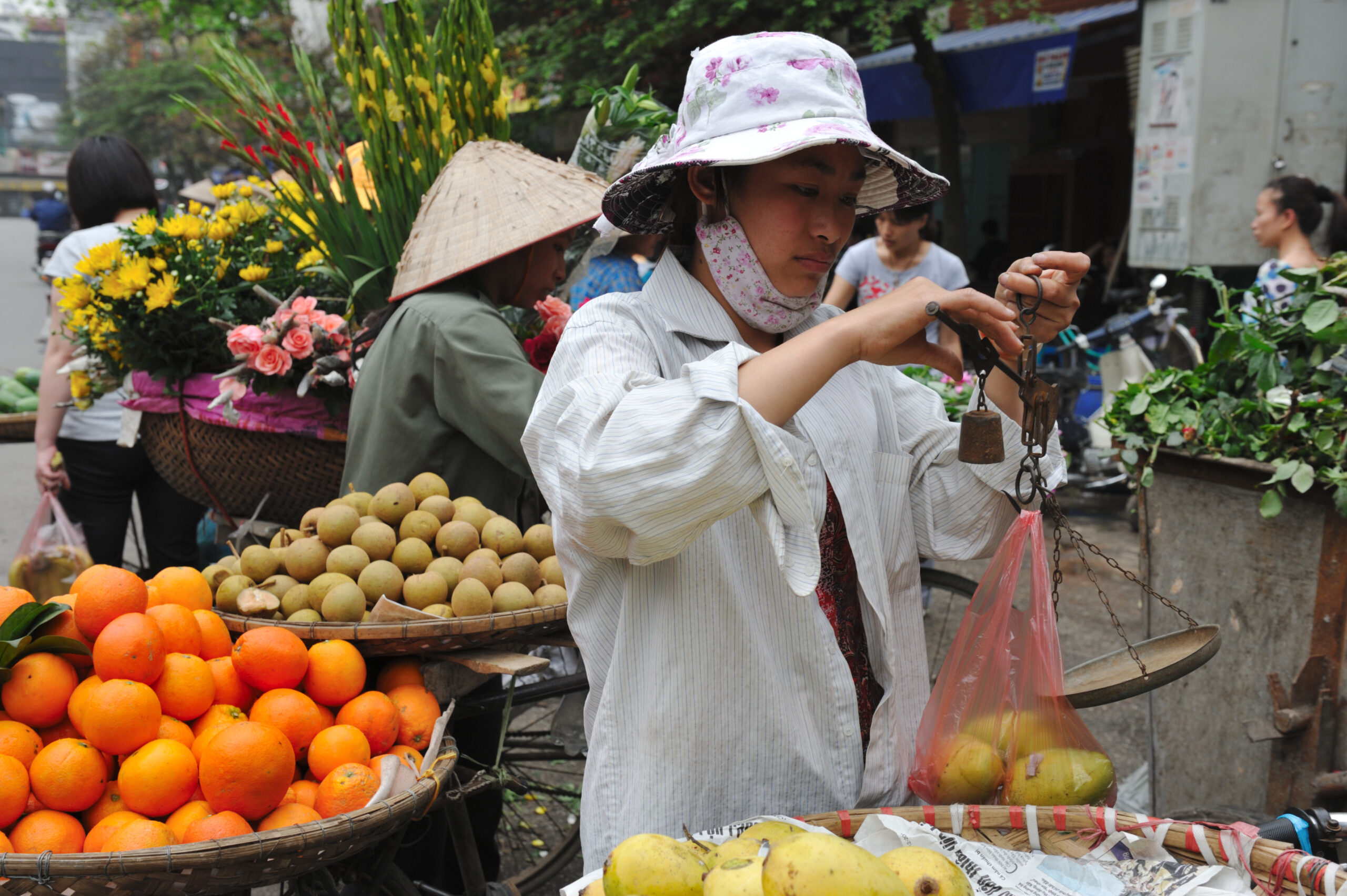 Micro, small, and medium enterprises (MSMEs) play a pivotal role in food systems worldwide. In many countries, the food industry has gone through a process of modernization and "supermarketization," but small-scale retailers remain the primary source of fresh food for many households in low- and middle-income countries. Supporting these vendors is essential to ensure the availability, accessibility, and affordability of fresh and healthy produce. But small-scale vendors, especially those operating informally, face neglect and a lack of support from public policies. Limited financial resources and intense competition with larger firms also present major barriers to their efforts to promote healthier and more sustainable food options.
In recognition of the urgent need for food systems transformation, recent research efforts have focused on fruit and vegetable (FV) vendors as agents of positive change in food systems. With financial support from the Bill & Melinda Gates Foundation, the Alliance of Bioversity and CIAT (the Alliance) conducted research in urban and peri-urban areas of Hanoi, Viet Nam, and Ibadan, Nigeria, in collaboration with the International Food Policy Research Institute (IFPRI), Wageningen University and Research (WUR) and other national partners. Through this research, we aimed to identify and test retail-level interventions that could lead to an increase in FV consumption among low-income populations, thus improving their diets.
Researchers engaged in a participatory process with both formal and informal FV vendors, as well as consumers. This collaborative approach facilitated the co-design and implementation of various retail-level interventions targeting better food accessibility, affordability, and desirability. Six different interventions were implemented across the two countries, including a loyalty card system, nutrition advice provided by vendors, upgraded points of sale, and the provision of nutritious mixed product packages. Results suggest that consumers responded positively to these interventions.
Our research also demonstrated the willingness and ability of small-scale vendors to engage in such processes. With adequate support from policymakers, researchers, and development practitioners, vendors can devise and implement innovative solutions to overcome challenges to growing their businesses. Such bottom-up approaches have potential to increase the consumption of nutritious food and stimulate economic growth for MSMEs, leading to improved public health and socioeconomic outcomes. While these impacts may not be enough to transform food environments, they can contribute necessary change and ultimately benefit marginalized communities. By empowering MSMEs that retail fruits and vegetables or other nutrient-dense products, we can collectively work toward healthier and more sustainable food systems.
This research is helping to shape SHiFT's work on MSMEs and the informal sector, also known as Work Package 2. SHiFT combines high-quality nutritional and social science research capacity with development partnerships to generate innovative, robust solutions that contribute to healthier, more sustainable dietary choices and consumption of sustainable healthy diets. It builds on CGIAR's unparalleled track record of agricultural research for development, including ten years of work on food systems and nutrition under the CGIAR Research Program on Agriculture for Nutrition and Health (A4NH). IFPRI and the Alliance lead SHiFT in close collaboration with WUR and with contributions from the International Potato Center (CIP). 
This News item was authored by SHiFT researcher, Brice Even from the Alliance, and edited by Claire Davis from IFPRI.
Header image: Woman weighing fruits for sale in Viet Nam. Photo by UN Women Asia and the Pacific from Flickr.