This is a man's world: Gendered perceptions of Ugandan agro-input dealers
From

CGIAR Initiative on Market Intelligence

Published on

22.03.23

Impact Area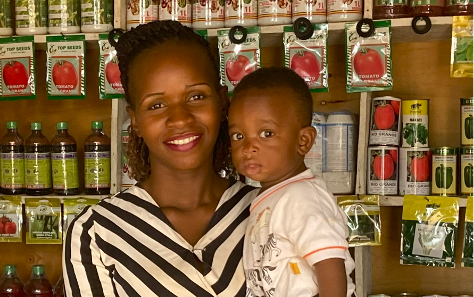 Esther (a composite of typical experiences) is the proud owner-manager of a small shop in a trading center close to her home in a village in eastern Uganda. With a loan from a savings and credit organization and some help from her husband, she was able to rent a stall and buy sufficient stock to get her business going. She hopes to earn some extra money that can be used to send their children to school, as the income Esther and her husband get from farming is often insufficient and at times uncertain.
Esther has several friends with businesses in the same trading center. These women trade in second-hand clothes, have small restaurants, or sell beauty products like wigs and lipstick. Not Esther. She sells seeds of improved varieties, inorganic fertilizer, and pesticides to farmers. While the businesses of Esther's friends thrive, Esther's shop is not doing that well. Farmers seem to prefer the agro-input shop of John a few stalls down the road, even though it looks less well kept than Esther's store and there are rumors that John sometimes tampers with the seed. This frustrates Esther and she is seriously thinking of converting her shop to a pharmacy.
In patriarchal societies with strong gender norms and customs, running a small business is often one of the few options available to women to earn money independently from their husbands. However, the same norms and customs may also dictate which types of businesses are acceptable for women to run.
In a recent study, we examined these attitudes in rural southeast Uganda, investigating if farmers perceive agro-input shops managed by women and the products they sell differently from shops managed by men. We found that in general, farmers do view shops run by men more favorably than those run by women, a situation that poses obstacles to women's empowerment and potential problems for agricultural value chains.