The world needs to learn how to live with COVID-19, says UK public health expert David Heymann
From
Published on

03.09.20

Impact Area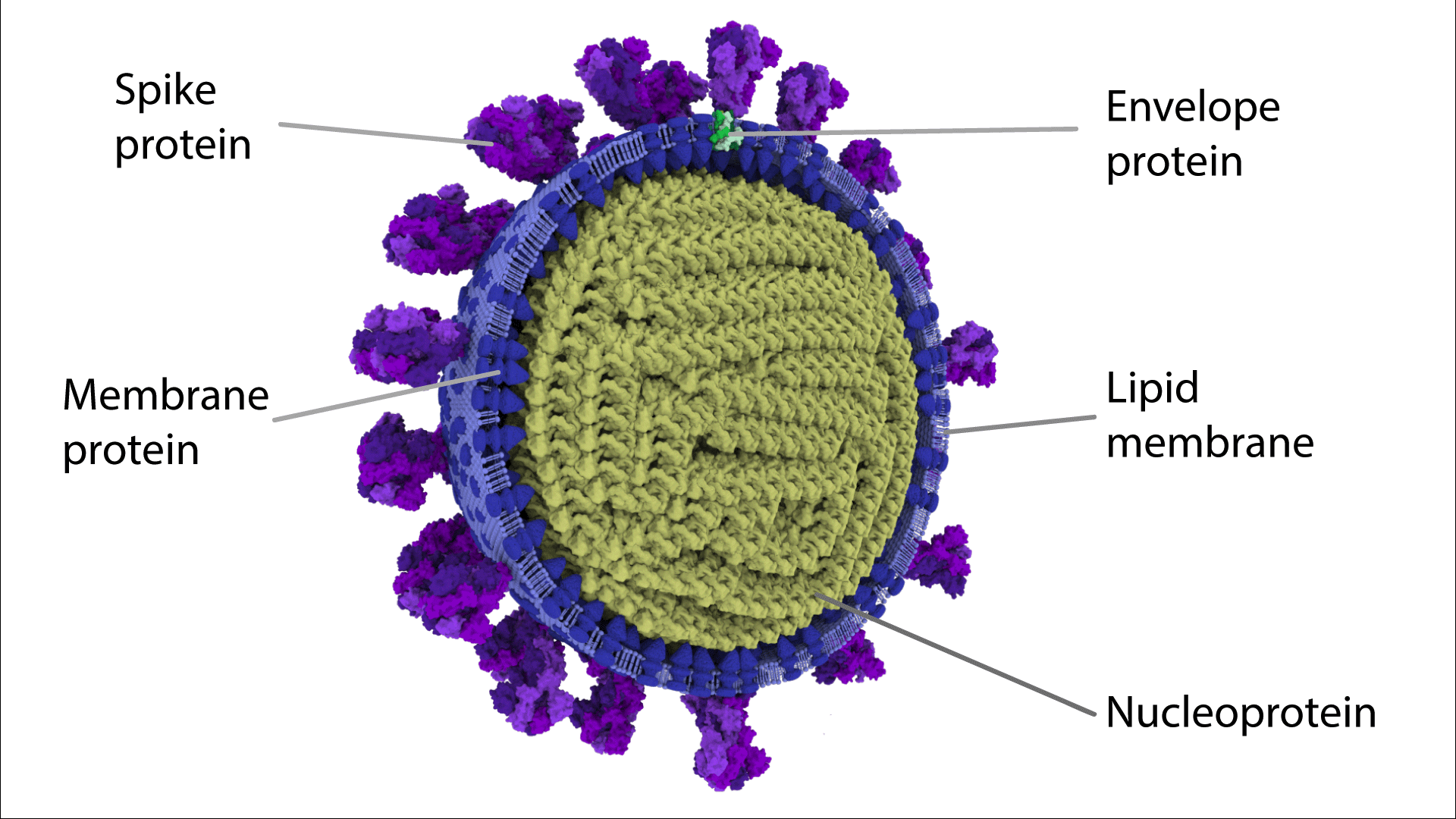 A 3-D model of the SARS-CoV-2 virus, developed by ILRI digital communications specialist Annabel Slater.
The world will need to learn to live with COVID-19 with or without a vaccine for the disease because it is likely to become endemic, says David Heymann, professor of infectious disease epidemiology at the London School of Hygiene and Tropical Medicine and head of the Centre on Global Health Security at Chatham House, London.
The former chairman of the UK's Public Health England, who has worked for more than 20 years with the World Health Organization (WHO), Heymann was giving his outlook on the current COVID-19 pandemic at an online weekly 'Round-up' meeting of the International Livestock Research Institute (ILRI) on 28 Aug 2020.

David Heymann (image credit: Chatham House).
Heymann said that COVID-19 is similar to most of the infectious diseases in the world today, which originated in the animal kingdom and breached the barrier between animals and humans to become endemic in humans. 'These diseases include tuberculosis and a host of diseases that we have learned to live with.'
'We are witnessing first-hand the emergence of a new infectious disease', he said. 'Though we don't yet understand COVID-19's complete destiny, we believe it's on its way to becoming endemic, as did the human immunodeficiency virus (HIV) after it emerged at the beginning of the twentieth century before it spread throughout the world.'
Heymann, who headed the global response to severe acute respiratory syndrome (SARS) at the Centres for Disease Control and Prevention and was a WHO director general's representative for polio eradication, is a member of an advisory group to the WHO on COVID-19. The group's message is that the world needs to begin to learn how to live with this (SARS coronavirus 2, or SARS-Cov-2) virus by doing certain things. These measures include protecting those with co-morbidities (e.g., people with high blood pressure, diabetes and other chronic diseases) to help them take precautions, such as avoiding crowded spaces, and to do the best they can to keep themselves from being infected.
He said the SARS-Cov-2 virus is similar to four endemic coronaviruses that have emerged and gone on to become endemic in human populations and is likely to become the fifth endemic coronavirus. 'Infectious viruses such as these are likely to remain in human populations for the foreseeable future. The way to learn to live with COVID-19 includes 'making sure that the disease does not overwhelm our communities by responding to outbreaks when they occur.'
He said the use of lockdowns to manage the disease in many countries may be ineffective because 'even though locking down economies may suppress the spread of the disease, it is easily imported back once lockdowns are lifted such as we are seeing in China.' He said many countries imposed lockdowns without clear exit strategies and are now hoping for a vaccine against the disease. 'But such a vaccine may not fully protect against reinfection and it may not be equitably distributed across the world. This means that countries have to find other means of living with COVID-19 until we can be sure that we have a vaccine or medicine to effectively prevent and treat the disease.' He said the WHO is working on modalities for the equitable distribution of vaccines and medicines for COVID-19.
Responding to a question on what living with COVID-19 means for business continuity while keeping people safe, Heymann said it will take innovation on the part of us all to understand what works. 'Options like online meetings are showing we can still keep in touch and continue to work. These help us do two things: prevent the spread of this and other infections and reduce the stress on our environment such as is brought about by mass travel.'
'We will learn through trial and error. The goal is to make sure we are not taking the infection home from our workplaces to family members who have underlying health conditions.'
In response to questions on the effectiveness of antibody treatments that are now used in some countries, he said that despite promising outcomes from the use of convalescent plasma that is collected from previously infected individuals to transfer antibodies to COVID-19 patients, 'the results of controlled studies in this area are currently insufficient to give clear evidence that such treatments are successful.' According to him, antibody tests on the other hand are likely to be more useful in future once we 'understand the sensitivity and specificity of such tests and what immunity from COVID-19 means.'
On COVID-19 testing as a measure for opening up workplaces, he said that though some businesses are using tests to determine those allowed to return to work, 'the infection can be acquired anywhere, and many times testing gives a sense of false security.' What people need is to focus on is reducing the chances of getting infected in the first place. 'This means that behaviour change will be the key to living with COVID-19 rather than relying on immunity passports, which are now in question following the reports of some people getting reinfected.'
Because of the willingness of countries to share information with the WHO, he concluded, 'we have learned a lot about COVID-19 in a short period of time. Based on what has been learned, the WHO is providing guidance to member states for developing their own policies for managing the disease.'
Watch the whole of David Heymann's 25-minute presentation and following 20-minute discussion: