The potential of Integrated Rice Fish Farming System to boost agroecological transitions in India's West Godavari
From

CGIAR Initiative on Agroecology

Published on

12.10.23

Impact Area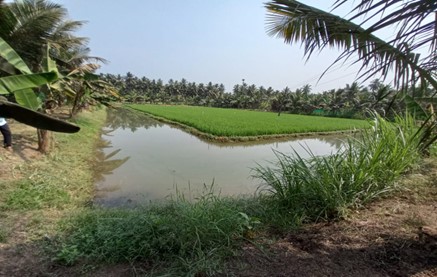 Authors of this blog:  
Ayan Samaddar, Research Associate, World Fish-India & Sarah Freed, Scientist, World Fish
Dr. Alok Sikka, Country Representative – India, IWMI-Delhi
Rice is the primary crop and considered to be a key player for food security and livelihoods in West Godavari district of Andhra Pradesh (AP), India. The district has been witnessing increasing injudicious use of chemical agricultural inputs that are entering into the food chains and enhancing chances of bioaccumulation and biomagnification, considered to be harmful not only for the ecosystem but also for human health. In response, the Government of Andhra Pradesh rolled out in 2020 a programme, 'Andhra Pradesh Community Managed Natural Farming (APCNF)' implemented by the 'Rythu Sadhikara Samstha (RySS) (a not-for-profit government corporation for farmers' empowerment)' under the aegis of Department of Agriculture, AP Government, to combat these stresses. The APCNF is a successor of an earlier agriculture development program, Zero Budget Natural Farming (ZBNF). APCNF promotes agroecology by following nine important principles:
"Soil to be covered with crops for all 365 days in a year
Minimal disturbance of soil
Biostimulants as necessary catalysts
Use of indigenous seed
Diverse crops and trees (15-20 crops)
Integrate animals into farming
Increase organic residues on the soil
Pest and disease management through botanical extracts
No synthetic fertilizers, pesticides, or herbicides."
Integrated Rice and Fish Farming System (IRFS) opens a new horizon for the agroecological movement in Andhra Pradesh by addressing APCNF's objectives of improving farmer net incomes, soil health, biodiversity, and resilience to climate change. Additionally, IRFS incorporation in Andhra Pradesh could improve the availability of fish or other aquatic animals for local nutrition security. IRFS can improve nutrient recycling and overall productivity of the targeted organisms, with additional environmental benefits like soil health improvement and control of Green House Gas (GHG) emissions[1]. The entire West Godavari region of Andhra Pradesh has suitable zones for IRFS, which is remarkable considering the range of topography and climate requirements to successfully implement IRFS.
Despite its ancient existence in this region, IRFS practices are constrained due to adoption of chemical farming practices. The CGIAR initiative on Agroecology aims to leverage the potential of IRFS to support agroecological transition in West Godavari. Documenting the existing IRFS practices was the first step towards this aim.
Members of the CGIAR initiative on Agroecology have begun field observations of existing IRFS in West Godavari. The team observed two different types of IRFS and the potential to develop a third type. Initial observations indicate some relative costs and benefits of each farming practice, IRFS and conventional monocultures of rice and fish. IRFS can be designed to adhere to agroecological principles, namely, nutrient recycling, species diversity, synergies between the rice and fish production system, and social values and diets. In addition, the characteristics of an IRFS could influence all agroecological principles. However, as APCNF and farmers continue to co-design the IRFS practices, it will be important to study both the conventional systems and IRFS to gather evidence on the application of agroecological principles in IRFS, the extent of transformative change in the associated food system, and IRFS's contributions to food and nutrition security.
1. Potential IRFS of West Godavari: "Integrated farm structure" – a unique land use pattern for rice & fish
Under continuous irrigation support from the Godavari River, the rice fields of West Godavari are an ideal place to promote fish culture in rice fields. A unique "Integrated Farm Structure" (total area one to two acres) has been developed by the APCNF to promote natural farming, where the center of the field is utilized for rice production (50% of the field area), surrounded by a trench (5 ft depth) area occupied with freshwater (20% of the field area), and bordered along the field perimeter by a high dike for horticulture (30% of the field area).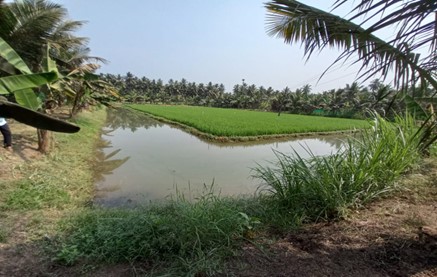 The trench area can retain water for horticulture as well as aquaculture. While most integrated farms are adding one or more species of fish from the Indian Major Carps to the trench area for aquaculture, in one site a farmer adds ornamental fish and a small number of ducks by enhancing the trench area.
2. Adjacent/alternate farming and aquaculture plots
Throughout much of the rice-growing areas in West Godavari, shrimp pond clusters are expanding by converting existing rice fields into seasonal or permanent aquaculture ponds. The seasonal use of rice fields for aquaculture is called an "alternating" IRFS, while the permanent conversion to ponds is more of a monoculture system. It seems that the rice and shrimp plots can coexist, but it is also likely that there is mixing or contamination between the systems of by-products and input applications.
3. Rice paddies as potential area for co-culture of small indigenous fish
Because water can be maintained in the trenches for most of the rice cultivation period and chemical inputs are being replaced with natural technologies for rice cultivation, there is potential for the IRFS to renovate preferred indigenous varieties of small fish species like Amblypharyngodon mola and Macrognathus sp. The use of indigenous species in IRFS provides compound benefits of agrobiodiversity for ecosystem services, dietary diversity, and a source of nutrient-dense nutritious food.
Both of the observed IRFS types can apply APCNF principles and practices, such as utilization of naturally available micro-organisms (e.g. jeevamrutham, a beneficial micro-organism rich manure), botanical extracts (e.g. agnayastram, an organic pesticide), and/or biocultures, respectively for crop productivity enhancement, pest management and soil fertility enhancement. APCNF has initiated field experiments to optimize these practices for rice and allied culture practices. This focus on soil health and related agroecological principles can be complemented by IRFS implementation to support other principles such as economic diversity, land and natural resource governance, social values & diets, and co-creation of knowledge.
Substantial numbers of farmers in West Godavari have identified the integrated farming system as a way to diversify and improve income generation and/or their own nutrition. They found green manuring / Pre-Monsoon Dry Sowing (PMDS) also known as Nabadhanya as an effective way to gradually improve rice productivity. Though in the case of fish, its growth and income generation have required addition of moderate to highly expensive commercial feed materials and alternative methods are needed. Some farmers are reluctant to apply the IRFS approaches because they would prefer the short-term gains from the more productive models of intensified commercial pisciculture that are also practiced in West Godavari. In addition, farmers found IRFS to be more labour intensive (almost two to three times higher as compared to conventional practices) and expensive during the initial phase, making it difficult to practice in areas with labour shortages and on leased land. However, the commercial pisciculture approach also has its own constraints, including high upfront costs, the large scale of production required for profitability, and the limiting factors of land price and availability. These kinds of challenges make IRFS an appealing approach, to be developed as a sustainable agroecological model for rice farming areas in Andhra Pradesh through co-design with IRFS farmers.
Next steps for the Agroecology Initiative in West Godavari are to document the microclimatic conditions (nutrient flow, nutrient retention, microbial richness, diversity, community composition, and other soil properties), resource requirements, biodiversity, productivity, value chains and socioeconomic impacts of IRFS. This evidence can then inform locally co-designed technologies and development of supportive policies to accelerate West Godavari's agroecological transition.
[1] Ahmed, N., Turchini, G.M. The evolution of the blue-green revolution of rice-fish cultivation for sustainable food production. Sustain Sci 16, 1375–1390 (2021). https://doi.org/10.1007/s11625-021-00924-z