Tackling food insecurity & climate change risks in East Africa through climate finance: A multi-pronged approach
From

CGIAR Initiative on Climate Resilience

Published on

16.01.23

Impact Area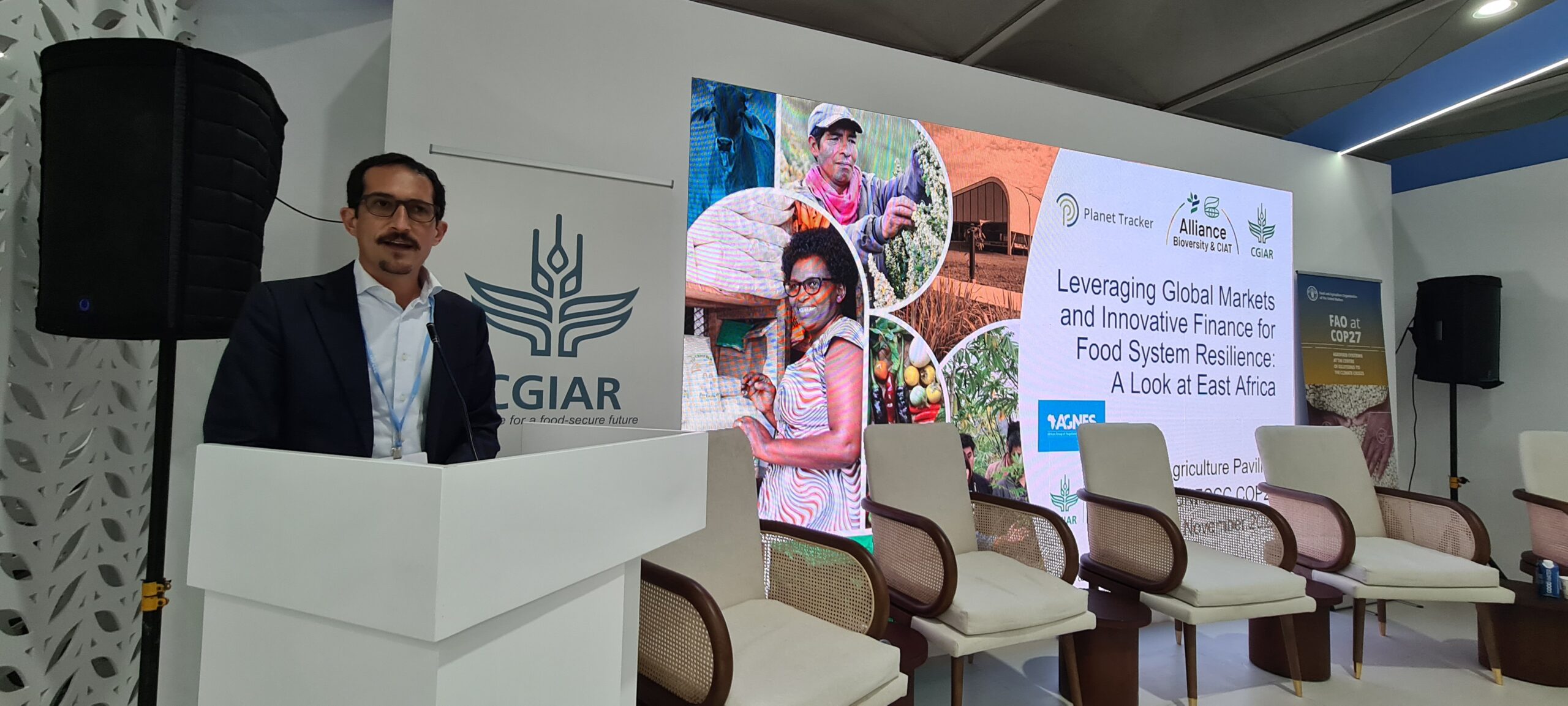 Photo: Evan Girvetz of the CGIAR Climate Resilience Initiative speaks at COP 27 in Egypt about climate finance for resilient food systems in East Africa
By Pedro Chilambe, ClimBeR Climate finance and climate risk management specialist, and Evan Girvetz, ClimBeR Climate Finance research area Lead
Addressing food insecurity and climate change risks in East Africa is fundamental to the economic and social development of the region. The recent drought and ongoing food crises in the Horn of Africa have underscored the precarious nature of food availability and the constant threat that climate change poses to livelihoods in the region. Climate finance will be essential for mitigating these risks and ensuring that climate commitments, namely Nationally Determined Contributions (NDCs), are fulfilled. 
That said, there remain significant challenges to tackling climate risks and improving food system resilience across countries in East Africa, not to mention the barriers of dispersing climate finance to those who need it most. These challenges, alongside the opportunities for climate action in East Africa, were discussed in depth at the 'Leveraging global markets and innovative finance for food system resilience: A look at East Africa' event at COP 27 in Sharm el-Sheikh in November 2022. CGIAR, FAO and The Rockefeller Foundation co-hosted the event and brought together key regional stakeholders to share their insights and perspectives on the topic.
The event came as part of the CGIAR Initiative on Climate Resilience, or ClimBeR, which aims to transform the climate adaptation capacity of food, land and water systems in Kenya, Morocco, Senegal, Zambia, Guatemala, and the Philippines. ClimBeR researchers and partners tackle vulnerability to climate change at its roots. 
Researchers at ClimBeR are working in close collaboration with local partners, including governments, small-scale farmers, small- and medium-scale enterprises, and other actors in the food value chain. The Initiative envisions helping 30 million farmers across these six countries adapt to climate change by 2030. One of ClimBeR's goals is to facilitate at least US$30 million in climate finance through the Initiative's partnerships, focusing on disadvantaged groups, women, youth, and vulnerable smallholder farmers, contributing to building systemic resilience. This goal will be supported, in part, by collaboration with the UNFCCC's Green Climate Fund (GCF). The initiative is accredited to support GCF work in the Horn of Africa. The CGIAR is partnering with the African Group of Negotiators Expert Support (AGNES) to develop a project proposal tackling transboundary and cascading climate risks.
The key message that surfaced from the event was that tackling food insecurity and climate change risks in East Africa will need a multi-pronged approach involving localized green finance, transboundary cooperation and a re-framing of sovereign risks.
Localized green finance
Linking global financial markets to individual countries' climate fund proposals and then dispersing the funding at the local level is vital to addressing the region's food security concerns. Too often, however, climate funding is not directed locally, and therefore funding is not responsive to the needs of local people. Building local-level capacity to access and manage climate finance resources and launching specific initiatives within local communities is a positive step towards strengthening decentralized finance availability. In line with this, the GCF, the world's largest climate fund, is supporting this global to local-level alignment by "translating innovative climate action ideas into projects on the ground," as ClimBeR scientists noted during the COP 27 event.
Transboundary cooperation
As with many regions, East Africa's water, food and energy resources transcend country borders. Enhancing regional integration efforts, boosting transboundary cooperation, and launching cross-border initiatives are vital to climate change adaptation and mitigation for countries in the region. In line with this, the Karamoja Cross border Programme was established in Moroto, Uganda, on 12 September 2019 by former President Uhuru Kenyatta of Kenya and Yoweri Museveni of Uganda. The cross-border initiative will address governance and economic challenges related to environmental sustainability, climate change, and resilience.
Re-framing sovereign risks
Access to climate finance typically depends on an individual country's investor reputation and credit rating, and this often unfairly limits funding available to developing countries, including those in East Africa. Research by Planet Tracker, a non-profit financial think tank featured on a panel at COP 27, showed that countries that are more exposed to climate risks and have more 'nature-dependant' economies generally have lower credit ratings and are often perceived as riskier to invest in. The re-framing of sovereign risks, when used to assess climate finance, will be needed if climate finance is to reach the countries that most urgently require it.