Spotlight on Climate Security at Bled Strategic Forum 2023
From

CGIAR Initiative on Climate Resilience

Published on

10.10.23

Impact Area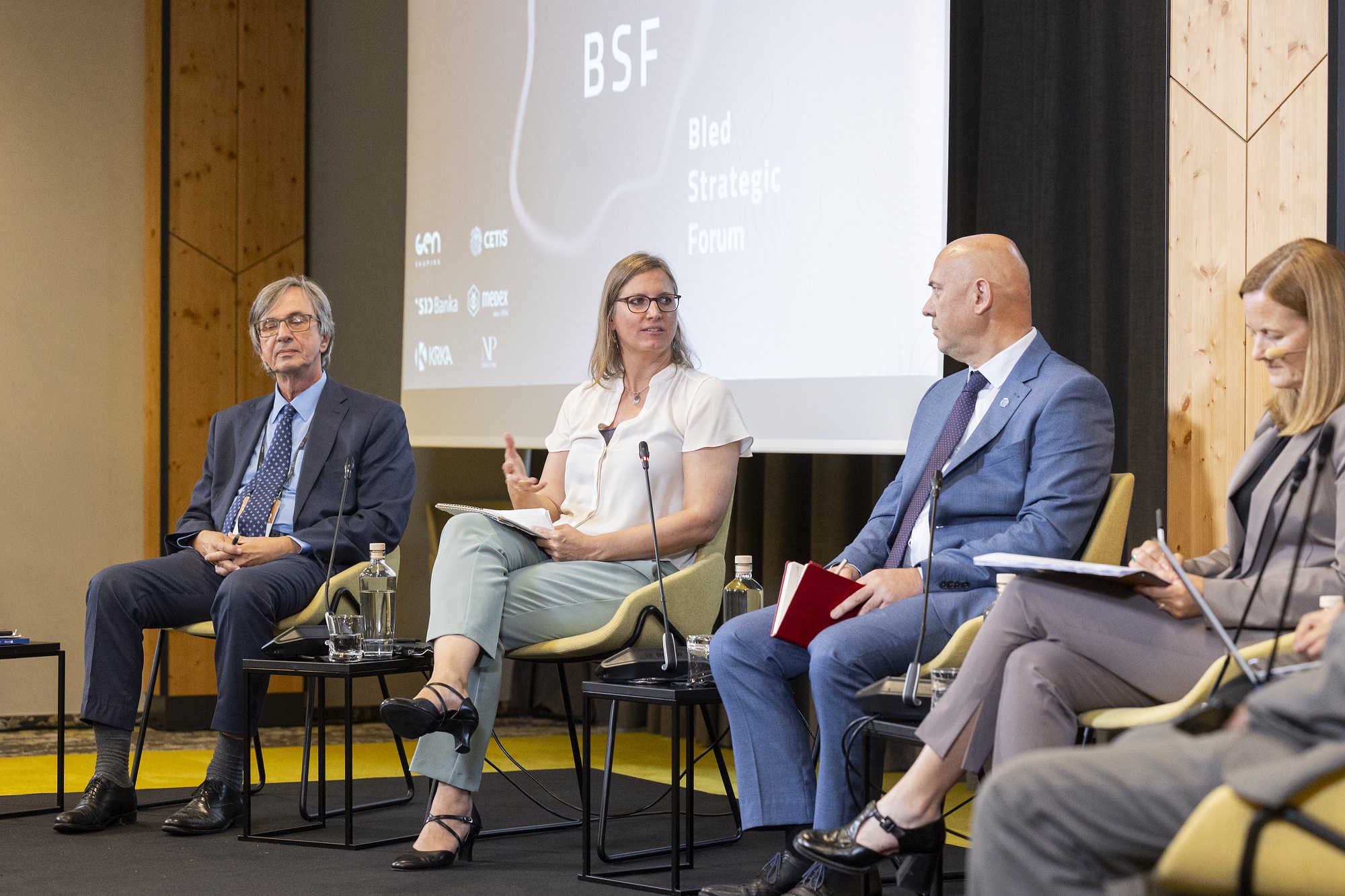 Authors: Dr. Martina Jaskolski and Ibukun Taiwo, (CGIAR Focus Climate Security, The Alliance of Bioversity and CIAT) 
On August 28 and 29, 2023, CGIAR Focus Climate Security participated at the prestigious 2023 Bled Strategic Forum Conference in Slovenia, a renowned global gathering of policymakers, experts, and civil society leaders.  
Held at Lake Bled, Slovenia under the slogan "Solidarity for Security", the conference witnessed a record-breaking attendance, including several prime ministers, ministers, and a long list of high-level participants. The annual conference, which brings together decision-makers from around the world on critical global security issues including ongoing conflicts multilateralism, the extension of the European Union, migration, and cybersecurity, placed more emphasis than ever before on the intricate relationship between climate change and security. In the event's publication, the "Bled Strategic Times", former Foreign Minister for Foreign Affairs of Sweden, Ann Linde, referred to climate security as being "on every foreign minister's to-do list" (page 14).  
Given that Slovenia recently faced severe floods, climate change and its security impacts featured heavily in the opening speeches of Slovenia's Prime Minister, Robert Golob and Foreign Minister, Tanja Fallon, who was also the host of the Strategic Forum's 17th edition.  
CGIAR was invited to contribute its expertise on climate security and food security in the Middle East and North Africa (MENA) region as part of the panel "From a dangerous cocktail to a recipe for peace: Addressing the interlinkages between climate, conflict and food security". Organized by Interpeace, a CGIAR strategic partner, the panel discussion situated food security and food systems within a broader security context. 

Representing CGIAR's recently launched MENA Regional Climate Security Hub, Dr. Martina Jaskolski, Climate, Peace, and Security Policy Scientist with the CGIAR FOCUS Climate Security Team of the Alliance of Bioversity and CIAT, highlighted how food systems transformations can help with peacebuilding and peace-keeping efforts.   
The panel also included notable experts, including Dirk Brengelmann, Dean of the Global Diplomacy Lab; Cyril Ferrand, Resilience Team Leader for Eastern Africa at the Food and Agriculture Organization; Hassan Ismail, Country Representative for Kenya; and Eva Tomič, Climate Policy and Human Rights Adviser to the President of Slovenia. 
Martina's contributions highlighted that food security is integral to our concept of security, encompassing various levels and types of security, including water, livelihood, human, and social security. Thus, understanding the complex interplay of these security forms and the compounding risks is crucial for effective policymaking. CGIAR's FOCUS Climate Security team contributes by combining indicators of climate change, food systems, and security to build scientific evidence. Climate security, seen through the lens of positive peace, emphasizes secure livelihoods, resilience, and equality in resource access and entails the notion that structural violence, including inequalities in resource access, including gender inequalities, must be addressed to achieve positive peace.  
While climate change impacts on food systems are a security issue, the transformation of food production systems towards more equality and resilience can be part of the solution – at farm level as well as at the level of more systemic change. Creating an enabling policy environment to upscale successful models and pilot projects, for example CGIAR's projects on climate-smart agriculture, is crucial in order for larger-scale food systems transformations to occur.  
To address the complexity of climate and food security, policy integration is key, and integrated policy approaches must involve the collaboration of multiple ministries and the institutional and organizational structures that allow for multi-ministerial program design and implementation, as well as data sharing and cross-ministerial budgets. Challenges remain, such as defining effective climate-secure governance approaches and recognizing the broader implications of climate security beyond food systems. 
Other panelists addressed various food security issues. Cyril Ferrand, Resilience Team Leader for Eastern Africa at the Food and Agriculture Organization of the United Nations, highlighted the importance of protecting pastoralism and securing food stocks for animals, directly affecting children's food security in the Horn of Africa. Hassan Ismail, Country Representative for Kenya, discussed pastoral livelihoods, echoing Ferrand's concerns. 
Eva Tomič, Climate Policy and Human Rights Adviser to the President of Slovenia, echoed panelists' points, emphasizing integrating climate change into policymaking at all levels and its significance as a security issue. She highlighted that Slovenia intends to actively champion the climate security agenda following its recent acceptance as a non-permanent member of the UN Security Council. She also stressed the country's emphasis on the importance of gender equality and the crucial role of scientific evidence, such as provided through CGIAR's climate security research, to support global efforts on climate security.  
The conference's emphasis on climate security reflects the topic's growing recognition and importance, and highlights CGIAR's opportunity to keep contributing scientific expertise to global policymaking. While CGIAR had previously collaborated with Interpeace Geneva on projects, this was the first engagement in the MENA region and emphasized a growing recognition for the need of evidence-based decision-making by policymakers. 
CGIAR Focus Climate Security operates in almost 16 countries, offering multiple entry points and strategic connections with regional organizations, enabling active collaboration with policymakers to address real-world climate security challenges. CGIAR's MENA Regional Climate Security Hub in Cairo focuses on building scientific evidence, policy advocacy, and mainstreaming climate security into regional policies.