Sowing the seeds of resilience among smallholder farmers in Bangladesh
From
Published on

19.07.23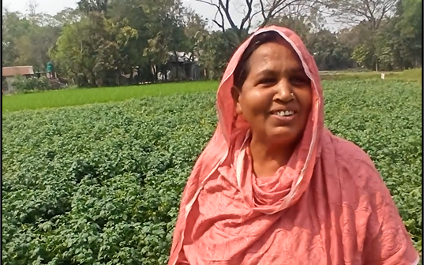 OPEN ACCESS | CC-BY-4.0
Tahera Begum, 47, faced ridicule from her neighbors and relatives when she decided to cultivate potatoes during the recent growing season using climate-smart strip-planting technology instead of the conventional approach, which involves heavy pulverization of the soil in four rounds of tilling before sowing. Though widely practiced, this method contributes to topsoil erosion and has comparatively higher costs, as well as increased fuel and labor requirements.
Along with her husband Asgar Ali and two children, Tahera lives in West Dhirashram, a small village in the Gazipur City Corporation, Bangladesh. Even her close relatives, also potato farmers, tried to persuade her to not risk her entire income from the coming season by adopting this technology.
Tahera herself was skeptical when she was contacted by the officials of the Bangladesh Agricultural Research Institute (BARI) to try the strip-planting method. But she set aside her qualms and those of other farmers because strip planting had a clear economic advantage: It would save her 7000 Taka ($65) in tillage costs for the season on her 0.3 acre plot.