Sensory profiles help cassava breeders develop desirable new varieties
From
Published on

12.01.20

Impact Area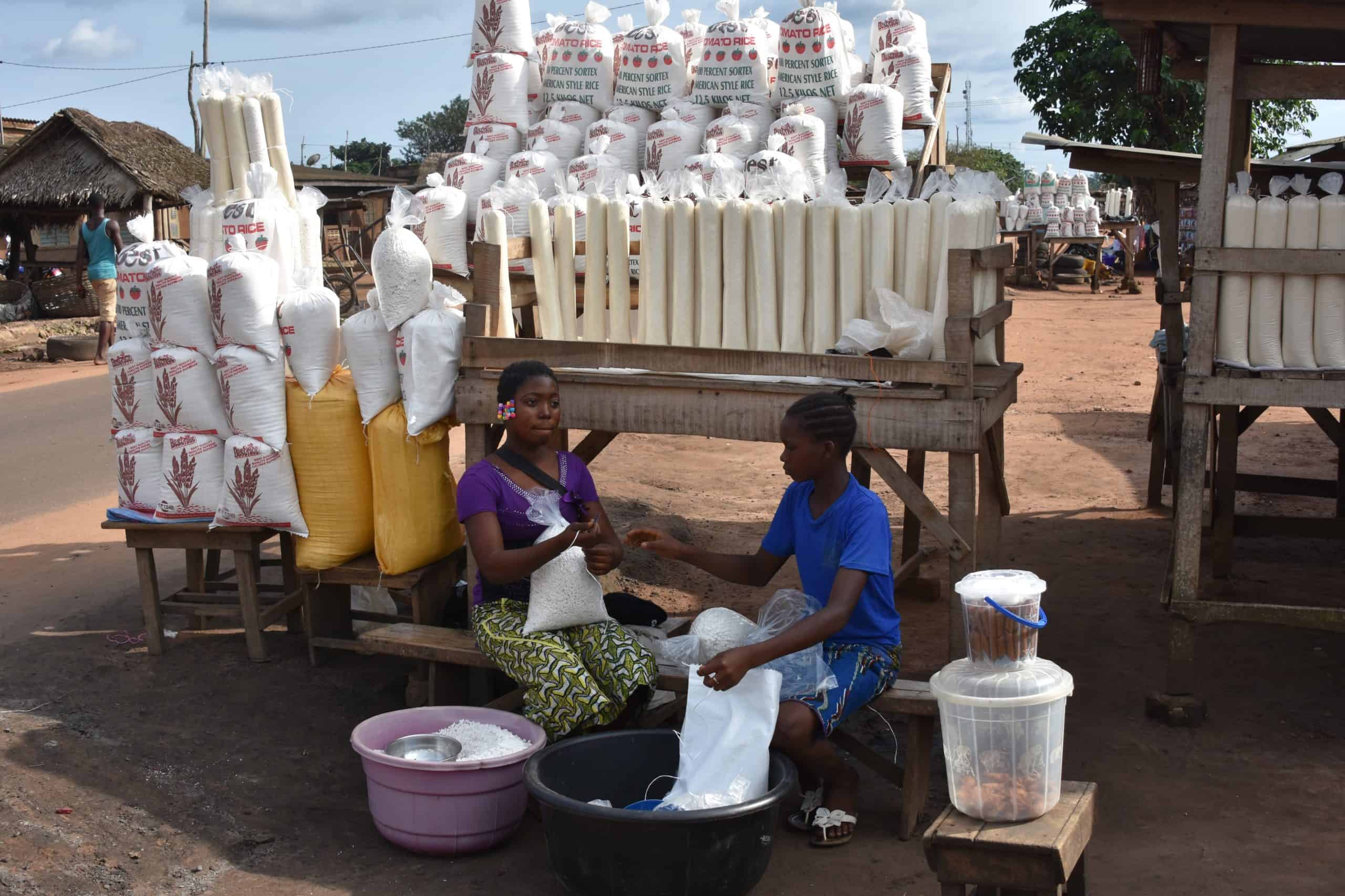 Detailed and descriptive profiles of different kinds of gari in Benin have been established through work under the CGIAR Research Program on Roots, Tubers and Bananas (RTB). The profiles link, for the first time, scores for sensory descriptors to some of the physical and chemical properties of gari. This kind of profiling will now allow researchers to refine the tools they use to capture consumer preferences about RTB crops, helping breeders to develop improved varieties with the qualities that people want.
Gari is a roasted, fermented granular product made from cassava. It is popular in many African countries, and production in Benin has almost doubled over the past two decades. Recently, gari fortified with palm oil and soybean was developed in Benin. Although there have been general studies of how gari is perceived in Nigeria, Ghana, and Cameroon, this is the first in-depth look at nine traditional types of gari and three new fortified forms in Benin.
Panelists received three to five training sessions, during which they were taught how to evaluate several attributes to describe the gari. "These training sessions are sufficient to ensure good repeatability of the panelists' scores and to minimize differences in their personal experiences of gari," said Laurent Adinsi, the postdoctoral researcher in Benin who conducted the study.
Eighteen panelists scored the 12 gari samples on 15 sensory descriptors. Researchers evaluated 13 physical and chemical properties of the same samples. Correlations between the sensory properties and the physicochemical properties—acidity and lactic acid, for example, is associated with a sour taste and fermented odor—mean that laboratory analysis can now focus on the physicochemical traits, with a clear idea of how people will respond to those qualities.
Insights into preferences
Adinsi explained that the study also measured consumer preferences – how much the panelists liked each of the types of gari they were given. The results will be in a second research paper. In the meantime, Adinsi is confident that the quantitative descriptive methods being developed can be applied to new varieties of RTB crops and to products made from them.
Michael Friedmann, a science officer with RTB, welcomed these initial results, which are now being used in the RTBfoods project. "Expertise and knowledge to carry out sensory analysis of food products, including potato, is not new. But we are now applying those to the other root, tuber and banana crops, which have not received much attention in this area."
RTBfoods is a five-year project funded in part by the Bill & Melinda Gates Foundation. It is being implemented with five partner countries in Africa: Benin, Cameroon, Ivory Coast, Nigeria, and Uganda.
Friedmann explained that this kind of research "will provide insights into what farmers and consumers consider to be good or, more importantly, bad." Those preferences can then be fed into high-throughput assays that RTBfoods will develop, inexpensive and easy to do on hundreds or thousands of samples.
"Breeders can use the assays to select for the good traits and against the bad ones. That will ensure that the breeders are developing varieties that people want."
This approach is needed because in the past a breeder's idea of what makes for an "improved" variety has not always matched the preferences of farmers or processors. Breeders consider good yields, resistance to pests and diseases and the ability to thrive in future climates important. Processors are likely to be more interested in how easy it is to peel, for example, and consumers in how it tastes.
"When we look at RTB crops, it is clear that the 'elite' varieties produced by breeding programs are not so popular with farmers or other value chain stakeholders," said Dominique Dufour, a CIRAD researcher specializing in cassava, who leads the RTBfoods project.
Efficiency to promote adoption
Dufour, one of the authors of the new study, says that the efficiency of new analytical methods developed by the RTBfoods team, combined with detailed sensory profiles, will result in improved varieties that farmers will be more likely to adopt.
"All the selection is based on predictions from measurements on raw roots, of properties such as dry matter, fibers, and starch. This has reduced the laboratory's analytical costs and freed up staff time to work on other aspects of quality traits that are important to consumers and processors."
Cassava breeders at the International Center for Tropical Agriculture (CIAT) have begun to use high-throughput methods to predict relatively simple properties in the way Dufour outlines. But, he says, "it is qualities for cooking or fermentation that we wish to predict". That is a much more difficult problem, to discover which physicochemical parameters are responsible for different cooking behavior and consumer preferences.
"The initial work is essentially a proof of concept before we can predict chemical compounds and cooking types," Dufour points out. The ultimate goal is varieties that people will be keen to adopt.
More widespread adoption of improved varieties will boost food security and improve the incomes of farmers and processors.

Profiles tailored to producers
A challenging aspect of targeting processors and consumers in breeding efforts is that different kinds of processors may want different things. Gari is produced both in industrial plants and on a much smaller scale by women and their children, for more local consumption.
"The large, industrial process uses mechanization to peel and grate cassava," said Michael Friedmann. "Small scale processors do this manually, so the trait prioritization – for example, ease of peeling – would be different. However, both also have several desirable traits in common, such as high dry-matter content."
Friedmann believes one solution would be to develop specific product profiles for small local and large industrial types of processors, determine the size of the market for each, and adjust the breeding program accordingly.
Funding also provided by the French government and partners, mainly Institut national de la recherche agronomique, JHI, and CIAT.