Scaling Up: Zimbabwe's Sky Brands Expansion Benefits Smallholder Farm Suppliers
From

HarvestPlus

Published on

28.05.20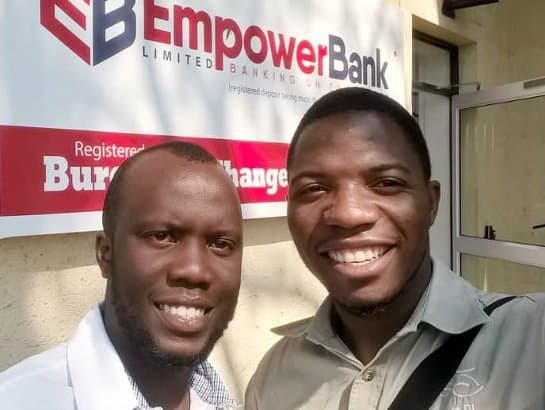 Sky Brands, the biofortified food start-up founded by two young entrepreneurs in Zimbabwe, is ready for significant scale up after securing financing from Empower Bank, which offers specialized financial services for youth. To fuel its expansion, Sky Brands will contract many more smallholder farming families to supply it with biofortified crops, offering these families a welcome livelihoods boost.
Takudzwa Gahadza and Tinashe Mbiriri (pictured right) launched their agricultural enterprise, Sky Brands, in 2017. They wanted to be at the forefront of providing easy access to nourishing staples in the form of processed biofortified crop varieties such as vitamin A orange maize and iron beans.
In 2018, the start-up received technical, logistical and marketing support for its biofortified crop products from HarvestPlus Zimbabwe, under the Livelihoods and Food Security Programme(LFSP), which is managed by the Food and Agriculture Organization and Palladium, and funded by the UK Government. The program is engaging youth to equip them to broaden their horizons and work on their business ideas to shape and influence the direction of Zimbabwe's future food and nutrition security.
For many years, Zimbabweans have associated yellow maize meal with drought relief, hence there was concern among millers that consumers would not accept vitamin A biofortified orange maize for its similar look to yellow maize. Thus, it was encouraging that after tasting the sadza (a cooked, pulverized grain meal that is the staple food in Zimbabwe) made with the biofortified orange maize and understanding its benefits, many consumers in the country now choose orange maize meal over the white maize meal, and are willing to pay a premium for the orange meal.
"Realizing the sheer commitment of these young social entrepreneurs to go against the white maize milling tide to adopt the orange colored vitamin A maize instead, all for its importance in combating micronutrient malnutrition and in a country where yellow colored maize was stigmatized, we knew they needed our support, and we were confident of their potential to succeed—and we were right" said Sakile Kudita, interim Country Manager and Demand Creation Specialist at HarvestPlus Zimbabwe.
"It is with food industry partners such as Sky Brands that HarvestPlus can achieve its goal to reach 1 billion people worldwide with biofortified staple crops by 2030," Kudita added.