Reducing Food Loss and Waste (NPS Initiative LAC Region Webinar Series)
From

CGIAR Initiative on National Policies and Strategies

Published on

10.11.23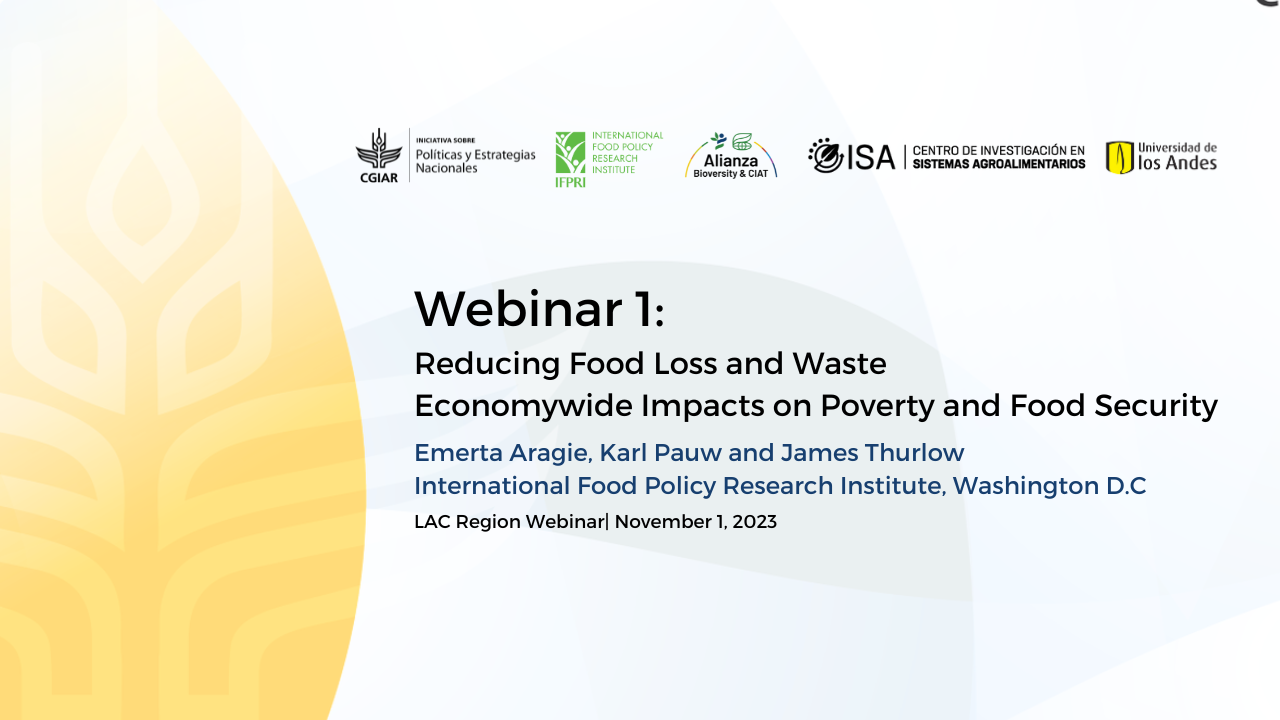 On November 1, 2023, as part of the CGIAR Research Initiative on National Policies and Strategies (NPS) in Colombia, the second webinar was part of the "Policy Analysis Instruments using General Equilibrium Models" course. This time, the focus was on the analysis conducted by the International Food Policy Research Institute (IFPRI) on reducing food loss and waste, and its impact on poverty and food security.
The webinar featured a presentation by Emerta Aragie, a research associate at IFPRI, who shared essential insights with the audience on the importance of having standardized instruments and databases for policy analysis in different countries.
One of the highlights applying IFPRI's RIAPA general equilibrium model, which analyzes to analyze the effects of reducing food losses in countries such as Nigeria, Kenya, and Bangladesh. These analyses can assess the repercussions in key dimensions, including employment, Gross Domestic Product (GDP), and poverty.
Additionally, Jorge Rueda, deputy director of the agri-food systems research center at the University of the Andes, participated, emphasizing that the issue of food waste is familiar to Colombia. He pointed out that, with a different approach, similar challenges are being generated. Rueda also underscored the importance of having quality information at all stages of the food chain, from production to consumption, allowing for a better understanding to help provide possible solutions.
Finally, he highlighted the need to address food waste and the importance of accurate data to tackle these issues throughout the food chain. This issue is not only relevant at the national level but also has global implications that deserve the community's attention.
Below is the recording of this session and delve into the knowledge provided by the researchers
On December 6 at 9:00 am in Colombia, the third virtual seminar of the course will take place, focusing on Climate Disasters, Gender, and Poverty: Towards an Inclusive Reduction of Disaster Risk in Bolivia.
---
Authors:
Johana Castillo, Associate Research, Alliance Bioversity-CIAT.
Luis Escalante, Associate Research Fellow, IFPRI.
---
This work is part of the CGIAR Research Initiative on National Policies and Strategies (NPS). CGIAR launched NPS with national and international partners to build policy coherence, respond to policy demands and crises, and integrate policy tools at national and subnational levels in countries in Africa, Asia, and Latin America. CGIAR centers participating in NPS are The Alliance of Bioversity International and the International Center for Tropical Agriculture (Alliance Bioversity-CIAT), International Food Policy Research Institute (IFPRI), International Livestock Research Institute (ILRI), International Water Management Institute (IWMI), International Potato Center (CIP), International Institute of Tropical Agriculture (IITA), and WorldFish. We would like to thank all funders who supported this research through their contributions to the CGIAR Trust Fund.