Nutrition scientist Dr. Shakuntala Thilsted awarded the 2021 World Food Prize
From
Published on

08.06.21

Impact Area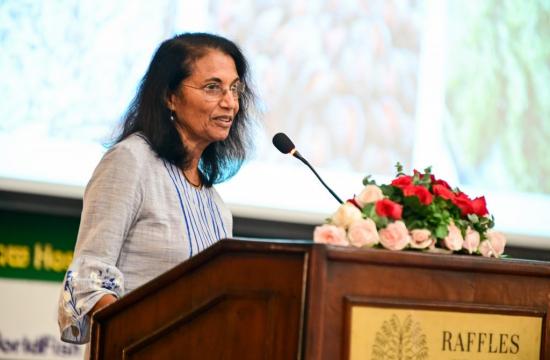 Dr. Shakuntala Haraksingh Thilsted, Global Lead for Nutrition and Public Health at WorldFish, was named today the 2021 World Food Prize Laureate for her groundbreaking research, critical insights, and landmark innovations in developing holistic, nutrition-sensitive approaches to aquatic food systems, including fisheries and aquaculture.   
Thilsted is the first woman of Asian heritage to be awarded the World Food Prize. Often referred to as the "Nobel Prize for Food and Agriculture," the World Food Prize is the most prominent global award recognizing an individual who has enhanced human development and confronted global hunger through improving the quality, quantity, and availability of food for all.  
Thilsted was the first to examine the nutritional composition of small native fish species commonly found and consumed in Bangladesh and Cambodia. Her research demonstrated that the high levels of multiple essential micronutrients and fatty acids in these affordable and locally available foods offered life-changing benefits for children's cognitive development in their first 1000 days of life and the nutrition and health of their mothers.