New partnership inked with AGRA to boost improved technology uptake in Africa's agriculture
From
Published on

08.06.20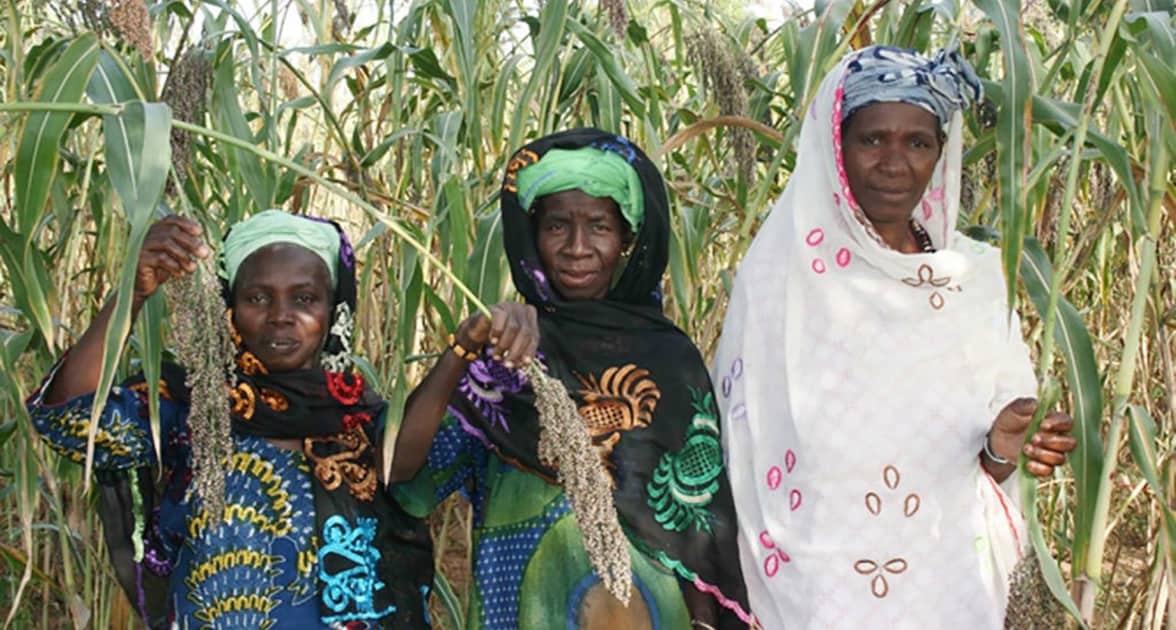 Farmers in a sorghum field in Sikasso, Mali. Photo: A Diama, ICRISAT
ICRISAT-led AVISA project is partnering with the Alliance for a Green Revolution in Africa (AGRA) to enhance uptake of modern technologies, including improved crop varieties.  The new partnership will utilize AGRA's extensive networks to bridge gaps in market access to early maturing and high nutrition varieties, and is also expected to alleviate the effect of COVID-19 on agriculture.
Dr George Bigirwa, AGRA's Head of Seed Systems, noted that the partnership would focus on popularizing available improved varieties through demos, working with seed companies and Village Based Advisors (VBAs).
"This will be through existing and new linkages to expedite smallholder farmers' access to new and unique agri-solutions," he said during an e-workshop held on 22 April.
Improved agricultural technologies, including improved variety seeds, are key to addressing most causes of low productivity such as pests and diseases, poor soil infertility and climate variability. The adoption of these technologies in sub-Saharan Africa remains very low: Limited access to markets and new technologies forces farmers to persist with outdated varieties and old technologies.
At the workshop, participants from ICRISAT, IITA and CIAT proposed varieties that AVISA targets for dissemination, and highlighted areas they would like the partnership to focus on. The varieties were proposed after consultations with value chain actors in AVISA target countries. Areas such as adoption rates, awareness creation, link to markets and seed availability, especially early generation seed (EGS), were tabled by the participants.
"The partnership would seal existing gaps due to barriers of accessibility and market in areas where
AGRA and CGIAR institutions are working separately," said Dr Chris Ojiewo, AVISA coordinator. He added that leveraging comparative advantages across institutions and pooling resources will lead to bigger impact rather than going alone.
Read more on how new AGRA partnerships are leveraging African farming communities: http://gldc.cgiar.org/new-partnership-inked-with-agra-to-boost-improved-technology-uptake-in-africas-agriculture/